The best electric razor for an elderly man is the one that can be used wet or dry, has flexible blades to get around the more difficult areas of your face, and can offer a close shave.
If there is one thing an elderly man needs, it's a reliable razor! As we age, our hair changes and becomes less easily removed by traditional razors. This article reviews the top five best electric razors on the market so you can find what works for you.
---
---
Issues Older Men Face with Shaving
When you age, the condition and structure of your Skin change drastically. That and some other issues can make it a challenge for older men to get a good and clean shave;
Frail and Sensitive Skin – As you age, your Skin becomes thinner and more frail and sensitive. Older skins are also much less firm and can be dry, complicating the shaving process. Shaving on this type of Skin with the wrong razor can cause uneven hair removable, nicks and cuts, and even skin infections.
Parkinson's and other Immobilizing Conditions – Besides the skin condition and thinning, many older men find it difficult to properly grip a razor because of conditions that cause immobility and weakness. Parkinson's affects the ability to coordinate fine movements, and Alzheimer's impairs judgment, where hygienic processes cannot be followed. Both these conditions are predominant in seniors, affecting the shaving routine.
Weaker Grip – A weaker grip can easily cause the razor to be dropped or cut and nick. Therefore a durable and high grip handle comes highly recommended in razors for older men.
---
Why Use the Best Electric Razor for Elderly Man?
One of the best options to get a safe, easy, and clean shave for older men is to use an electric razor, which has many benefits for senior gents;
Corder, Battery, or Rechargeable Powered – The Electric razor comes in three options: corded using electricity, Battery operated, or a rechargeable design using a charging dock. Many chargeable electric razors have a charging dock that does not just charge but also automatically cleans the razor for much less hassle.
Motor Functionality – The electric razor's motor functionality needs to be adjustable in intensity and speed for older gents. This helps them have extra control and aids in shaving gently over sensitive areas.
Wet and Dry – Most electric razors have a wet and dry option and are waterproof, making them ideal to use in the bath or shower.
Trimming – Many electric razor models also come fully equipped with a trimmer for longer hair, giving the older man an all-in-one option with less to worry about.
Flexible Head – The electric razor's flexible head is ideal for dry, sensitive, and even loose-aged Skin as it creates better cutting angles and is easier to control.
Better Grip and Less Work – Most electric razors for older men have an improved non-slip grip design that is easier to hole with frail hands. Because the electric razor does most of the work for you, less effort and handling are involved.
---
Related Articles on Personal Care for Seniors
---
Features of a Good Electric Razors for Elderly Men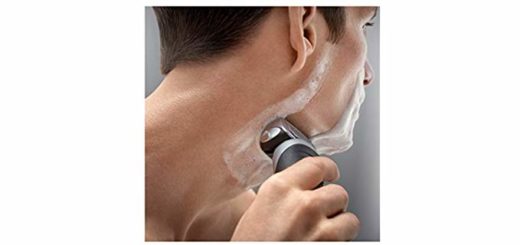 Blades – Must have long-lasting blades, with foil for sensitive skins.
Head – A pivoting head that gives a closer shave at all angles. Removable design for older hands.
Operation – Cordless, corded, or battery operated. Automatic self-cleaning on the charging dock.
Technologies – Micro comb technology to capture more hair. Additional trimmer for trimming hair and beards. Skin guards to protect you against Nicks and Cuts.
---
Reviews: The Best Electric Razor for Elderly Men
Below are some of the best available Electric Razors, which are idyllic for elderly men. Also, please note that this page includes affiliate links.
We hope you love the products we recommend!
So that you know, We may collect a share of sales or other compensation from the links on this page.
---
1
---
2
The Philips Norelco Shave is a Wet and Dry Electric razor with an additional Cleaning brush.
Over a close shave with three different setting options.
Every shaving head moves independently for hard-to-reach curves and areas.
The attached facial cleansing brush is gentle on the Skin.
AmartCleaningging system that automatically cleans your razor.
Ergonomic handle and lithium battery operated.
---
3
A Portable Foil design Electric Razor is ideal for elderly gents from Braun, a top electronic brand.
Features intelligent Sonic technology that automatically increases power while shaving difficult areas and denser hair.
Included ActiLift trimmer that captures flat-lying hairs and problem areas.
Optifoil cuts hairs are as short as 0.005mm for the closest shave possible.
Waterproof design with an easy cleaning and charging station.
---
4
The Wahl Professional 5-Star series is the best electric razor for elderly men who require a much closer shave.
This one is a very powerful shaver for an incredibly close shave.
The Gold Foil is hypoallergenic and ideal for sensitive Skin.
Professional design and elegance.
All accessories for use are included.
Rechargeable batteries are included.
---
5
A top-class luxury cordless electric razor that is the best electric razor for senior citizens.
There are three pressure-sensitive shaving elements of efficiency and skin comfort.
A specialized micro comb to capture more hair with every stroke,
It comes with two rechargeable long-life batteries included.
Wet and Dry shave design with foil.
Waterproof up to 5 meters.
---
6
The Panasonic Arc 5 is the all-in-one solution for trimming and shaving for older gents.
A five-blade electric shaver with a trimmer option as well.
Rechargeable design.
It has a Wet-and-Dry shave option to choose from.
LCD battery indicator and a Premium automatic cleaning and charging station.
Multi-Flex Pivoting head for hard-to-reach areas and an ergonomic handle.
---
7
Everything you need in an electric razor comes with a trimmer and a corded and cordless use option.
The razor offers you painless and close shaving experiences.
It has low noise, a hypoallergenic design, and a powerful 3D rotary close-shaving motor.
There is a pop-up trimmer added for trimming the beard and sideburns.
It also comes with a battery countdown and a smart safety lock.
It is safe to use wet or dry and charges within 1 hour.
---
8
From the top brand Braun, we have their rechargeable Foil shaver that operates wet and dry.
Braun is a very well-known and trusted brand in electronic devices.
Their electric razor offers three pressure-sensitive shaving elements for skin comfort and efficiency.
It has a specialized micro comb that captures more hair in each stroke.
It comes with two rechargeable long-life batteries.
This is also a wet and dry shaver that you can use with water, foam, or gel.
---
9
The Roaman Electric shaver is a wet and dry design with a 3D rotary design and a pop-up beard trimmer for senior men.
The Roaman Electric Shaver is a wet and dry shaver that allows you to use foam, gel, and water.
It is corded and cordless, with a quick 1-hour charging time on a USB charger.
It ensures 3D rotary close shaving that is painless and hypoallergenic.
A smart safety lock and a battery LCD screen show you how much Battery you have left.
---
10
The Wahl Flex design is ideal for older gents in which the Skin is not so supple anymore, as it flexes much more easily and glides smoothly across your face.
Wahl is another brand that we all know, and rightfully so.
Their Flex Shaver is a foil electric shaver with three heads and three different options for a comfortable and clean shave.
There is a sensitive setting to reduce friction and irritation.
The Ultra Clean setting offers you a very smooth and closed shave.
There is also an additional pop-up trimmer for trimming your beard and sideburns.
---
Index Table: Top Rated Electric Razor for Elderly Man
---
---