As a senior who is still up and on the go, you may enjoy traveling by plane or car. However, the problem may be uncomfortable, heavy, and flimsy Luggage.
For safety and comfort, it is important to have the best Luggage for seniors, lightweight, with the right capacity, comfortable to carry, and with wheels that are easy to maneuver.
Seniors should have durable quality luggage that is reliable for traveling by air or road for short and long trips.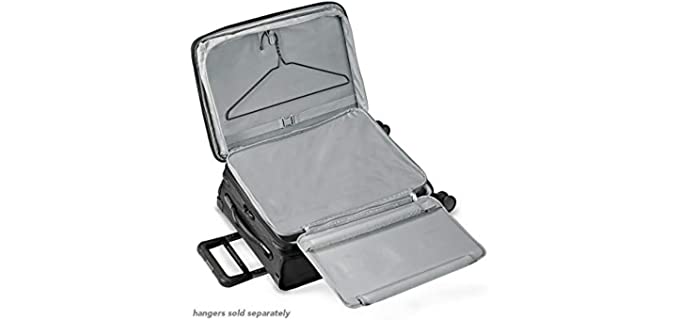 ---
Why Do Seniors Need the Right Luggage
Seniors may need good Luggage for the following reason;

Weaker Hands – Seniors may not have the strength in their hands and arms as they used to when they were young. Thus, well-designed Luggage that provides a more comfortable and easy grip and a lighter weight will be easier for them to handle.
Cannot Carry Heavy Weight – Most seniors will not be able to carry heavier items of Luggage, thus, wheeled luggage options are so ideal, as they can be pulled behind them, and you even get options that can climb stairs.
Easy Zip Closures – Zip Closures should be durable and easy for seniors to grip and handle; they are a much more secure closure method.
Accessibility – Good Luggage for seniors will have plenty of pockets where they can store items for quick reach and organize their Luggage, making it much easier for them to handle and remember where they placed items.
---
Types of Luggage for Seniors
For this article, we will look at good quality luggage that can be used mostly for air and road travel, and road travel, which wheels for easy transportation.
There will be larger luggage pieces for check-in purposes and larger for longer trips, as well as hand, carry-on, and backpack options for short travels.
The Luggage we will feature will come in softshell styles, and hardshell stiles called Softside or Hardside. The Softside Luggage is lightweight and more flexible when you need to add more items, while the hard side is extremely durable.
The Luggage may have expandable options allowing you to add a few more items if needed.
---
Features of a Good Luggage for Seniors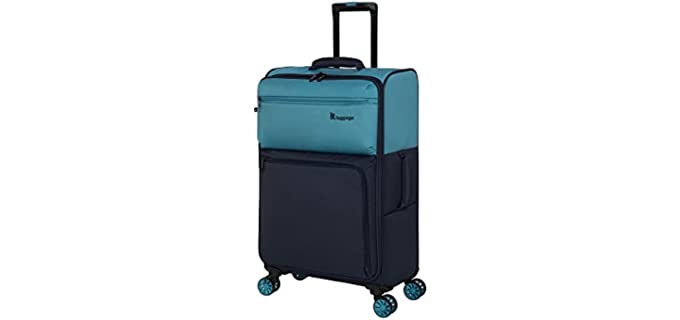 Size – Always choose a suitcase that is the appropriate size for your travels. It is better to have a smaller suitcase and to pack smarter than an oversized suitcase that fills up to much space.
Weight – Check the exact weight of the Luggage, especially for an elderly person, and when flying. The weight should not be more than 7.5 pounds.
Space – Even lightweight suitcases should still have ample space for your luggage. You also have expandable suitcase options that allow for some extra luggage space.
Mobility – Most wheeled or rolling suitcases are much easier to use by seniors and should maneuver easily. Your Luggage should not be the risk of injury when handling it.
Materials – There is not a single best material for Luggage; they can consist of various materials such as ballistic nylon, polyester, aluminum, leather, and polycarbonates.
Handles – Telescopic suitcases need an extendable handle that you can easily handle with one hand. Suitcases should also have comfortable carry handles on the top or sides for handheld carrying.
Wheels – Larger Luggage should have easy swivel wheels allowing the elderly person to roll their Luggage along rather than carrying the heavyweight.
Color – Choose a bright-colored suitcase that will be easier for an elderly person to identify, especially when traveling on an airplane.
Pockets – Luggage with Outside Pockets is ideal for keeping a light jacket or clothing items in case it gets cold.
Zippers – Look for Luggage with either a Coil Zipper or strong quality zippers that are more flexible and will not break easily.
---
Reviews: The Best Luggage for Seniors
---
1
The Travelpro Maxlite 5 is a Softside expandable suitcase that comes with wheels.
It is available in many bright colors that are easily identified and ultra-lightweight.
The Luggage will expand up to 2 inches to maximize your packing capacity.
It is sturdy with PowerScope Lite handle Locks that lock in two positions.
It comes with limited lifetime coverage.
---
2
For easy Carry-On Luggage, we have chosen the Samsonite Underseat for seniors.
You can place it underneath the seat and Airline for easy access.
The Luggage has 4 Multi-directional spinner wheels and an adjustable telescopic handle.
It has quick Stash exterior pockets and is very lightweight.
There are also a few more color options available.
---
3
The small and compact design is easy to use as carry-on Luggage for seniors on a plane.
There is a Lifetime warranty for quality.
Here we have the Briggs and Riley 22-inch outside.
It is expandable for more packing space and has a large interior capacity with smaller outside pockets.
The Luggage consists of durable ballistic nylon, with a double zipper pull for security.
---
4
From SwissGear, we have the large 29 Inch luggage for check-in by seniors.
Outside Luggage, it is expandable and available in many colors from which you can choose.
The suitcase has a rolling design with 360-degree, multi-directional spinner wheels.
It is very secure and durable, with additional pockets for easy storage.
There are convenient side handles with reinforced padding for your comfort.
The Luggage consists of scuff-resistant, durable polyester fabric.
---
5
The It Duo Tone luggage comes in some fun and easily identifiable colors for seniors.
It has super-wheel control and a unique base structure that provides additional strength and stability.
There are easy-to-access added pockets.
The Luggage has a very lightweight trolley system with aluminum tubes to reduce weight and improve strength.
It is Softside Luggage with eight spinner wheels.
---
6
From Amazon, Basics have a 21 Inch Hard Spinner Luggage for seniors.
The Hardside Luggage is ideal for carry-on Luggage for seniors.
It has a double-spinner four-wheeled design for smooth rolling.
The suitcase consists of extra-thick ABS hardshell and scratch-resistant finishes.
It is expandable up to 15% for more packing space, which allows you to bring a few much needed extras at the last minute.
The entire Luggage is lined with polyester, and interior organizers are for your convenience.
---
Index Table: Top Rated Luggage for Seniors
---
---