The term "sit up straight" has been passed on to us for many generations as proper etiquette. But let us face it; we do not always follow this advice.
For elderly people especially, slouching and poor posture may become a problem and cause back neck, or shoulder pain.
A device that has proven very effective when it comes to posture correction and relieving pain is the Posture Corrector for Seniors.
The device helps to keep your back and shoulders straight and aligns the spine into a proper position or posture.

---
---
A Posture Corrector Explained
The Posture Corrector is an External device that an elderly or any individual for that matter, uses to address muscle imbalances and improve their posture.
The Posture corrector takes stress off muscles that are being overworked and helps to pull or shoulders straight and forward and keep your back supported.
No one has an ideal posture, and a posture corrector does not necessarily mean something is wrong with your posture. We all have curvature deviations. However, some people may experience pain and associated issues, while others do not.
---
Types of Posture Correctors
There are a few different types of posture correctors that you can consider;
The Figure 8 Posture Corrector – The Figure 8 Posture Corrector is a brace or fabric corrector with elasticated straps that loop around your shoulders and your back or abdomen. The brace is typically used to alleviate back, back, and shoulder pain due to slouching and improper posture. We will be looking at the specific model or brace as a Posture Corrector for seniors.
Wearable Device – Not one of the devices we will discuss today, but worth mentioning. The wearable device is a device that you place on your back between your shoulder blades with magnets or adhesive tape. When you start to slouch, or your spine begins to curve, the device gives live feedback, usually in the form of a vibration, to remind you to straighten your back.
---
Features of a Good Set of Posture Corrector for Seniors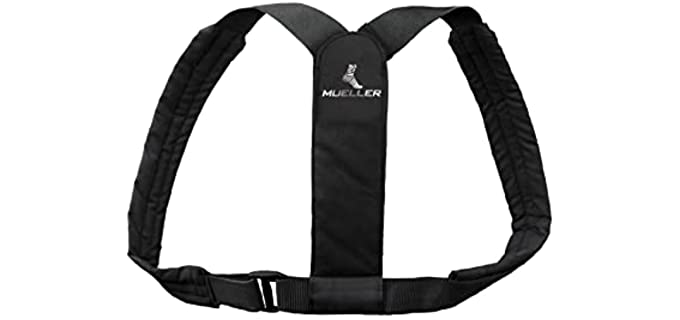 Materials – Make sure that the posture corrector consists of comfortable and durable material that will not cause chafing or irritation and will adjust to your body shape.
Support – Posture correctors target different support areas in the body, such as the back, shoulders, and spine. The brace should allow you to feel what a proper posture should feel like and keep that posture.
Adjustability – The Posture corrector should have features allowing you to adjust the size and the fit so that you can customize the fit to suit your body.
Wearability – Make sure the Posture corrector design is easy to put on and take off for a senior. It should be washable and comfortable to wear.
---
Reviews: The Best Posture Correctors for Seniors
In our list, we have some of the best available Posture correctors that are especially perfect for senior adults;
---
1
---
2
The Sicheer posture corrector and back brace are designed to fit men and women.
The posture corrector helps keep your back and shoulders upright and is ideal for relieving neck pain.
It is ultra-comfortable with an elastic Velcro waist strap and shoulder straps that will stay securely in place.
The Flexible material supports your upper back, lower back, and abdomen.
---
3
From Hempvana, we have the Arrow posture corrector for seniors.
It is a fully adjustable support brace and posture corrector for your upper body.
The posture corrector helps to prevent slouching and supports your neck.
It is easy to wear and is made with natural and safe hemp fibers.
---
4
The ACE posture corrector will help to promote excellent back support and aligns your posture for better alignment.
The design stretches your chest and shoulder muscles to improve your posture.
It has a hook-and-loop Velcro closure and is fully adjustable to provide more personalized comfort.
The repositionable back buckle pad provides a more enhanced fit.
---
5
The ComfyBrace posture corrector for seniors is one of the most comfortable designs.
It offers spinal, neck, back, and shoulder support.
The materials are highly durable and breathable, with reinforced seams.
It has an innovative design that is orthopedically correct for your posture and is available in sizes from 30 to 43.
---
6
The Gaiam Restore is a posture corrector that is more compact and fully adjustable.
It helps to straighten your back and improve the alignment of your spine for better posture.
The brace has a compact design for clavicle, neck, and shoulder support, giving you invisible pain relief.
It is a soft-touch neoprene with adjustable straps for the perfect fit.
---
7
The Mueller posture corrector for men and women is a fully adjustable one-size-fits-most.
It is a lightweight and breathable fabric that can easily be worn all day without overheating.
The posture corrector helps to improve your overall posture and relieves pain.
It comes from a trusted sports brand and is likewise ideal for seniors.
---
8
The FlexGuard posture corrector has a large design to help straighten your back and shoulders.
It offers excellent pain relief and is lightweight and breathable for all-day wear.
The posture corrector for seniors has a comfortable design that easily fits underneath your clothes.
It is adjustable in fit and size for a more comfortable fit.
---
Index Table: Top Rated Posture Correctors for Seniors
---
---