Whether it is a pull-on T-Shirt or a button-up dress shirt, we all need them, men and women, at some stage.
When you are young, healthy, and flexible, buttoning up a shirt or pulling your favorite T-Shirt over your head may be the easiest thing in the world.
However, as we age, these simple tasks can become quite difficult and in some cases, near impossible.
Regular closures and pull-on shirt designs may not be so easy to put on and take off anymore, and that is where the Velcro shirt for the elderly comes in quite handy.

---
How Dose a Velcro Shirt Work
A Velcro shirt for seniors is basically just a more adaptive style shirt for a senior individual or a person with an injury or mobility issues that has a closure design that consists of Velcro.
Velcro is easy to pull apart and push down to open or close a garment to get it on and off.
There are two main types of Velcro shirts that you get;

Dress Shirt – The Velcro dress shirt still has buttons down the center; however, they are only there for show, and the center actually closes with a Velcro strip. It can have short or long sleeves and usually has a collar. there are Dress shirt designs available for men and women.
T-Shirt – The Velcro T-Shirt usually has Velcro closures at the sleeves or sides, allowing you to put the shirt on much easier. The T-Shirt range comes in a huge variety, even sports T-Shirts for men and women.
On the other hand, you also get some specialized blouses and tops, especially for the ladies that feature a Velcro closure.
---
Why Would an Elderly Person Need a Velcro Shirt
When an elderly person suffers from weakness in their limbs, lack of mobility, or has had surgery or injury, they may need a shirt that is slightly more adaptive and easier o put on and take off.
The Velcro closure is very easy to use by elderly hands and requires very little strength or fine motor skills.
On the other hand, an elderly individual may need to be taken care of by a caretaker, loved one, or nurse at a hospital. In this case, a Velcro shirt is a much easier option if you need to be dressed by someone else.
---
Features of a Good Velcro Shirt for the Elderly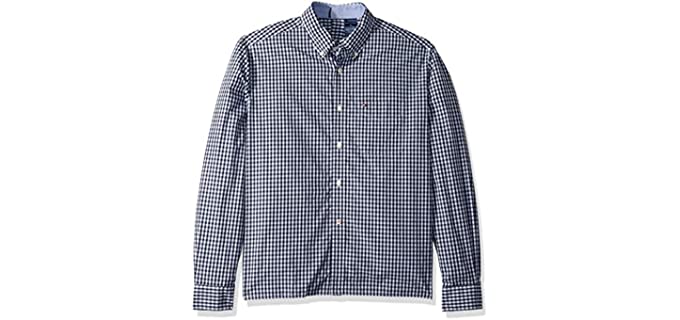 Materials – Velcro shirts for seniors can consist of a variety of materials including natural cotton, or bamboo usually in the form of rayon or viscose, or synthetic polyester fabrics.
Design – You get Velcro closure dress Shirts, blouses, and even T-Shirts designed for seniors. You can also choose from different sleeve length options. There are usually winter and summer shirt styles availble.
Fit – Make sure that you get a proper comfortable fit. There will be sizes available, as well as measurements that you can follow. Most models offer standard, and plus size options.
Colors – Most of the shirt models that we have chosen do offers some variations in colors, from which you can select.
---
Reviews: The Best Velcro Shirts for the Elderly
Here we have some splendid options in a variety of shirts for men and women, all with Velcro closures;
We hope you love the products we recommend!
So that you know, We may collect a share of sales or other compensation from the links on this page.
---
1
---
2
The Oudi Line is a Uni-Sex post-surgery Velcro closure shirt.
Ideal for seniors that are disabled or post-surgery.
The shirt is adaptive and has Velcro closure sleeves and neck.
Premium quality and available in more solid color options as well as sizes for men and women.
---
3
The Blossom Breeze T-Shirt is designed as adaptive wear for post-surgery, hospital wear, and for senior individuals.
It is a 100% cotton shirt available in a few solid colors.
The shirt has short sleeves and a T-shirt design.
It has a Velcro closure design and is adaptable.
---
4
The Tommy Hilfiger adaptive seated fit T-shirt is perfect for elderly men.
It has a Velcro brand closure at the center back and an adaptive design for seniors.
The shirt is 100% pure cotton and very breathable.
The fit is regular and comfortable with a machine-washable design.
The T-Shir is very comfortable for wearing in summer and will help to keep you cool and confident.
---
5
The Blossom Breeze SureCare wear shirt is the perfect blouse for ladies.
The shirt has soft Velcro closure sleeves for easy on and off.
There is a red and pink color option available.
The shirt is a soft 100% cotton and ideal for senior ladies.
---
6
For the Ladies, we have a dress shirt from Tommy Hilfiger with a button-down design and Velcro closures.
No need to fasten the buttons. They are only there for the show.
The dress-style shirt is comfortable and 100% cotton.
The shirt is a light blue color and has Velcro brand closures.
It is fully machine washable and very durable.
---
7
Here we have a lovely dress shirt for men from Tommy Hilfiger that has an adaptive design and Velcro closures.
It comes in many colors and has a checkered print design.
The dress shirts are ideal for formal occasions and for work.
They have a button closure design with concealed Velcro.
The shorts look smart and professional and are very easy and comfortable to wear and use by seniors.
They consist of 100% pure cotton.
---
8
From Tommy Hilfiger, we have an adaptive Velcro closure shirt for men.
This is a rugby T-Shir for men and boys that has a Velcro Brand closure.
The shirt is 100% breathable and durable cotton, and well-constructed.
It is fully machine washable and comes with a hook and loop Velcro closure.
A versatile and easy-to-use adaptive T-shirt for seniors who enjoy rugby.
---
Index Table: Top Rated Velcro Shirts for the Elderly
---
---