Applying a good body lotion daily is essential whether you are a child, adult, or senior. With so many environmental stressors and water and soaps drying out your skin, you need to have a good body moisturizer.
For seniors, investing in a good lotion to nourish and soothe dry and aging skin is especially necessary.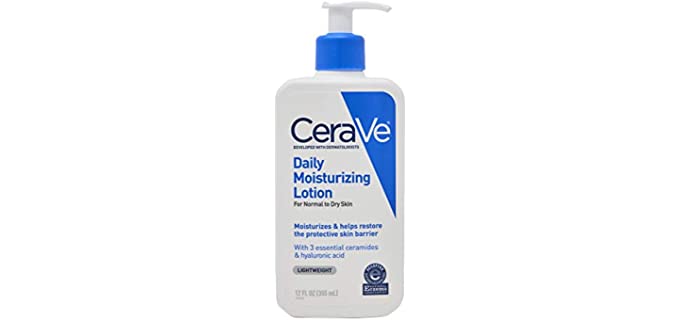 ---
Why Seniors Need a Good Lotion
Aging can take a detrimental toll on your skin and your body; in turn, the effects of aging are mostly seen on an individual's skin.
Taking care of your skin from a young age is important to keep your youthful glow for as long as popular. However, s a senior, you need to nourish and moisturize elderly skin to add hydration and keep it soft and supple.
Seniors often struggle with thinning skin, dry and flaking skin, or very sensitive skin, and therefore need a good moisturizing lotion to protect and nourish their skin.
---
What to Look for in Lotion for Elderly Skin
Here are a few tips on getting the best skin lotion for elderly skin;

Barrier Protectors – It is good to have a moisture lotion that protects the skin barrier to prevent moisture loss. Ingredients such as Shea Butter and Ceramides are ideal for achieving this.
Hydration and Moisture – Most elements, such as Hyaluronic acid, glycerine, ceramides, and shea butter, will provide good hydration and moisture for your skin.
Easy to Use Packaging – Ensure that the bottle or tube that the Lotion is in is easy to be used by an elderly person who may have weakened hands. I usually prefer a pump bottle because it is easy and convenient.
---
Features of a Good Lotion for Elderly Skin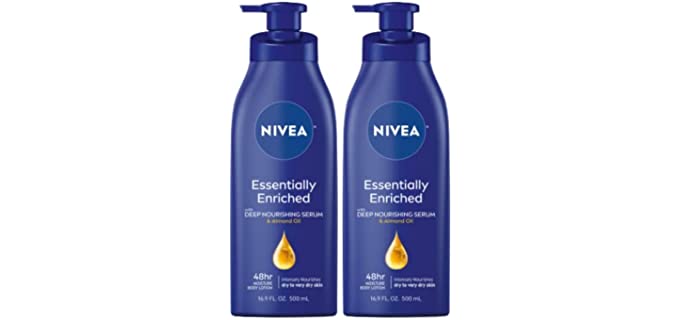 Ingredients – Look for lotions that contain hydrating and more natural moisturizing agents such as shea Butter, Coconut oils, hyaluronic acid, and glycerine.
Packaging – The Lotion should be packaged in a dispenser or tube that is easy for seniors to use; most Pump style bottles are easy to use and require only single-handed use.
Type of Lotion – You get Lotions that are suitable for normal skin, dry skin, sensitive skin, and skin barrier issues, which are all suitable for seniors.
Ingredients to Avoid – Avoid lotions with harsh chemicals such as sulfates and parabens, as they could irritate elderly skin.
---
Reviews: The Best Lotions for Elderly Skin
In our list below, we have some of the top-rated skin Lotions that are ideal for the elderly;
---
1
The Aveeno Skin relief lotion is a moisturizing body lotion for very dry skin in seniors.
The soothing formula contains triple oat extract and shea butter that is ideal for sensitive skin and skin prone to allergies.
You get 33 fluid ounces of Aveeno Skin relief lotion in an easy pump bottle that is ideal for seniors.
The Lotion is fragrance-and chemical free, suitable for very dry and sensitive skin, without any harsh elements that could irritate your skin.
The Lotion will absorb fast into your skin without leaving a sticky residue and offer all-day hydration and excellent barrier protection for elderly skin.
---
2
The Eucerin Advanced Repair lotion for dry skin is a repairing lotion suitable for dry skin in which the barrier has become compromised.
The Lotion comes in a 16.9 fluid-ounce easy pump bottle which is very convenient and comfortable to use by the elderly.
The Lotion is ideal for preventing dryness in seniors as it contains ceramides and natural moisturizing agents that boost moisture retention and that help to prevent dryness and irritation in the skin.
The Lotion is free of parabens, fragrances, and dyes that may irritate and cause skin allergies in seniors.
It is a fast-absorbing lotion that will leave your skin feeling silky soft without oily or tacky residues.
---
3
The CeraVe daily moisturizing Lotion can be used on your skin and body as a daily moisturizing lotion for seniors and adults.
It is the ideal Lotion for dry skin and sensitive skin.
The Lotion can be used daily on your body and face because it has a lightweight texture that is easily absorbed and will leave no oily or sticky feeling on your skin.
The ceramides and hyaluronic acid will ensure that your skin feels well-moisturized and hydrated throughout the day.
The Lotion has MVE technology that ensures your skin stays moisturized 24 hours daily.
It contains all three essential ceramides that protect your skin barrier.
The Lotion is likewise suitable for sensitive skin and skin prone to eczema and other skin conditions.
It is a product developed and recommended by dermatologists.
---
4
Another option from CeraVe is their SA lotion, suitable for seniors' rough and bumpy skin conditions.
The Lotion contains salicylic acid and lactic acid, both gentle and mild skin exfoliators that will exfoliate dry, scaly, and rough, bumpy skin on your body.
The Lotion contains hyaluronic acid and Niacinamide, which soothes and moisturizes your skin for proper hydration.
The Lotion is very gentle on your skin and is fragrant for feet.
It is allergy tested and completely non-comedogenic.
There are likewise Ceramides in the Lotion that aid in providing moisture and creating a protective skin barrier to reduce dryness and roughness of the skin.
---
5
From Cetaphil, we have their hydrating daily moisturizer that is simply exquisite for senior skin.
The Lotion is suitable for all skin types and sensitive skin, as it contains no harsh chemicals or elements.
The moisturizing Lotion is lightweight, quickly absorbing, and will not leave a greasy residue on your skin.
It has been tested dermatologically to be safe for even the most sensitive skin types.
The hydrating Lotion contains glycerin, vitamins B5 and B3, and Niacinamide, which is perfect for activating your skin.
The moisturizing Lotion is non-comedogenic, will not clog pores, and provides all-day hydration for your skin.
---
6
From Nivea, we have chosen two packs of enriched, rich, luxurious body lotion for your elderly skin.
You get two 16.9 Fluid ounce bottles of Lotion that are pump dispensers that are so easy and ideal to be used by seniors.
The Lotion will provide all-day moisture and hydration for your skin, offering a deeply nourishing experience.
The Lotion is infused with nourishing serums and almond oils to reduce roughness and nourish your skin.
It is dermatologically tested, sage, and ideal for dry and sensitive skin types.
---
Index Table: Top Rated Lotions for Elderly Skin
---
---