As we age, our muscles may become tenser, and we may suffer from muscle aches and pains.
A good back massager for the elderly can help to soothe tense muscles and to relieve back pain using massage functions and heat technology.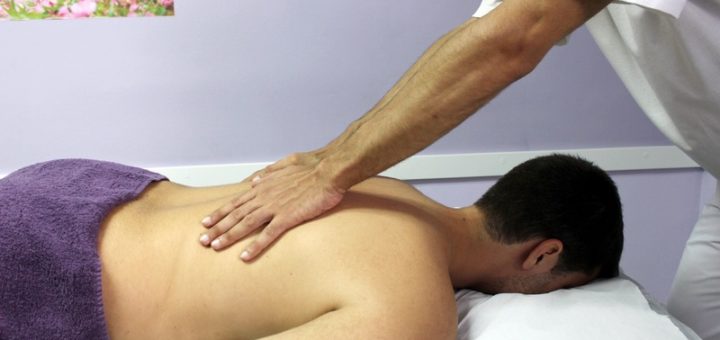 ---
Are Massagers Safe for Seniors
The Massagers for the elderly that we will be looking at are all completely safe and ideal for elderly individuals to use.
They offer settings in intensity and speed levels, as well as different types of massage that will be gentle yet effective for elderly individuals.
---
Types of Massagers for the Elderly
Different massages are available for the elderly, and they all have specific benefits. Here are a few;
Handheld Massagers – Handheld Massagers are ideal for targeting smaller and specific body areas. They are lightweight and can be corded or battery-operated.
Massage Guns – The massage Gun is also a handheld massager that resembles a power drill. It uses rapid bursts of pressure and helps to increase flexibility and range of motion in seniors.
Massage Chair Pads – The Massage Chair Pad can give you a full body massage in one. They are placed on a chair and have options such as Vibration, Deep Tissue Massage, Kneading, and Shiatsu Massage. Some also have a heat function. They offer excellent back, neck, and shoulder massages.
Massage Cushions – Massage cushions come in all shapes and sizes, and most of them are for back and neck massages, while some can be placed in the lower back area. The work similar to the chair pads with kneading, vibration or shiatsu massage, and heat functions.
---
Features of a Good Back Massager for the Elderly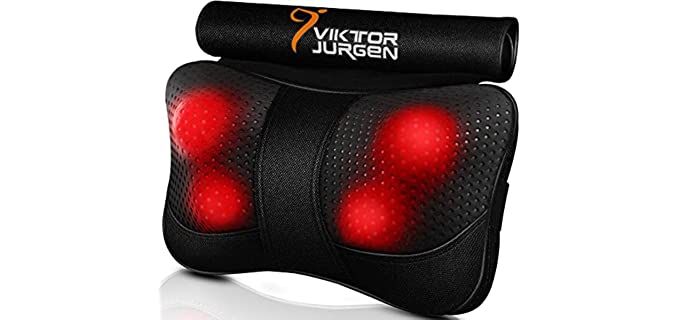 Type – As we have already discussed the different types of massagers, you will need to select what type of massager you will need, whether it be a chair pad, cushion, or handheld massager. The massagers you choose will also give you more or fewer options for full body or only back and neck massage.
Heating Functions – Some massagers, such as chair pads or neck and shoulder massage cushions, also have heating functions. The heating function should allow you to set the temperature.
Settings – Look at the settings of the massager. Massage pads should target different areas of the body, as targeting one single area repetitively may irritate those muscles. Most massagers will have speed or intensity settings. There may also be different types of massage options available such as Vibration massage, deep tissue massage, or shiatsu massage, depending on the massager.
Power Source – Massagers for the elderly come with a few power source options. You get massagers that operate with regular batteries that are completely cordless or cordless options that are rechargeable and come with a charging dock or rechargeable batteries. Then you also get the electric corded massagers that require an electrical outlet to
---
Reviews: The Best Massagers for Seniors
In our list, we have a variety of massage devices that are all ideal for elderly individuals;
---
1
From Renpho, we have a massage chair pad that propositions you to various back massage options that offer stress relief and relieve muscle pain.
It is a full chair pad with adjustable neck and back massage options with four unique massage nodes that will give a deep massage to your back, neck, and shoulders.
A Shiatsu massage option will give you a full back and neck massage, including heat, for optimal relaxation.
The chair pad has an ergonomic design that is comfortable and fits your body and back for full massage contact.
It offers kneading, vibration, and Shiatsu massage options, with a heat function to soothe sore muscles.
---
2
The Mighty Bliss is a Cordless Deep Tissue back and full body massager with the ideal design for seniors.
It is a handheld massage machine that you can use to target painful muscles on your body easily.
The device is very powerful and quiet, with a lightweight design that is easy for seniors to handle.
It has size different massage heads that allow more variety when massaging.
The massager has a very long-lasting battery and a rechargeable power source.
---
3
The Zyllion is a specific 3D neck and shoulder massage Pillow that uses Kneading and Deep tissue massage functions.
It can relieve sore and tight muscles with deep tissue massage functions.
The Zyllion is a compact design pillow that is easily portable and ideal for the elderly to handle.
The Pillow comes in a few color options from which you can choose.
It is a wired massager that requires to be plugged in as a power source which makes it much more powerful.
The massage cushion is FDA Listed and comes with Lifetime support.
---
4
The Turonic GM5 is a massage gun and handheld device, which is easy to use by seniors and targets any area of the body.
The Massage gun offers deep tissue massage for pain relief and to relax tense muscles, which is a problem in the elderly.
It comes with seven massage heads to target different areas of the body and has five massage speeds from which you can choose.
The handle of the massage Gun is easy to grip by seniors, and the device is lightweight and durable.
It is quiet in operation and has very long battery life.
The Massager can also be used for cellulite.
---
5
The InvoSpa is a Pillow Massager for your back and neck that also comes with a heat function for the elderly.
The massaging pillow is corded and needs an electrical outlet to function.
It has 8 Massage roller balls and comes with four big nodes and four small nodes that allow for a deep tissue massage of the neck, shoulders, upper and lower back, as well as your waist, feet, thighs, calves, and arms.
You can easily adjust the intensity and enjoy the Shiatsu neck or back massager.
There are three speed and strength levels from which you can choose.
The Massage cushion also has 2 Massage directions that change the motion.
It has a heat function that is optional and can change your massage experience.
---
6
From Viktor Jurgen, we have a Back and Neck massage Pillow for seniors that is fully electric powered and very easy to operate.
The Massage Pillow will easily relieve back and neck pain and tension as well as help to reduce anxiety in seniors.
It uses pressure to stimulate muscle movement and blood circulation, and the nodes inside the massage pillow will knead your muscles using different techniques.
The massagers also have a heat function that has steady warmth for more significant pain relief and comfort for the elderly.
The massage pillow can be used to target the back, neck, and shoulder areas of a senior.
---
Index Table: Top Rated Back Massagers for the Elderly
---
---