Contrary to popular belief, it is NOT NORMAL for seniors to lose their teeth, although it is quite common.
When seniors lose their teeth, it might indicate poor dental health.
All in all, when it comes to dental health, as you age, you will need to up your game, and other factors come into play.
Good-quality toothpaste can greatly improve overall dental health and strengthen your teeth, for starters.

---
---
Why Older Individuals Need a Good Toothpaste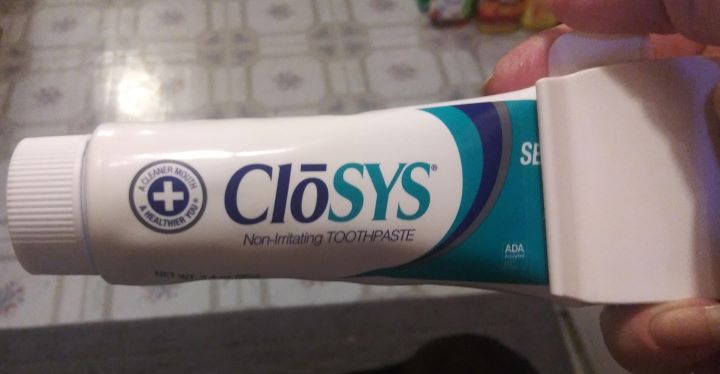 Your risk of many ailments increases with age, and many conditions, such as diabetes, heart disease, and respiratory ailments, can also take their toll on the health of your teeth and gums. However, a good dental hygiene routine can improve and prevent this.
Here are a few considerations to take when looking for that perfect toothpaste;
Gingivitis – Gum disease is one of the most common dental ailments, especially among older people and adults. The Gums are the parts of your mouth that secure your teeth; losing your gums' integrity and health increases your tooth loss chances. Therefore, always opt for a toothpaste with anti-gingivitis properties, healthy for your gums.
Whitening – With age, your teeth will become much more stained and discolored, resulting from many causes. Smoking and coffee are the most likely culprits. A good Whitening Toothpaste will help keep stains under wraps and eliminate existing stains effectively. It is also advisable to use one of the top electric toothbrushes for seniors as they clean much better than by hand.
Fluoride – We always hear about Fluoride in every toothpaste advert, but what is its purpose? Fluoride is your key ingredient in fighting Cavities, cavities which are sticky bacteria films that cover your teeth, causing them to decay. Fluoride removes cavities and rebuilds the enamel of your teeth.
Dry-Mouth – Another common condition among older individuals is a Dry Mouth, which can be because of certain medications. Therefore the kinds of toothpaste with moisturizing agents in their ingredients may be able to provide relief.
Dentures – If you have dentures, you may also need a good denture-specific toothpaste to keep them clean, in shape, and stain-free.
---
How to Choose The Best Toothpaste for Mature Teeth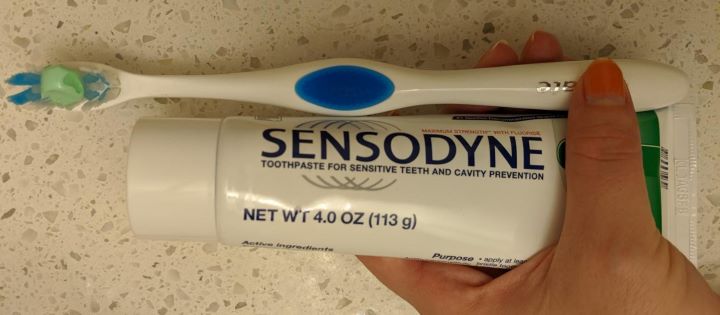 Here are a few tips on what to look for in the best toothpaste for seniors;
Fluoride Content – Fluoride is a mineral that protects the teeth and removes cavities; therefore, always ensure that your toothpaste contains Fluoride.
ADA approved – The ADA has strict requirements for toothpaste ingredients, making it safe and effective.
Read the Labels – Look for chemicals you may be sensitive to and abrasive materials that may not be safe for your teeth. If you have mouth ulcers or dry mouth, it is advised to avoid Sulfates n your toothpaste.
Dental Issues – Choose your toothpaste according to your dental requirements; you may need sensitive toothpaste for sensitive teeth or whitening for stains.
Whitening Toothpaste – Remember that whitening toothpaste has abrasives that are not recommended for sensitive or brittle-damaged teeth. Look for an RDA rating of 250 or below in whitening toothpaste.
Natural Toothpaste – Natural toothpaste is free from chemicals and sulfates as well as Fluoride and can be a healthier option, although I would personally recommend that you get a bi-annual fluoride treatment if you go to this root to strengthen your teeth and build the enamel.
---
Related Articles on Personal Care for Seniors
---
Features of a Good Toothpaste for Seniors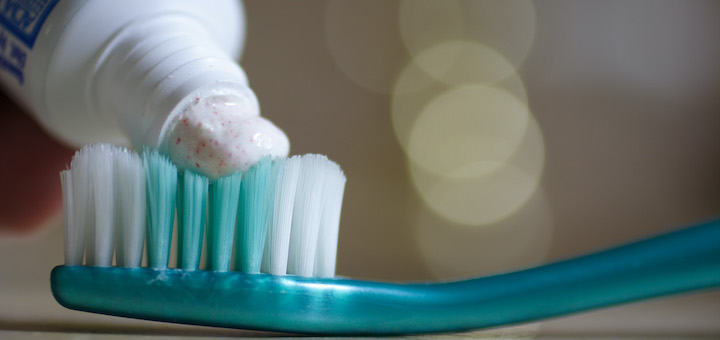 Ingredients – ADA approved ingredients. FDA-approved rating not higher than 250 for whitening kinds of toothpaste. It contains Fluoride for cavity protection. Sensitive for sensitive teeth with no abrasives.
Purpose – All-in-one cleaning, breath freshening, and gum health toothpaste ingredients.
Packaging – Clear labeled and durable packaging that is easy to use by seniors.
---
Reviews: The Best Toothpaste for Seniors
Here are our favorites in tubes of toothpaste that are excellent to use when you are older;
We hope you love the toothpaste we recommend!
So that you know, We may collect a share of sales or other compensation from the links on this page.
---
1
---
2
The Fresh and Brite Denture Cleaning Paste is designed to thoroughly and regularly clean your dentures.
Removes stains and build-up from your dentures.
It gives a fresh aftertaste and smells that freshen your breath.
Gentle yet effective on dentures.
Removes plaque and odor-causing bacteria from dentures.
---
3
The Crest Pro-Health Toothpaste is a complete-care toothpaste that improves your mouth and teeth' overall health.
It offers all-day protection and fights sensitivity.
Blocks tubules in your teeth to prevent and treat sensitivity.
It creates a protective shield against cavities, food, and drinks.
Improves the health of your gums drastically.
Refreshing with a minty taste.
---
4
The Polident Dentu Cream is another superb dental cleaning toothpaste for your dentures.
Specifically designed for denture wearers of all age groups.
Removes build-up and plaque from your dentures.
It helps to keep your dentures white and bright.
It contains minty ingredients that will also freshen your breath and dentures.
---
5
One of my favorites that I can also highly recommend to seniors is the Colgate Total range. I have chosen the Whitening toothpaste for its ability to whiten and remove stains from your natural teeth and to prevent build-up.
A breakthrough whitening formula that works.
Removes stains and prevents stains from developing.
It fights bacteria in your mouth and leaves a lasting fresh breath.
It will also help prevent plaque, tartar, cavities, and gingivitis.
---
6
From Crest Pro-Health, we have their whitening formula for sensitive teeth in the Smooth range.
Removes surface stains from tea, coffee, and smoking effectively.
Ideal for sensitive and more mature teeth that need extra care.
Great taste and freshen your breath.
Promotes healthy gums and removes plaque effectively.
---
7
Hello, Oral care Toothpaste is a natural whitening vegan and SLS-free toothpaste made from all-natural ingredients.
It comes in different quantity options and flavors, such as Farm Grown Mint, Mojito Mint, Pure Mint, or Soothing Mint.
A naturally whitening fluoride toothpaste that is sulfate and chemical-free and made from vegan ingredients.
Strengthens enamel and prevents cavities, as well as freshening your breath,
Vegan and PETA are recognized made cruelty-free in the USA.
---
8
Another superb Colgate Total model is the Daily repair for fragile teeth and damaged enamel.
A Remineralizing toothpaste reverses early damage to your teeth and strengthens the enamel.
Reverse gum issues and help to prevent gingivitis.
Also, prevent cavities and plaque build-up.
Fresh miny taste for lasting fresh breath.
It offers complete oral care as well as effective tartar control.
---
9
The Sensodyne Pronamel protects your teeth and is ideal for seniors' sensitive teeth.
A three-ounce tube of toothpaste comes in a set of four.
The Pro-Name protects the enamel of aging teeth and helps to strengthen and harden your teeth.
It has a lovely mint flavor and is ideal for more sensitive teeth.
The toothpaste contains calcium that is ideal for strengthening your teeth.
---
10
Sulfate-free fluoride toothpaste from CloSYS is perfect for older adults.
This healthy Florida toothpaste prevents cavities and strengthens the enamel on your teeth.
Ideal for seniors with a gentle mint taste.
The toothpaste also helps to whiten teeth and removes stains effectively.
You will get results without harmful abrasives in the toothpaste.
---
Index Table: Top Rated Toothpastes for Seniors
---
---