As we age, certain health conditions do store to affect us. Our vision may also become poor, and we may have issues with our eyesight as well as our eye functioning. Many elderly individuals may need surgery or special care for their arts, in which case they will need an eye patch for seniors.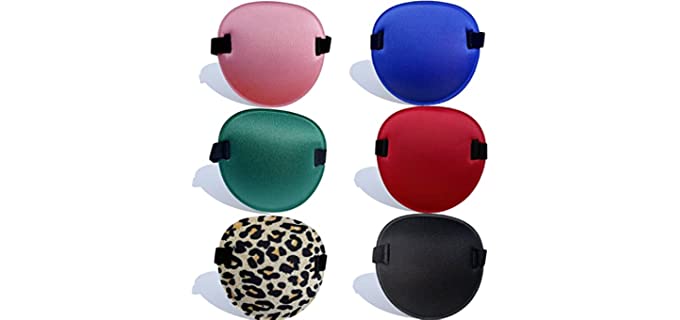 ---
Why You May Need an Eye Patch
Generally, eye patches are used more for children who have certain eye conditions to help improve the vision in their non-dominant eyes.
For adults and seniors, mostly are patches or used to protect one eye, especially after a treatment or a surgery, or when the person has a certain eye condition. However, in seniors and our patch can also be used to help protect vision in the good eye, to help the non-dominant eye become stronger.
Strambismus – The condition is also called lazy eye, and it's basically a visual problem, which is caused when one of the eyes are not properly aligning, and the other one is pointing in a different direction than your dominant eye. Your eye might start to point towards your nose or outward, and it does not align centrally to give you proper vision. The condition usually gives you double vision, which can be a cause of amblyopia as well. Strabismus basically mostly occurs in Children, and seldom in seniors or adults. An eye patch can help for the non-dominant eyes to become stronger and have correct vision.
After Surgery – Many seniors and adults may need eye surgery, such as, for example, to remove cataracts on the eyes or in, certain instances weher they have lost sight in and eye a cornea transplant may be required. In these cases you will need and eye patch to protect the eye for a few days from bright light, or accidental scratching and bumping.
Eye Conditions – Then again, many seniors may have air conditions such as pink eye or an infection in their eye, or maybe they are might just be dry. In these cases, they may be prescribed medication such as eye drops or eye cream to place in the eye, which can make it uncomfortable for them, in which case an eye patch can help to protect their eyes, to prevent you from scratching or touching the eye, and to prevent it from drying out
---
How to Wear and Eye Patch
Wearing an eye patch, especially for a senior with more sensitive and fragile skin can be uncomfortable, and it can feel sore. The area around the eye could become irritated, especially when you are wearing adhesive eye patches. That is why I mostly recommend that an elderly person roar the way a non-adhesive eye patch that fits around their head.
It will take you some time to get used to wearing an eye patch, as it's not the easiest thing to wear, and it can feel very uncomfortable at first. However, soon enough, you will be comfortable with your patch, and you will not even notice that it is there anymore.
It is also important to consider the fabric and the material that the eye patch is made of, as you may be allergic to certain types of fabrics and materials which could actually make your air condition worse.
Lastly, I would consider the size of the unpatched and ensure that it covers the entire eye area and a comfortable manner.
---
Features of a Good Eye Patch for Seniors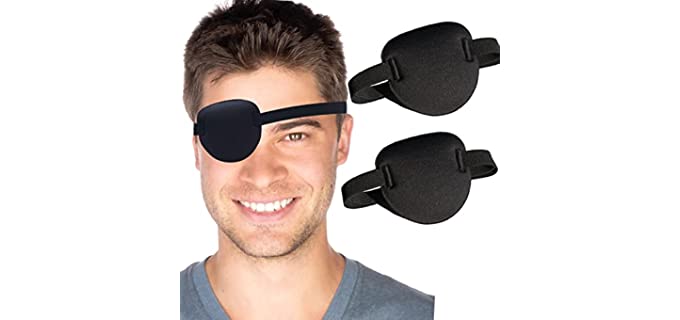 Fabric – The Eyepatch should consist of a soft texture material such as silk fabric or soft polyester, a material that will not cause an allergic reaction.
Design – You do get different designs and shapes of eye patches. You get your 3D contoured models that are a thicker shape to offer full coverage and more comfortable cushioning on the eye. Then you also get thinner designs that are more flexible and lightweight.
Options – Most of the eye patches, we have featured or available in different sizes for adults and children, most of them do come in sets with more than one eye patch, and some are even available in a few fun color options.
---
Reviews: The Best Eye Patches for Seniors
Below or some comfortable and ideal eye patches that you can invest in for seniors;
---
1
The Fcarolyn eyepatches are available in a left or right-sided patch.
They are 3D eyepatches that will fit all face shapes.
The patches offer full coverage and consist of lightweight and comfortable materials.
They are ideal for lazy eye training and daily use.
---
2
From Nuanchu we have 6 pieces of silk eye patches.
The eye patches are suitable for kids, adults, and seniors.
They are designed to cover your eyeglasses to provide protection.
They are fully washable and easy to use by seniors.
---
3
The Favorite eye patches are adjustable and ideal for adults and children.
They consist of a soft EVA foam that is comfortable to wear.
The elastic strap is fully adjustable to fit your head easily.
The eye patches are reusable and can be washed.
---
4
The Rikeyo eye patches come in a set of two.
They are suitable for eye protection and to treat lazy eyes.
The eye patches have a more comfortable 3D design and adjustable Velcro closure.
The eyepatches are versatile for a variety of eye conditions, and will not cause an allergic reaction.
---
5
Here we have some more fun and colorful eye patches for seniors.
They come in different colors and prints with options for your left or right eye.
The eyepatches are a mulberry silk fabric and they are used to place over your eyeglasses.
They are fully washable and reusable.
---
6
The Vandorla eyepatches come in a set of 6 eyepatches for more long-term use.
They consist of a soft and smooth material that is very breathable.
The elastic band is adjustable for a comfortable fit.
Each patch can be used on the left or right eye.
---
Index Table: Top Rated Eye Patches for Seniors
---
---