For elderly persons that struggle to stand up, sit down, or even walk without assistance, a caretaker or family member may need to assist them.
This may sometimes be a difficult task for a single person to perform, and this is where the best lifting belt for the elderly, or as we also know them, a transfer belt, may come in handy.

---
The Lifting Belt for Elderly Persons
Let us first look at exactly what a lifting or transfer belt is.
The Lift belt, also known as a patient transfer belt, is a device used to move a person from one place to another. For example, from a bed to a wheelchair, from a wheelchair to a toilet seat, and other places. The device stabilizes the person from seated to standing or walking.
The lifting or transfer belt is mainly used for elderly persons who lack mobility or disabled patients. It is ideal for lifting a person from a bed to a wheelchair or aiding in standing up or walking.
The lifting belt makes it easier for a caretaker or family member to lift a person from seated to standing.
There are, however, pros and cons to a lifting or transfer belt;
1. It aids a caretaker and family member to help lift an elderly person and reduces the risk of them suffering a back injury.
2. The Lifting belt provides stability and balance when standing up and can prevent falling.
3. It is an affordable device that is very easy to use.
4. You need some balance and mobility for the device.
5. The individual using it needs to be able to bear their weight on their feet.
---
How to Use a Lifting Belt on an Elderly Patient
In the Video and description are a few steps to help a family member or caretaker use a lifting or transfer belt properly;
Check the Belt – Make sure that the belt is the right width and fit and strong enough to use on the older person it is intended for.
Comfortable Clothing – Ensure that the older person wears comfortable clothing that will not chafe or bunch up underneath the lifting belt.
Sit Up – Ensure that the older person sits up straight and facing you.
Secure The Belt – Place the Belt around the waist and wrap it around the legs if it has leg loops. Secure the clip and ensure the belt fit is snug but not too tight.
Lifting – Pull your arms around the waist of the elderly and use the pull handles to lift them to a secure standing position. Let the person place their arms around your shoulders and face you.
The elderly can walk or be placed in a wheelchair from a standing position.
---
Features of a Good Lifting Belt for the Elderly
Here are a few characteristics that make a very good Lifting and transfer belt for elderly individuals;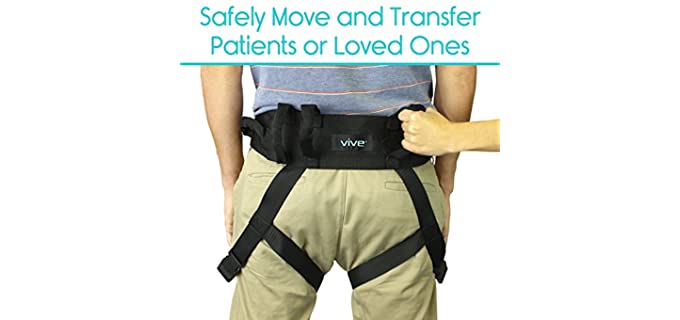 Easy to Use for Moving and Transferring – Look for a Lifting belt that will allow you to safely and easily lift and move an elderly person. It must be able to lift from any angle for persons in a wheelchair, in physical therapy, or in a bed.
Comfortable and Padded Handles – A Lifting belt with size handles, four vertical and two horizontals, is usually your best choice. It allows a caregiver to assist with any other angles. The handles need to be padded so the caregiver or handler can get a sturdy grip that is also comfortable and will not hurt their hands.
Quick and Easy to Adjust and Remove – Look for a Lifting belt design that is quick and easy to put on and take off. It should accommodate the waist size of the elderly person and have a durable metal or plastic buckle with locking teeth or a clip to secure the belt. Ensure that there is also a quick-release latch for removing it quickly and easily.
Strong and Wide Construction – Look for Nylon webbing and reinforced stitching on the belt for better durability. Ensure the gait belt is around four inches wide for a comfortable area and better weight dispersion. Extra width in the belt also enables the belt to handle a higher weight load and prevents it from riding up the sides of the older person.
Leg Loops – The Leg loops add extra stability, especially if they lack strength in their lower body. Leg loops fit around your upper thighs and pull upwards as the caretaker or handler lifts you.
---
Reviews: The Best Lifting Belts for the Elderly
These are some of the best available Lifting Belts for elderly individuals;
We hope you love the products we recommend!
So that you know, We may collect a share of sales or other compensation from the links on this page.
---
1
---
2
From Patient aid, we have a Lifting Belt with comfortable padded handles.
The lifting belt has easy-to-grip, fully padded handles.
It consists of solid and durable materials and is reinforced with double stitching.
The design is sturdier and more accommodating.
---
3
The Vansun Lifting belt is ideal for transferring an elderly fr a sitting to standing and vice versa.
It is completely waterproof and very durable.
The belt consists of oxford cloth and PVC.
It has comfortable grip handles and Velcro closures.
---
4
The Jeelathy Transfer belt is ideal for elderly or disabled persons.
It can hold a weight of up to 400lbs and is durable and sturdy.
The belt consists of heavy-duty nylon webbing and has a secure clasp.
There is soft mesh and pearl cotton for breathability.
The handles are ergonomic and easy to use.
---
5
From Vive, we have a transfer and lifting belt for the elderly with leg loops.
The leg loops provide better stability and help a person with weakness in their legs.
It is a sturdy construction with durable materials.
The metal buckle closure is secure and durable.
It also offers a comfortable fit for an elderly person.
---
6
The Plcea Transfer sling lifting belt is another good choice for elderly persons.
It can hold up to 400 lbs and has a heavy-duty design.
The lifting belt has an extra thick and long strap and a wider lifting sling.
The handles are comfortable and easy to use.
It is recommended for use on heavier individuals.
---
7
A comfortable lifting belt for seniors from Fanwer.
The belt allows for easy lift and transfer.
It has a non-slip design and overlapping webbing for improved load-bearing.
The handles are comfortable and ergonomic in design.
---
8
The Fushida Lifting belt for seniors is very durable.
It consists of premium materials with strong nylon webbing.
There are double handles for extra safety.
The comfortable and wide design is ideal for elderly persons.
The belt is a non-slip and padded design.
---
9
The Vive transfer and lifting belt is a great design for the elderly.
It has a non-slip design and an optional waist belt for extra security.
The handles are uniform and completely padded for your comfort.
Very durable with strong polyester and heavy-duty materials.
---
10
The Kangwell Lift and transfer belt help you assist elderly persons in getting up and walking.
The belt is easy to use and has a gait design.
There is a very comfortable webbing handle design.
It can be fully adjusted and disassembled for customization.
---
Index Table: Top Rated Lifting Belts for the Elderly
---
---