Washing hair may be quite difficult for elderly persons, especially when they struggle with mobility and weakness.
Reaching your head to wash your hair, rinsing, and even standing in a shower or sitting in a bathtub may be challenging for most seniors.
No Rinse shampoos can easily be sued for senior purposes and require no water or entering a bathtub or shower to wash hair.
The best No Rinse Shampoo for the elderly is also ideal to use in-between washes and to use by caretakers.

---
No Rinse Shampoo Benefits for Elderly
The No Rinse shampoo can come in liquid, foam, dry spray, or powder form.
A no-rinse shampoo removes dirt and absorbs it from your hair, leaving it clean, smelling fresh, and well-conditioned.
No Water Needed – The No-Rinse shampoo needs no water for rinsing or washing and can only be convenient for this reason. Your scalp may not be able to tolerate the water in the area you are in, or water may not be within easy reach or access. There is no need for water with all no-rinse shampoo types.
Milder – No Rinse shampoos tend to be much milder and more gentle on the scalp than rinse. They also are more likely to contain conditioning and moisturizing agents that will keep your scalp and hair in good condition. This is ideal for seniors as their hair tends to be drier and their scalp more sensitive.
Dry Shampoo – Although It does not clean the hair, I find it an excellent option to remove oil and absorb oils that may leave your roots dull and dirty. This is ideal in between shampoos or cleans.
Bathing and Shower Limitations – For elderly persons who struggle with mobility, who is in a wheelchair, or have weakness in their arms or body, a no-rinse shampoo can be quite a lifesaver as it is much faster and easier to use by themselves or a caretaker.
---
How to Use a No Rinse Shampoo
As a caretaker, or even if you use it as a senior person, you should find a comfortable position to sit on a bed or chair.
Please wrap a towel around your shoulders if there is any product spillage to protect your clothing. Brushing or combing your hair before removing any tangles is also a good idea.
Apply the shampoo and massage it into your scalp. Use a comb to distribute the product evenly through your hair.
When this procedure is completed, you can use a towel to remove the excess foam. I can also use a wet towel.
---
Features of a Good No Rinse Shampoo for Elderly Persons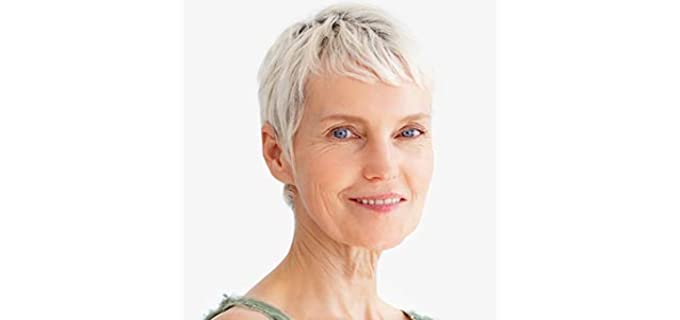 Dry Shampoo – The dry shampoo is a dust-on powder or spray that absorbs moisture and gives your hair a cleaner and more oil-free appearance.
Foam Shampoos – Rinseless foam shampoos have a water base but do not need to be rinsed off.
Blotters – Blotters are tapped along the roots and hairline to absorb oils and dirty areas on the scalp and hairline.
Liquid Shampoos – Liquid no-rinse shampoos are a wet option that you massage into the scalp and then dry off.
---
Reviews: The Best No Rinse Shampoo for Elderly Individuals
In our list, we have some excellent ideas for you for No Rinse shampoo options;
We hope you love the shampoos we recommend!
We may collect a share of sales or other compensation from the links on this page.
---
1
---
2
The No-Rinse Shampoo is perfect for senior persons and odor-free.
This no-rinse shampoo has a light and fragrant scent.
It is ideal for seniors and caretakers to use easily.
The shampoo is healthy and ph balanced with a formula that does not irritate the scalp.
Shampoo is a trusted and well-known brand.
---
3
A paraben and sulfate-free body wash and shampoo for elderly persons.
A hydrating and cleansing gel that requires no rinsing.
Use it to clean your hair and body and to hydrate.
It is a Phytoplex cleansing gel that has botanicals that cleanse and moisturize your skin,
The natural emollients provide hydration and a soft scent.
---
4
The Weldemix no-rinse is a body wash and shampoo for the elderly that is sulfate-free.
A three-in-one cleansing foam that needs no rinsing.
The foamy wash is ideal for shampooing ad conditioning, as well as for a body wash.
It is perfect for seniors, caretakers, and individuals who struggle with mobility.
The shampoo is a hospital-grade and safe formula.
---
5
We have a no-rinse shampoo and body wash in one from Nurture Valley in one for seniors.
Another excellent no-rinse shampoo and body wash option.
It is ideal for travel and use by elderly persons.
The cleansing foam contains aloe vera and is non-allergenic,
It is a wipe-away cleanser requiring no water.
---
6
The Dove Dry Shampoo is volumizing and easy to use for seniors.
Dove is a trusted and well-known cosmetic brand with excellent dry shampoos.
Their non-rinses dry shampoo absorbs excess oils and dirt from the hair in between washes or as a wash o its own.
The dry shampoo is also volumizing and weightless.
Just spray I ton your roots and hairline for a quick clean.
---
7
This is a Luxury Waterless shampoo that is also ideal for elderly persons.
This is a luxury no-rinse shampoo design.
It comes in a single or three-pack size option.
The shampoo is light and fresh, with a more natural smell.
Nurses and caregivers recommend it, and it is ideal for seniors.
Easy to use, and no rinsing or water is required at all.
---
8
The Rinseless shampoo for seniors is ideal for hospital stays ad other trips.
The shampoo has a no-water formula that cleanses your hair.
It has no oily residue and is fast and convenient to use.
You get a pack of two with this purchase.
---
9
The No-Rinse Shampoo from No-Rinse is ideal for seniors.
You will have clean and odor-free hair.
It cleans and conditions hair in one water-free formulation.
Ideal for seniors and hospital use.
---
10
The Pharma C Wipes are foaming, no-rinse shampoo and body wash.
The formula is safe and fragrance-free for sensitive skin.
It is a gentle cleanse for your hair and body.
Also ideal for more mature and sensitive skin.
---
Index Table: Top Rated No Rinse Shampoo for Elderly Persons
---
---