Most seniors generally need more water as they age, creating a tendency toward dehydration.
However, there are so many great gadgets on the market to encourage an elderly person to drink more water, such as the water bottle for the elderly, a comfortable and easy design that they can use.

---
---
Dehydration in Seniors
Dehydration in seniors can become quite severe, especially those with Alzheimer's or dementia that may forget to stay hydrated.
Dehydration can cause dizziness and passing out, making their kidneys less effective.
A low water intake is also associated with Urinary tract infections and urinary system diseases.
Long-term dehydration can result in dangerous health outcomes, such as weakness, low blood pressure, and weakened skin.
---
How to Get an Elderly Person to Drink More Water
Drinking water may not be first on an elderly person's list, and some may be stubborn.
However, there are some ways to encourage them to drink more water;
Water Bottles – First, a good water bottle that is easy for a senior to grip and drink out of can be ideal. Colorful designs make them more fun and encourage hydration.
Make Water easily Accessible – Using sources such as water bottles all over the house makes it easily accessible and reminds a senior to drink water.
Serve Water at Different temperatures – Give your elderly loved one water at a temperature they enjoy; not everyone enjoys cold or room temperature water.
Use Savory Foods – You can use savory foods to get an elderly person more thirsty so that they will drink water.
Sports Drinks and Other Drinks – Some elderly individuals may not like the taste of water, so using flavored waters or sports drinks can encourage them to drink more fluids.
Continence Issues – An elderly person may purposely avoid using liquids because of incontinence issues.
---
Features of a Good Water Bottle for the Elderly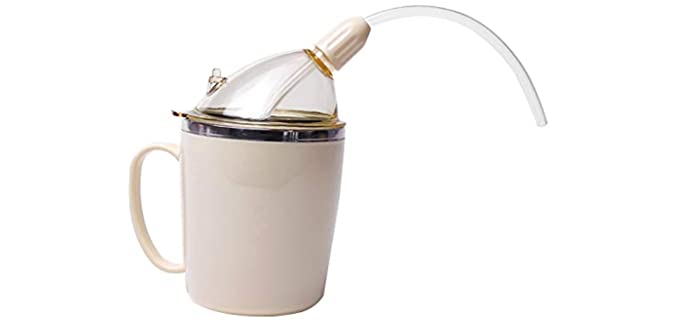 Safe Materials – Choose safe BPA free plastic or steel bottles. Avoid Glass and cheap plastic water bottles.
Non-Spill Design – Ensure the water bottle has a non-spill design so that no water comes out even if it falls or is held upside down.
Spout or Lid – choose a lid or spout design that is easy to drink out of. For bedridden seniors, you need a long non-spill spout for drinking.
Size – Select a comfortable water bottle that will not be too heavy for an elderly person to hold on to.
Hot and Cold Liquids – You get insulated water bottles that can keep liquids hot or cold.
Grip – Make sure that the design of the water bottle is easy for an elderly person to grip and hold on to.
---
Reviews: The Best Water Bottle for the Elderly
In our list, we have some truly ideal water bottle brands and models for elderly persons;
---
1
---
2
The Zorri is a lightweight, leakproof, BPA-free water drinking bottle for the elderly.
The water bottle is BPA and Phthalate free with a non-toxic construction.
It has a double leakproof design, a lockable pop-open top lid, and an ergonomic flip cap.
The water bottle has a silicone seal ring and consists of food-grade quality materials.
It has a one-click easy-open durable filter layer.
Four sizes are available, and more colors from which you can choose as needed.
---
3
The Amphipod is a Hydraform handheld water bottle with Thermal and insulating capabilities ideal for seniors.
The water bottle has a 12 oz ergonomic, contoured handheld design with a pocket.
It is ideal for hot and cold liquids with Thermal and insulating properties.
The water bottle has a comfortable, fully-cushioned slotted design that is breathable.
You can easily remove the insulation for more versatility.
The water bottle is 40% flatter with a HydraForm design that eliminates hand cramping when holding the bottle.
---
4
The Hydr-8 water bottle is an insulated and time-market to help seniors stay hydrated more regularly.
The bottle is 32 oz and insulated to keep your water cold all day.
It has time marking to keep track of your water intake during the day.
The water bottle helps you reach a goal of drinking eight glasses of water per day.
It has a great design that is comfortable to use by seniors.
---
5
The SB Ableware Hydrant water bottle is a Long Tube water bottle with a mouthpiece and clothing clip.
The water bottle is designed for seniors and patients bedridden and struggling to get up to drink.
There is a long piece with a mouthpiece that you can easily clip onto your clothes and reach lying down.
The water bottle holds 1 liter of water.
It has metric markings to allow easy and accurate monitoring of your water intake.
The water bottle also provides constant and independent water intake for a disabled or immobile elderly individual.
---
6
The Thermoflask Double Stainless steel water bottle is insulated and ideal for seniors.
It is a 24-ounce water bottle available in many color options from which you can choose.
The water bottle has vacuum insulation to keep beverages cold for 24 hours and hot for 12 hours.
The water bottle has a Chug and straw design lid and comes with two lids.
It has a premium design and is comfortable to use by seniors.
---
7
The Mira water bottle is a reusable water bottle that is insulated and durable for seniors.
It can be used as a flask or water bottle by seniors.
The water bottle has an innovative vacuum insulation design to keep beverages hot or cold.
It is BPA-free, stainless steel, which is safe and very durable.
The water bottle is lightweight is very easy to use by seniors.
---
8
The Owala FreeSip insulated Stainless Steel Water Bottle has a straw design that seniors can easily use.
The water bottle is 32 ounces and consists of durable BPA-free stainless steel.
It is a patented FreeSip spout design that can be used for sipping upright or lying down.
There is a protective push to open the lid and carry the loop for convenience.
The double-wall insulation will help to keep your beverages cool.
---
Index Table: Top Rated Water Bottles for the Elderly
---
---