Elderly Persons, particularly those limited in mobility, may suffer from pressure sores and issues in their elbows from sitting or lying down for extended periods.
Then there are also elbow concerns, post-op, or injuries that may insist on needing an elbow protector.
Whatever the reason, you may want the best elbow protectors for the elderly.

---
---
Reasons Why and Elderly Person May Need Elbow Protectors
An elderly person limited to a bed, chair, or wheelchair may rest on their elbow or place their elbows on the armrests, which can cause pressure sores or abrasions, for which an elbow protector may be necessary.
Other than that, the skin on the elbows may become irritated, fragile, or more prone to chafing and sores, which also makes an elbow protector necessary to keep infections out.
Then there are also the cases with elbow injuries that are more prevalent in elderly individuals and post-opt to the elbow, where an elbow protector is required for healing and protection in this healing period.
---
Types of Elbow Protectors for Seniors
When it comes to elbow protectors for elderly persons, you get a few types to consider;

Gel Elbow Protectors – Gel Elbow protectors protect against pressure sores and discomfort and are ideal for absorbing shock during a fall.
Post Opt Elbow Protectors – These protection pads protect the elbows against abrasions and trauma after an injury or operation.
Knitted Elbow Protectors – Knitted Elbow protectors provide warmth and protection against pressure sores and abrasions.
---
Related Articles on Personal Care for Seniors
---
Features of a Good Elbow Protector for the Elderly
Here are a few features to consider when choosing the best elbow protector for an elderly person;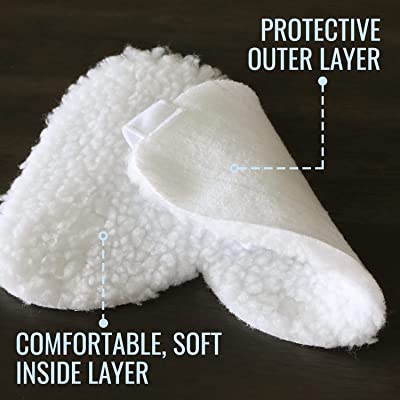 Materials – The materials in an elbow pad will depend on what you need to use them for. It would help to have a gel or cushioning pad for impact resistance. In contrast, you can opt for a more flexible fabric elbow protector. Most Elbow protectors consist of acrylic wool with spandex for stretch, polyester, or cotton fabric for abrasion resistance or protection alone. They may have urethane foam cushioning in the elbow area.
Size – Although most elbow protectors are one size fits all, you still need to look at the measurements and decide if they are needed. Then some models offer more size options in turn. Most elbow protectors are very stretchable, so that they will fit most sizes.
Quality – Always look for good quality materials, brands, and trusted construction that will provide comfort and last long enough.
Non-Latex – As you will see, many of the chosen elbow protectors for seniors stipulate that they are non-latex, meaning they contain no latex materials. Latex can cause allergies in many people, as well as skin sensitivity. That is why it is not generally recommended for elderly persons.
Designs – Elbow protectors for the elderly also come in different designs. They may be a mesh or fabric design with a tie or hook and loop closure that comes in size options and fits by tying or adjusting the hook and loop closure. Then you also have sleeve options, usually stretchable fabrics such as acrylic, polyester, and spandex for stretch. They usually slide on easily and stretch to fit.
---
Reviews: The Best Elbow Protectors for the Elderly
These are the top brands and models of elbow protectors for elderly people.
We hope you love the products we recommend!
We may collect a share of sales or other compensation from the links on this page.
---
1
---
2
The Medline range is Cradling and supportive elbow protectors ideal for elderly persons.
The elbow protector has an open mesh design with comfortable padding, protecting the elbow against hard impacts and abrasion while remaining breathable.
The size is universal to fit most elderly individuals, and it should fit most arm sizes because it tries.
You can use it on heels and elbows, as the design is versatile.
---
3
The Rolyan Elbow and heel protectors are ideal for seniors, as well s versatile for use on the lebos and heels.
It comes as a pair of sleeves with padding protection against abrasion, bumps, and pressure for sitting or lying down.
The sleeve consists of spandex and acrylic material for durability and stretch, making it an easy fit that will fit most arm sizes.
A urethane pad in the middle for shock protection and pressure relief.
The sleeves contain no latex that can cause allergies.
---
4
This is the Premium Rolyan elbow protector model.
The elbow protector is a large size at 9 inches long and 7.5 to 14 inches wide, although more sizes are available.
It is designed to help disperse and comfort your joints, such as elbows and heels.
The protector is machine washable and contains no latex making it safe for allergies and convenient to keep clean.
There are also other sizes available, as well as sizes for children.
---
5
The DMI Elbow protector has a hook and loop style closure for an adjustable fit.
The elbow protector prevents pressure, sores, ulcers, and injuries,
It consists of polyester and has a cushioning design.
One size fits most adjustable options with a hook and loop closure.
---
6
From Sammons, we have the Preston elbow protector for seniors.
It comes in comfortable sleeves that wit around your heels or elbows.
The sleeves have urethane padding for comfort and shock resistance.
They contain o allergy-causing latex and are very durable.
---
7
This is a moisturizing and breathable cushioned; elbow protector for seniors.
It consists of Ultrathin soft materails and closes the entire elbow.
It has a non-slip and breathable design.
There is a built-in gel to keep your elbows protected and moisturized.
---
8
From Curad Universal, we have a heel and elbow protector.
It is a basic design that provides cushioning and abrasion resistance.
The pads are stretchable and comfortable in fit and have a pullover design.
It is ideal to use on your heels and elbows; it comes in two sets.
---
9
From Briggs, we have the perfect heel pads for seniors.
They are ideal for use on your heels and elbows.
The design is an easy pull-on and well-padded.
You get a single pair in an extra-large size.
---
10
Here we have two options from Essential Medical Supply.
There is a Heel or an elbow pad.
It consists of synthetic materials that mimic soft sheepskin and is more lightweight and cushioning.
The elbow pad is washer and dryer safe.
---
Index Table: Top Rated Elbow Protectors for the Elderly
---
---