One very important step in your overall bathing routine is proper exfoliation.
Exfoliation is required for your body, as much as for your face, to remove dead skin cells, for products to be better absorbed, and to improve the texture of your skin and circulation.
For an elderly person, proper exfoliation becomes just as important. However, they need to use more gentle and ergonomic tools to use.
This article will look at some of the best available bath brushes for the elderly, with comfortable bristles and a more ergonomically designed handle.

---
---
Is it Important to Use a Bath Brush?
You can use a bath brush, loofah, best back scrubber for shower or any other tools for exfoliation, but I find that the regular bath brush is the easiest and best method for exfoliation in older adults.
The bath brush has a longer handle, allowing you to reach all areas of your body easily. The softer bristles are also more gentle on delicate skin than other exfoliators.
Even when you age, it is still needed to exfoliate your skin properly. Exfoliation helps to remove dirt and dead skin cells for better cell renewal and turnover.
Using a bath brush will also improve circulation and have a massaging effect to remove toxins from your body.
Exfoliated skin will absorb moisturizers and body lotions much better to improve your skin's health and texture.
---
Choosing a Bath Brush for an Elderly Individual
There are a few things you need to consider before investing in a bath brush for your body;
What to know before you buy a bath brush for the elderly
Texture of the Bristles – As you will see, many bath brushes come with dual sides or heads that may have a loofah or sponge that has a harder or softer texture. The bristles of a bath brush for an elderly individual need to be slightly softer as their skin tends to be more fragile.
Wet or Dry Brushing – You get Dry and Wet brushes for exfoliation. A dry brush addresses dry and flaky skin removing the dry skin cells. A Wet brush is used for similar purposes but in a shower or bath with soap or a body wash. We will be looking at a wet bath brush specifically for this article.
Ease of Use – There is no standard length for a bath brush handle; however, for an elderly person, a longer and more curved style handle is better. It should allow you to reach all areas of your body, even your back, with ease and without bending or stretching too much. For many seniors, mobility and grip are an issue. The handle needs o to feel secure in their hands and have a size and textured grip that will not slip out of their hands. The brush size is also important as you want to cover the most surface area possible with the least effort.
---
Features of a Good Bath Brush for the Elderly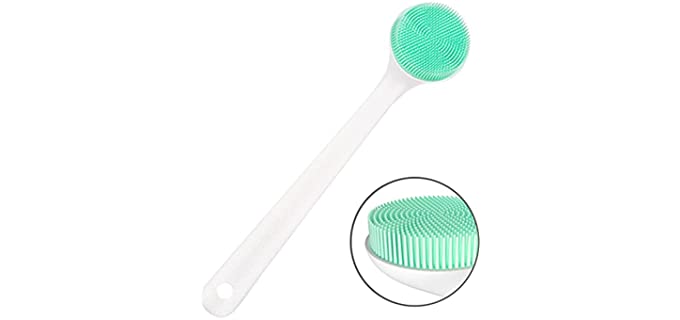 Soft Bristles – The bath brush should have reasonably soft bristles with a wide head for even brushing and comfortable exfoliation.
Handle – Look for a bath brush with a long handle that has an ergonomic grip and grippy texture that will not slip when wet.
Electrical Options – You get electric bath brushes that can be charged or use batteries. They are an ideal option for elderly individuals.
---
Reviews: The Best Bath Brushes for the Elderly
Here we have some excellent choices in Body Bath Brushes that are ideal for seniors;
---
1
---
2
The Honoma shower and bath brush are perfect for senior individuals.
It is a body brush that has a Loofah and bristles brush option.
The bath brush has a long, comfortable ergonomic handle that seniors can easily use.
It is ideal for dry and wet brushing with a curved handle for easier grip.
---
3
The Tukuos bath brush has a comfortable long handle that is easy to use by the elderly.
The bath brush has soft bristles for cleaning and stiff bristles on the other for deeper exfoliation.
It has a 17-inch-long handle to reach all areas of your body and an anti-slip rubber patch grip design.
The bath brush is ideal for sensitive and normal skin types.
---
4
The LFJ is a three-in-one Bath brush set for the elderly.
It has a very long handle that easily reaches those hard-to-reach areas.
The handle offers a comfortable and ergonomic grip.
The brush head is interchangeable with a pumice stone for your feet, a bath brush head for exfoliation, and a loofah head for washing.
It is the ideal all-in-one solution for an elderly individual.
---
5
I have chosen a silicone bath brush option for seniors from the V-Top store.
The silicone bath brush consists of 100% natural silicone that is food-grade, durable, and very hygenic.
The brush's super-soft bristles are ideal to use by seniors and for sensitive skin.
There is a long, comfortable handle, and silicone offers a more comfortable grip.
The bath brush is easy to use and has a hanging hole for storage.
---
6
The TSXGJ is an electric bath brush for seniors that is also ideal.
It has a very long handle, and you do not require much effort as it brushes automatically.
The bath brush is a rechargeable design that uses a USB charging device.
The Bath brush has five included interchangeable brush heads for your convenience.
It is a safe and waterproof design that is available in blue color.
---
7
The Metene Bamboo body brush is a more natural option for the elderly.
The body brush is a double-sided design with natural stiff bristles on one side and softer bristles on the other.
It has a long and ergonomic natural bamboo wood handle.
The body brush is ideal for wet and dry brushing.
Bamboo is an extremely durable material that is water-resistant and hypoallergenic.
---
8
The TopNotch bathe brush for seniors comes in a set of two for couples.
It has a very long, ergonomic handle that offers a comfortable, textured grip that will not slip out of your hands.
The bath brush comes in a set of two, one pink and one blue, his and hers.
It has medium-soft bristles, and it is very hygenic.
Easy to clean and very comfortable to use.
---
Index Table: Top Rated Bath Brushes for the Elderly
---
---