When it comes to a certain point or age in your life, showering and bathing may become a difficult task. As we age, we may struggle with mobility and may even land up in a care facility.
Bathing wipes are an effective innovation that can help with persons that are unable to take a proper bath or shower regularly or as an intimate cleaning agent for incontinence.
Bathing wipes are easy to use by seniors themselves or by caretakers.
In this article, we look at some of the best bathing wipes for the elderly that are easy to use, effective, and gentle on fragile skin.

---
Uses for Bathing Wipes
There are two main uses for Bathing Wipes for Elderly Persons;
For Actual Bathing – Bathing wipes can be used to cleanse yourself without taking a shower or a bath. They contain water and cleansing agents, and some have some disinfecting agents that will clean your skin and body.
Intimate Use – Bathing wipes can be used for cleansing elderly persons that are incontinent and that need to wear an adult diaper.
Bathing wipes also contain agents such as Vitamin E and aloe, which help to not only cleanse but also condition your skin.
---
Types of Bathing Wipes for the Elderly
Bathing Wipes come in different sizes and a variety of options.
Mainly for bathing, a larger and thicker wipe is most effective and versatile, especially for adults.
The pack sizes and amounts of bathing wipes included vary from brand to brand.
Ingredients added should be safe for the skin in elderly persons, and it is recommended that they are fragrance and alcohol-free for individuals with sensitive skin.
Additional moisturizers such as Vitamin E and Aloe may be added for moisturizing and conditioning the skin.
---
Features of a Good Bathing Wipes for Elderly Persons
Bathing wipes for seniors are a safe and effective, as well as well-rounded hygiene regimen for cleansing and bathing. They may become essential when caring for older adults, and by evaluating a few options and features in bathing wipes, you can make a good and informed choice in the best bathing wipes.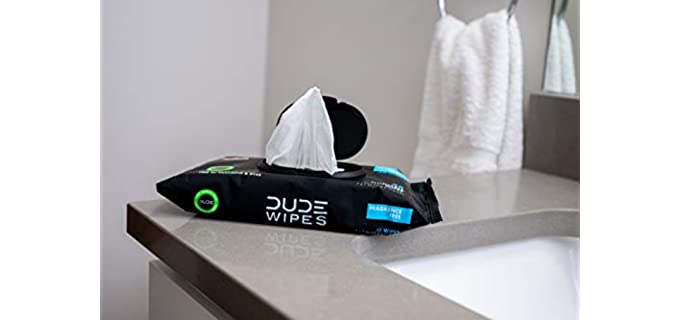 Flushable – Always look for bathing wipes that you can easily flush and that are bo-degradable so that they do not block your drain system.
Fragrances and Ingredients – Bathing wipes consist of water as a moisturizer with other ingredients such as Vitamin E, Aloe, and soaps to clean and condition your skin. Some are likewise fragranced and may contain alcohol as a disinfectant. However, for sensitive skin and intimate use, it is advised to opt for fragrance and alcohol-free wipes.
Sizes – Larger adult wipes are generally more suitable for elderly persons as they are more versatile for cleaning, and can clean larger areas.
Packaging – Try to find a package with a resealable or flip lid that is eays to open for an elerly person or a care taker.
---
Reviews: The Best Bathing Wipes for Elderly Individuals
Here are some excellent choices in bathing wipes that are ideal for elderly persons;
---
1
The Surviveware biodegradable and hypoallergenic bathing wipes for the elderly are safe and convenient to use.
These wipes are ideal for sensitive skin and intimate areas as they are unscented and natural.
They are fully biodegradable and can be flushed.
The wipes have a large design for easy cleaning.
The packaging is upgraded to make the wipes last much longer.
---
2
The Nurture Valley wipes for seniors are ideal for sensitive skins as they contain no harsh substances.
These are extra large and extra thick cleansing wipes for seniors.
They are latex and lanolin-free as well as alcohol-free, so ideal for sensitive skins.
The wipes come in in a set of twelve-packs, each with 120 extra large wipes.
The packaging is easy to use and keeps the wipes fresher for longer.
---
3
Large size adult wipes from Medline that come in scented or non-scented options.
These are sensitive skin and personal cleansing wipes for adults and seniors.
They are unscented and very gentle on the skin.
Aloe vera is added to soothe and moisturize your skin.
The wipes are Ph balanced and hypoallergenic for elderly persons.
They are large in size and very thick.
---
4
The Healthy Spirit disposable wipes for the elderly are gentle and extra-large size.
Here we have disposable full washcloths designed specifically for washing yourself.
They are extra thick and oversized, convenient for adults and seniors, and all over body cleansing.
The dispenser packkeeps them moist and is very easy to access.
Aloe is added for soothing your skin.
---
5
The TenderProtect wipes are soft and gentle with hypoallergenic materials for seniors.
Soft and gentle bathing wipes for the elderly and perfect for fragile and sensitive skin.
The wipes are large and durable for use by adults and seniors.
They are hypoallergenic and alcohol free, which means that you can easily use them on dry and sensitive skin types as well as more fragile seniors.
Lanolin and aloe is added for maximum comfort and moisture.
The flip lid is easy and convenient to use by the senior person and by caretakers at homes and institutions.
---
6
The Dudes Wipes are flushable and have added Vitamin E and Aloe for your Skin.
Here you get three packs of 48 wipes each, which is the perfect size, even for traveling.
They are unscented and enriched with vitamin E and aloe for moisture and comfort, thus ideal for dry and sensitive skin types.
The wipes are septic and sewer tank safe and biodegradable, so you can flush them without worrying about your tank or the environment.
They are larger than average wipes and designed for use by adults and seniors.
---
7
The Charmin Freshmates are flushable wet wipes ideal for bathing elderly persons.
These are a 40 sheet pack set of 12 packs of bathing wipes.
They are flushable and durable, so extremely convenient.
The pack is resealable and very easy to use by both seniors and caretakers alike.
Ideal for your bathroom or traveling, as the design is compact and easily portable.
---
Index Table: Top Rated Bathing Wipes for Elderly Persons
---
---