As we age, our skin changes and becomes susceptible to dryness and age-related skin conditions that could signify some underlying medical problems.
Because dry skin can lead to other complications, it is important to take good care of your skin and monitor it carefully as you age.
The best moisturizers for seniors will contain ingredients that do not have any harsh chemicals such as fragrances, alcohol, and sulfates and that have emollient properties to create a protective barrier for dry skin.
We will look at a few moisturizer ingredients to target every aspect of aging skin.

---
Why Seniors Need a Good Moisturizer
As we age, our skin loses its suppleness, it becomes more prone to dryness and damage, and there may be other related conditions that can affect your skin.
Your genetics, environment, and ethnicity may determine what type of skin you may have and what skin issues or conditions you may have.
As an elderly person, you may not have dry skin but rather oily or sensitive skin or skin prone to blemishes.
However, one fact remains, our skin does lose suppleness and moisture as we age, so hydration is required, and I would highly recommend a good moisturizer for the face and body.
Using the same moisturizer for your face and body is not recommended. Thus, I will be adding reviews on some body and face moisturizers to keep your skin healthy and well hydrated.
---
Keeping Your Skin healthy
Besides just a Good Moisturizer, there are some other steps that you need to follow in a good skin routine to keep it healthy;
Pay Attention to Your Skin – Pay attention to your skin, any new moles, skin discoloration, flakiness, or other issues that may not look normal should be reported to your doctor to make sure that there are no underlying medical conditions.
Washing – wash your body and face gently with a mild and moisturizing body wash and facial soap. After washing your face, it is good to use an alcohol-free toner to clean off excess impurities.
Light Exfoliation – You can use a light exfoliating brush, loofah, or even a body scrubs on your body once a week or every two weeks to gently remove dead skin cells. Use a light granular or acid exfoliation on your face. A Lactic acid-based exfoliation acid is quite mild if needed. Exfoliation removes dead skin cells and helps your skin absorb moisture and products for their full benefits.
Moisturizing – Use a body moisturizer that is best for your skin type, with safe and gentle ingredients. You do need to use a different moisturizer on your face, however. Moisturize after you have had a bath or shower, and moisturize your face in the morning and evening after washing twice daily.
---
Features of a Good Moisturizer for Seniors
A moisturizer mainly aims to hydrate the skin to prevent dryness and itchiness, helping keep elasticity.
In the features, I will be explaining a few ingredients and what they do for your skin, as well as ingredients to avoid;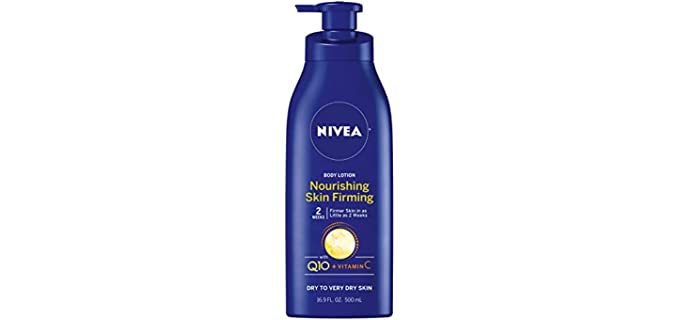 Key Ingredients – Whether a face or body moisturizer, you always need basic ingredients to hydrate the skin. You Need Emollients, Fatty Acids, and Ceramides that provide hydration and that also create a protective barrier on your skin. Glycerine, Shea Butter, Coconut Oil, Lanolin Cocoa Butter, and waxes such as beeswax create a protective barrier and provide moisture.
Avoid – Try to avoid any skin products that have strong fragrances that are not natural and that contain parabens, alcohol, or sulfates that will dry out your skin.
Essential Ingredients – These are active ingredients an they are more suited in facial care. Vitamin C in a Moisturizer is a good anti-oxidant and also ideal for dark marks and blemishes. Retinols in light forms, glycerine, hyaluronic acid, and peptides are great for wrinkles and aging skin. Hyaluronic acid is an excellent hydrating ingredient. Squalene and Q10 are excellent anti-oxidant and free radical fighters that keep your skin supple. Collagen is ideal for elasticity, and vitamin C helps to promote collagen production for your skin. Then for skin with sensitivity and irritation, Zinc Oxide is a good ingredient.
Sensitive Skin – For very sensitive and dry skin, I would avoid too many ingredients and opt for emollients and ingredients such as Ceramides, Glycerine, and urea.
---
Reviews: The Best Moisturizer for Seniors
In the list below, I have included some of the best body and face moisturizers for seniors;
---
1
The Nivea Q10 is a skin-firming body lotion that is ideal for aging skin.
It contains Vitamin C, which helps with collagen, and Q10, which helps to firm your skin.
The option I have chosen is more suited for dry skin in seniors.
The Pump bottle is convenient and easy to use by seniors.
---
2
For your face as a night cream, more suited to older ladies, we have the Olay Regenerist.
It is a facial night cream containing Retinol which is ideal for aging skin and dry skin.
Other than that, the face cream has moisturizing ingredients and is fragrance-free,
The complex is hydrating and will help to firm your skin, as well as reduce blemishes.
---
3
The CeraVe moisturizing lotion is a cream body and face moisturizer ideal for seniors.
It is suited for dry and sensitive skin and has no irritating ingredients.
It contains ceramides and Hyaluronic acid for moisture and to protect the skin barrier.
Dermatologists recommend the moisturizer.
---
4
The Cetaphil Daily Hydrating Lotion for your face is more lightweight for seniors with less dry or sensitive skin.
However, it is still hypoallergenic, with no fragrances.
The moisturizer is fast absorbing and non-greasy.
It contains hyaluronic acids and hydrating ingredients.
---
5
From Aveeno, we have a body Moisturizer for more sensitive skin in seniors.
The moisturizer is nourishing and contains soothing oatmeal for sensitive skin.
It is a gentle lotion ideal for seniors' dry skin and needs added protection.
Fragrance-free and non-greasy, it absorbs quickly.
---
6
Lastly, I added the Eucerin Roughness body cream.
It is a moisturizer for seniors with dry, rough, and irritated skin
The moisturizer intensively hydrates your skin and improves the appearance of dry and rough skin.
It contains Urea, and Ceramide as well as sunflower seed oils.
---
Index Table: Top Rated Moisturizer for Seniors
---
---