A blood pressure monitor can be vital for an elderly individual that frequently suffers from low or high blood pressure.
High blood pressure in seniors can be very dangerous and may lead to heart attacks. Similarly, low blood pressure is also dangerous and can cause you to feel weak and tired.
Having a Blood Pressure monitor for the elderly helps you track your blood pressure so that you can implement the right health procedures or use the correct medication as needed.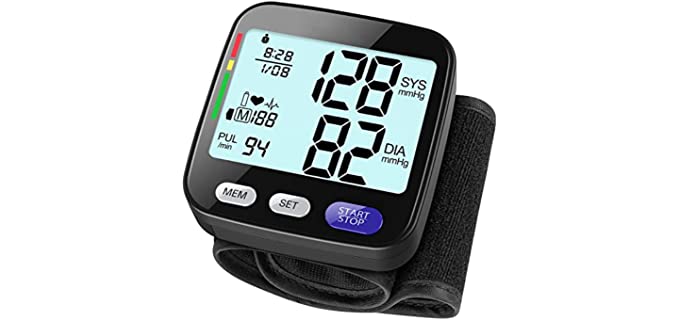 ---
Using and at home Blood Pressure Monitor
Most Blood pressure monitors today are digital designs and are extremely easy to use.
You will warp the arm cuff around your upper arm or wrist and then use the electric monitor device or the pump manual device to activate the pressure that will blow up the cuff so that it is tight.
The device will then slowly read your blood pressure and give an accurate reading after a minute or two.
It is important that you remain completely still and do not talk during this process.
---
Three Types of Blood Pressure Monitors
Aneroid Monitor – This light and portable monitor is affordable and easy to use. They have an upper arm cuff that you inflate with your hand and come with a stethoscope or a built-in stethoscope that measures your blood pressure.
Digital Monitors – Digital Blood pressure monitors are the most common and are used with a cuff on your wrist or upper arm. They have a built-in gauge and stethoscope that has a unit to display your blood pressure digitally.
Mercury Column Monitors – Mercury Column Blood pressure monitors are a more old-fashioned blood pressure monitor device that uses the rise in the mercury column to indicate your blood pressure. Though, we have not featured this model in our article
---
features of a Good Blood Pressure Monitor
Design – The Blood Pressure monitor may be an automatic digital or manual design using a handheld pump.
Cuff – Most Blood pressure monitors come with cuffs that you place either on your worst or on the upper arm that are adjustable with a Velcro closure.
Extras – Most Blood Pressure Monitors come with a handy storage bag for portability, and some models include a stethoscope.
---
Reviews: The Best Blood Pressure Monitors for Seniors
---
1
The Konquest KBP is an Automatic upper arm Blood pressure monitor that is adjustable and easy to use by seniors.
The Blood pressure monitor is individually calibrated to be much more accurate.
A backlit LCD screen is very easy to read and clear for seniors.
All measurements will be displayed on the screen, such as the systolic pressure, diastolic pressure, pulse rate, date, time, and the user.
The Blood pressure meter will likewise easily detect irregular pulse rate and heartbeat to alert you automatically.
The device is very user-friendly and comes with everything you need in a full set.
As an instruction manual, a one-size-fits-all fully adjustable kit with Velcro closure and batteries is included.
---
2
The Dixie EMS Aneroid Sphygmomanometer Kit allows you to manually monitor your blood pressure without needing batteries or electricity.
It is a more old-fashioned approach that many seniors are more comfortable using.
The aneroid sphygmomanometer is used by many professional healthcare providers to easily measure and determine systolic and diastolic blood pressure in their patients.
The Blood pressure monitor comes with a very easy-to-read latex-free manual pump with an 0-399 mmHg gauge attached to the high-quality pump. To make your readings easy and more visible for seniors.
The set comes with a zip-up carry bag that will fold open for easy access and is highly portable for your convenience.
The Blood Pressure monitor kit is ideal to be used by seniors at home, and even professionals, such as doctors, medical students, firefighters, or first aiders.
---
3
From generation Guard, we have their Clinical Automatic Blood Pressure monitor that is fully FDA-approved and highly portable for seniors.
The Blood pressure monitor is automatic and thus requires batteries to be operated.
It is a wrist monitor with an adjustable wrist cuff with a Velcro closure for easy on and off.
The blood pressure monitor measures your systolic and Diastolic blood pressure readings.
It has a memory recall of up to 90 readings, so you can easily keep track of your blood pressure.
The device likewise has an automatic irregular heart rate monitor that will alert you immediately should there be any issues with your heart rate.
It likewise detects hypertension and will measure your heart beat rate for safety.
The device comes in an organized case that you can store in that is portable and easy to store.
---
4
Here we have another automatic Blood Pressure monitor that is easy to use by seniors and measures with a wrist cuff automatically.
The blood pressure monitor is clinically tested and safe.
Your package includes the full kit with a Wrist BP Machine, one Carrying/Storage Case, two AAA batteries, and one User Manual.
The Blood pressure monitor has a Dual-user mode with 199X2 sets of memory to help you easily track your blood pressure.
The Digital LCD monitor has a large and extra bright high, contrast display with oversized numbers, which is much easier for seniors to read.
The kit is compact, portable, and very practical to be used by seniors, as it comes with a hard shell carry case in which you can organize the blood pressure monitor and all its extras.
It is ideal for home use and comes with an adjustable wrist cuff with a Velcro closure, making it easy for seniors to use.
---
5
The Paramed Aneroid Sphygmomanometer is a full manual blood pressure monitor for seniors that prefer the old-fashioned way.
The set, however, does not come with a stethoscope.
It has a premium-quality zinc alloy body, a nonstop manometer mechanism, and an improved supercharger check valve with a reticulated filter to prevent dust from clogging the device.
The Blood pressure monitoring kit is fully portable and neatly packed in a carry case that you can take anywhere to check your blood pressure regularly.
The Prestige metal air needle valve, with its smooth pressure relief regulation and large, easily readable number dials, will give you very accurate and easy-to-read results that you can rely on.
The upper arm cuff is a universal size that can be fully adjusted with an easy-to-use Velcro closure.
---
6
The SPKXC Blood Pressure Monitor is a large digital blood pressure monitor that requires batteries or can also be used with an electrical outlet, as it does come with an electrical cord.
The fully automatic blood pressure checker has very advanced measuring techniques that are accurate and reliable.
An advanced two-user memory will store up to 999 readings from two users so that you can easily keep track of your blood pressure.
It comes in an organized, lightweight carry case that allows you to easily store and carry around your blood pressure kit for use whenever and wherever you may need it.
The full kit contains everything seniors need to check their blood pressure easily; there is a 1 Blood Pressure Monitor, a Large Blood Pressure Cuff, a Nylon Carrying Bag, a User Manual, 4 AAA Batteries, and one Type C cable for electrical use.
---
Index Table: Top Rated Blood Pressure Monitors for Seniors
---
---