Did you know that lower back pain is one of the most common health problems that you will find in elderly adults around 60 years and older?
Consulting a physician to find the cause of chronic back pain is very important. However, a back brace can provide good support, temporary pain relief, and stability for your back.
Whether you need a back brace for chronic pain, posture, or any other reason, a back brace may be a good idea for seniors with back issues.
A good back brace for seniors will offer a secure and adjustable fit, with breathable materials that will not sweat and comfortable cushioning for them to wear the brace for extended periods.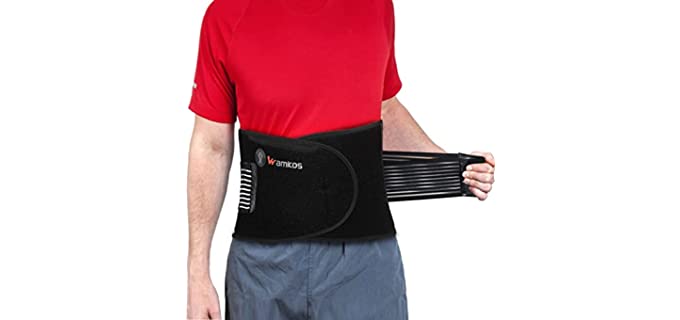 ---
---
Why You May Need a Back Brace
A senior may need to wear a back brace for quite a few reasons. One of the biggest reasons for wearing a back brace is to ease back pain, especially lower back pain.
Other reasons may include that the senior may lack stability or have weakness in their back. A back brace can also help you improve your posture and provide stability for seniors who exercise or do weight training.
However, for the most part, the back brace provides very effective relief and comfort when you have back pain. The brace provides compression and stability that can help reduce pain and swelling and improve blood circulation.
It can be a more passive pain relief technique than medications, massages, and other forms of pain relief. Still, consider that the relief is temporary and that you may need to address the cause of chronic back pain.
The back brace can provide good stability and healing for a sprained muscle or weakened back.
For many elderly individuals who struggle with motion or have pain that limits motion, the back brace can be an effective solution that allows them to walk and move around much more easily and without any pain or discomfort.
---
Types of Back Braces for Seniors
There are a few styles of back braces available for seniors, and we will only look at a few of the main designs;
Rigid Back Braces – A rigid back brace prevents you from moving your back and excessively limits motion. It is usually only recommended when prescribed by a doctor for chronic pain or injury to the back. Very rigid back braces are also given to Scoliosis patients or after surgery. I would not recommend this back brace for general use.
Semi-Rigid Back Braces – The Semi-Rigid back brace has a more flexible design with only a few elements similar to a rigid back brace. The semi-rigid back brace offers light compression with good stability and support and can help with posture. It is ideal for mild to moderate back pain in seniors.
Flexible Back Braces – The Flexible Back Brace is a more lightweight design that allows much easier mobility while providing relief of moderate to light back pain. It has a flexible design that stretches to allow movement and a more comfortable fit, along with gentle compression for pain relief.
---
Features of a Good Back Braces for Seniors
Here are a few features that a good back brace should have for seniors;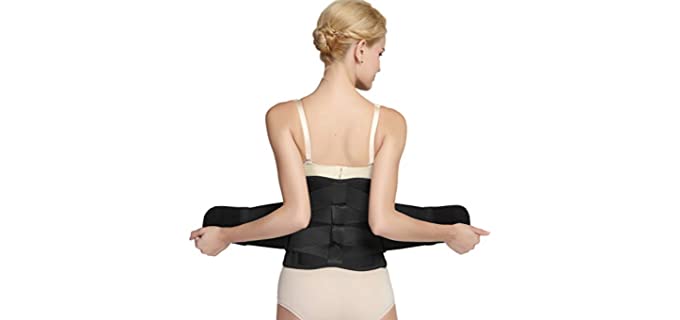 Support – For moderate and mild pain, look for a supportive back brace that allows spine movement while reducing pressure on your back. You can also look for back braces that target specific areas of the back where you may need support or pain relief.
Adjustability – The Back Brace needs to be adjustable to give you a comfortable fit, but also in such a manner that you can use it on any area of your back. Braces should have adjustable straps or a pulley system that ensures a more customizable fit.
Materials – Look for a fabric back brace that is washable or easy to clean, with breathable material that will not cause allergies or skin sensitivity.
---
Reviews: The Best Back Braces for Seniors
In our list, we have quite a few options of some reliable brands in Back Braces for seniors;
---
1
The King of Kings Back brace has the ideal design for seniors and is effective for lower back pain and other conditions seniors may have that affect their back.
The brace offers two-sided lumbar support and an adjustable fit.
It has 2 Nylon bars for muscle strain relief.
There are waist straps that are adjustable for a comfortable fit.
---
2
The Sparthos Back Brace is ideal for seniors, although it is more of a sports brace.
Seniors easily wear it with a fully adjustable design that supports your lower back and helps relieve pain.
There are adjustable lumbar pads, and the materials are soft and breathable.
The back brace for seniors is available in more sizes.
---
3
From the FitGame, we have a lower back support belt for seniors that is slightly more flexible.
It has lumbar padding for pain relief and to reduce muscle strain.
The fit is comfortable for seniors and ideal for lower back support.
The back brace consists of durable and breathable materials.
---
4
The Wamkos back brace is perfect for seniors with back pain or issues such as Sciatica, Scoliosis, or Herniated Discs.
It offers premium support and relief of back pain for seniors.
The design is more suited for lower back use.
There are breathable materials, and the fit is flexible and adjustable.
---
5
The NeoTech Care is a Double Pull Lumbar and lower back brace designed specifically for seniors and patients with back issues,
It has high-quality and breathable materials for comfort.
The double-pull mechanism allows for better compression in the inner wrap.
It offers stability and good support.
---
6
I have included the posture corrector, which is more suited for elderly women.
The back brace is used in the upper back area to help correct poor posture.
It can be used for stability, poor posture, or preventative measures.
The very innovative design is easy to wear and comfortable for seniors.
---
Index Table: Top Rated Back Braces for Seniors
---
---