If you suffer from diabetes or any other issues with your blood sugar, it is always ideal to have a Glucometer for seniors or a Blood sugar test kit around.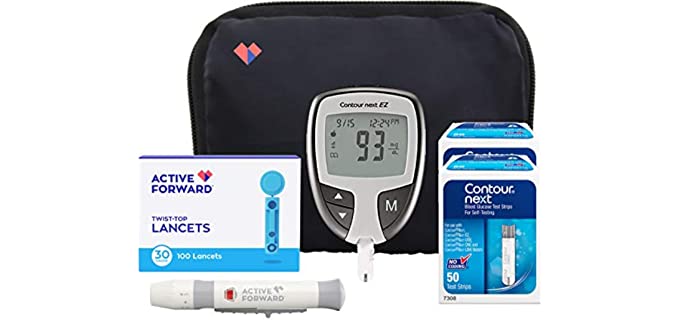 ---
The Glucometer
The Glucometer is used to measure the amount of glucose in your blood. If you have Diabetes, your body has difficulty regulating glucose levels, so you will need to keep track of them.
The Glucometer uses a small blood sample to test the sugar levels in your blood. Seniors mostly have either type one or two Diabetes and may need to keep their blood sugar levels in check to prevent it from being too high or dropping too low, which could cause illness and other problems.
You get both Digital and analog Glucometers that are ideal for seniors.
---
How to use Your Glucometer
Here are a few tips on how to use your Glucometer effectively

Using the Glucometer – The Glucometer will come with a small lancet or needle that you will use to prick your finger to get a small drop of blood. You will place the blood on the strips provided and place the strip inside the Glucometer to be read.
Reading Your Glucometer – Most Glucometers will have a digital or analog display with numbers and coding you can read. The glucometer will come with instructions showing what your normal blood glucose levels will need.
---
Features of a Good Glucometer for Seniors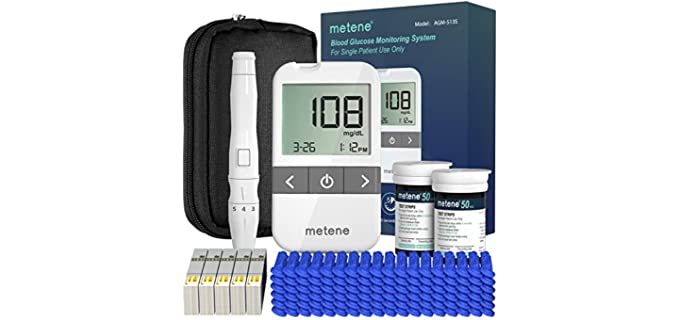 Measuring Meter – Every Glucometer kit comes with either a digital or analog blood glucose meter that will measure your blood sugar levels; some models even store results.
Strips – Most Glucometers will use small strips where you place a drop of blood to test inside the meter. The test strips will come standard with the Glucometer and can also be purchased separately should you run out.
Storage – Most Blood Glucometer sets will come in either a soft canvas or polyester organizer bag or a hard-shell container for easy storage and portability.
---
Reviews: The Best Glucometers for Seniors
Ourwe have some of the best available Diabetes test kits and Glucometers for testing blood sugar levels in seniors;
---
1
From Metene, we have a full Glucose monitoring kit that is ideal for seniors.
The Kit includes the1 Metene AGM-513S glucometer, 100 diabetic test strips, 100 30G lancets, one lancing device, one carrying bag, one battery, and one user manual; it is a full economic blood glucose monitor kit with strips and lancets.
No coding is required with the considerate senior design, and the meter will automatically identify the test results.
You can also mark your blood glucose levels with two additional modes.
The Glucometer has a reminder setting that will remind you daily to test your blood sugar.
---
2
The OneTouch Glucometer is a Verio test strip for Diabetes.
You get a value bundle with the Monitor and three packs of 30 test strips for your convenience.
The Blood sugar test kit contains everything you need to test your blood glucose levels.
It offers very accurate results as fast as within five seconds, and the results are extremely easy to read by a senior person.
You require a tiny drop of blood on the test strip to get the most accurate results.
OneTouch is. Likewise, a number one Pharmacist recommended brand of Glucose meters for the elderly.
---
3
The Accu-chek Softclix is a Diabetes starter kit to help seniors who have only had to start testing their blood sugar levels.
The kit is advanced, with a full digital sugar testing monitor and easy one-handed use.
The Softclix lancing device has precision-guided technology and 11 fully customizable depth settings for a more comfortable experience and to add to the convenient use of the device.
The device works with an APP that you can use to keep track of your blood sugar levels over a longer period.
The full kit comes with clear instructions and a Guide Control in a hard shell case for easy storage and portability.
You can easily keep your diabetes under control with this Glucometer test kit.
---
4
The Active Forward Contour Next EZ Diabetes testing kit sconsists of a Blood Glucose Monitor, or Glucometer, and includes 100 Contoured Next Blood Glucose test strips, as well as 100 Lancets, a Lancing device, and a Log Book.
The Logbook allows you to easily track your blood sugar levels throughout your journey with Diabetes so that you can easily manage the condition.
All the elements in the diabetes kit have a 12-month lifetime before they expire, giving you a full year's supply.
The meter delivers accurate and reliable results that you can add to your log book.
It is very easy and simple to use by seniors and comes with full easy-to-read instructions.
---
5
The CardioChek Plus is a Laboratory quality blood analyzer and monitors that not only checks your blood glucose levels but will also check your cholesterol levels.
It is a full kit that is easily portable and battery-operated.
The test kit will measure your total Cholesterol, blood glucose levels, HDL, triglycerides,r LD,L, and other blood levels.
This allows you to keep full control of your health and wellness.
The test kit is economic and excellent value for money.
It is an easy to use device that comes with full instructions for seniors to use.
---
6
Another option for AccuChek is the Guide Meter and Diabetes kit.
The full kit allows you to manage your diabetes and frequently check your blood sugar levels.
The Guidemeter is Bluetooth enabled and has a large LCD screen with a backlit display for showing results that are clear and easy to read.
It has a strip port light for further convenience and can store over 720 test results with 32 control records.
The Guidemeter comes with its batteries included, and there is an additional Softclix lancing device and 10 Lancets.
The blood meter has a child-safe battery door that is safe and easy to open and close by adults.
The kits are very easy to use and will help you track your blood sugar data over time to help manage diabetes.
---
Index Table: Top Rated Glucometers for Seniors
---
---