Aging feet come with many issues and demands and much wear and tear from carrying you for all these years. Therefore, the best walking shoes for seniors are crucial, especially when considering their delicate health conditions.
This article will look at some of the best brands and models of the best walking shoes for seniors. We also share some additional details to help you make the right choice.
---
---
Why do Seniors Need the Right Walking Shoes?
Seniors need the right Walking shoes for quite a few reasons;
Balance Issues – As you get older, your ability to balance reduces. Good stability walking shoe helps with balance and provides good structured support.
Diabetes and Neuropathy – These conditions can cause foot problems that require a shoe that is gentle and non-abrasive against the skin while still protecting your feet from punctures and bumps.
Gait Changes – Changing in Gait caused by Arthritis and other conditions can cause limping and place pressure on various foot areas. The right shoe will provide comfort and support to reduce the pressure and correct Gait issues. I also recommend using the best walkers for seniors for gait correction.
Foot Deformities – Issues such as corn, calluses, hammertoes, and Bunions are prevalent in older persons. A roomy, well-fitting walking shoe reduces pressure on these painful areas and provides a comfortable fit.
Swelling – Swelling is also an issue in many elderly persons. The uppers of a good walking shoe should be soft and flexible enough with a roomy fit to accommodate swelling.
---
Benefits of Walking Shoes for Seniors

Therefore when choosing the best shoes for a senior, you need to consider these features;
Protective Interior and Cushioning – A soft, seamless interior lining prevents friction against fragile skin. A cushioned insole and Shock Absorbing midsole reduce the impact on the feet and provide a comfortable walking platform.
Extra Depth and Roomy Toe Box – When you have foot deformities or feet that swell, a roomy toe box and extra depth allow for less pressure and more room for comfort.
Low Heels – When it comes to walking shoes, a lower heel design like Skechers shoes for seniors provides better balance and support for elderly persons and reduces the risks of injuries.
Soles – A durable and slip-resistant sole will prevent slips and falls, which are ideal for seniors.
---
Related Articles on Footwear for Seniors
---
Features of a Good Walking Shoe for Seniors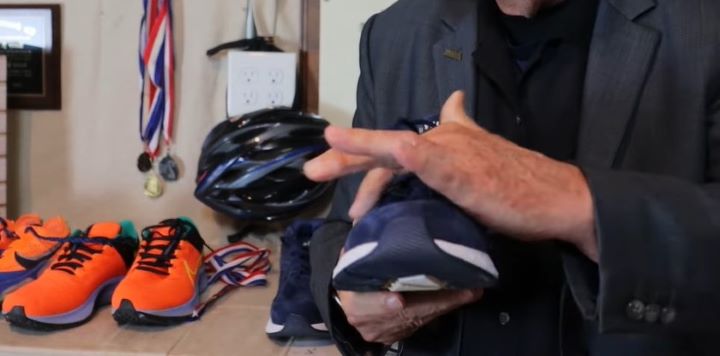 Uppers – Most elderly persons may struggle with certain foot deformities such as bunions, hammertoes, swollen feet, or just fragile feet. Therefore, the uppers must be soft and gentle against the feet, almost seamless, and flexible with a roomy toe box. Mesh and leather are good options with this in mind.
Footbed and Insole – Comfort is essential, and you need maximum cushioning in the footbed and insole with a contoured and supportive design. Some models offer removable footbeds or insoles, allowing the person to use their orthotic devices.
Midsole – The midsole should offer soft and shock-absorbing cushioning that is also still lightweight.
Outsole – Durable rubber is ideal for the outsole, with a more lug pattern for slip resistance and traction.
Other Features – Other features may include stability technology such as a heel counter, a roomy toe box, wide widths options, and more color options.
---
How We Test and Score Walking Shoes for Seniors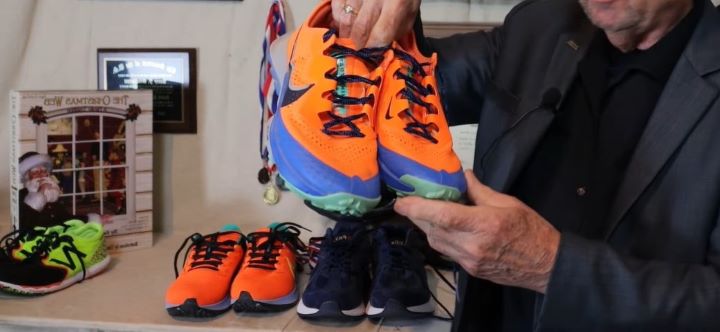 These reviews are based on intense research, analysis, and feedback from our experts and real users from different digital platforms.
We spent 37 hours trying, testing, and scoring these Walking Shoes for Seniors for different key parameters and then shortlisted the best products in the market, saving you time and effort.
We used the following parameters for our tests and analysis.
Anti-Fatigue – We took note of the level of tiredness our feet felt with the different products we tested.
Cushioning – We compared the cushioning provided by the products.
Reduce Swelling – We researched how effectively the products reduce swelling on the feet.
Diabetic Friendly – We checked if the socks are safe and beneficial for people with Diabetes.
Price – We checked the product's affordability having good quality.
---
Frequently Asked Questions (FAQ) Regarding Walking Shoes for Seniors
---
Reviews: The Best Walking Shoes for Seniors
These are comfortable and reliable walking shoe brands and models, especially for older men and women.
We hope you love the walking shoes for seniors we recommend!
We may collect a share of sales or other compensation from the links on this page.

---
1
---
2
---
3
---
4
---
5
---
6
---
7
---
8
---
9
---
10
---
Best Orthotic Removable Insole
1
As most slippers do not come with arch support, it can be helpful to add Soul Insole Shoe Bubble Orthotics into any of the above slippers to help enhance comfort and guide the feet to proper alignment.
Made with a soft memory gel, these insoles train your foot to strengthen its natural arch without causing your foot to become reliant on support.
This patented design works with your shoes to provide the ideal amount of arch support and posting to stop over-pronation.
Shoe Bubble orthotic insoles come in multiple sizes and thicknesses for men, women, and children, and also fit in all kinds of footwear including sandals, dress shoes, and athletic shoes
With their simple peel and stick adhesive backing, you can easily secure them in place yet they are also able to be washed and moved from shoe to shoe.
Customers say they feel like "walking on clouds" and since they are so small in size, they will not make your shoes too tight!
---
Index Table: Best Orthotic Removable Insole for Seniors
---
Index Table: Top Rated Walking Shoes for Seniors
---
---