We often associate backpacks with school children and teenagers. However, they can be an excellent option for seniors.
Senior backpacks should have a comfortable and ergonomic design, padded straps, and a padded back. They should also have enough compartments for seniors to easily organize all their items.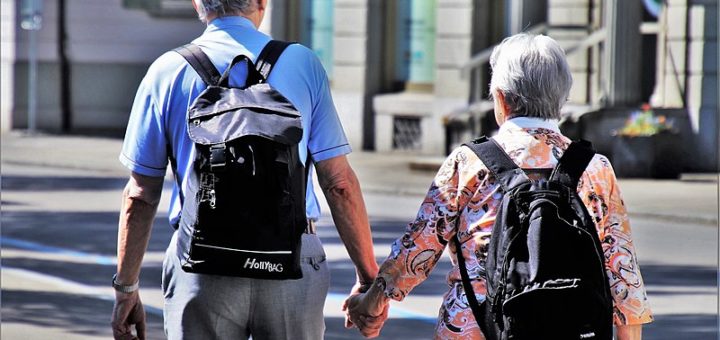 ---
Best Back Pack Types for Seniors
In general, you want a backpack with padded shoulder straps and a more ergonomic design to make them comfortable and easy for seniors to carry. They also need to be lightweight and functional for their specific purpose.
Back Packs for seniors need many compartments with durable zippers that are large and easy enough for seniors to use.
Here are a few good backpack options for seniors;
Travel – The Travel Backpack is a much larger option of Back Pack that seniors can use when they travel to pack all their clothing and items needed for a visit to family or the hospital.
Laptop or School – Laptop Backpacks work well for seniors who need to take a laptop or electronic equipment with them, they also normally have a very ergonomic design. School Back Packs today is also quite ergonomic and come with added extras such as mesh water bottle holders and compartments to keep a tablet or mobile device.
Hiking – Hiking Backpacks are very lightweight, and the most durable. They are also usually waterproof and come with many storage compartments.
---
Back Packs can be ideal for elderly individuals as they take stains off their hands and form from needing to carry heavy items.
Back Packs can also hold more items and be packed heavier than a normal carrier bag.
The Backpacks chosen for seniors have a very comfortable and ergonomic design. They allow the seniors more freedom to use their hands and arms and are a much safer option.
---
Features of a Good Backpack for Seniors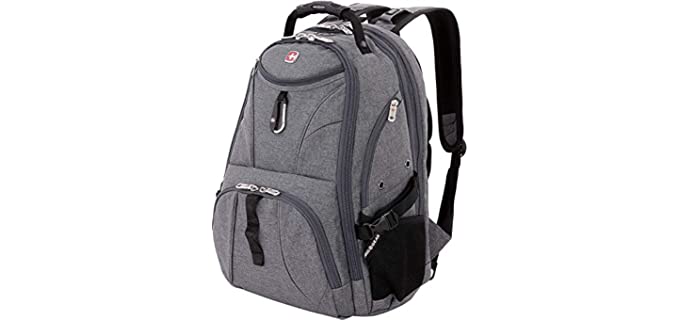 Quality – I start with quality because it is important to get a backpack with high-quality materials and construction that will last. The zips need to be good quality so they will not break easily. Seams and stitching need to be durable to prevent tears.
Capacity – Make sure that the backpack you choose has the size and capacity to hold the items you need to store without adding to the backpack's weight. Choose a smaller backpack if you only need it for small daily items.
Type of Activity – The backpack you choose will also depend on your use and activity. For example, for hiking, you will need a durable and waterproof backpack that is lightweight and with ample capacity. Whereas for daily use, or if you need to carry a laptop or tablet with you, you will need a backpack with specialized padding.
Weight – Ensure the backpack is very lightweight, as the items you will carry will add to the weight. Especially if the senior will be walking or traveling long distances on their feet, the backpack's weight should be minimal.
Padding – Padding on the straps, and sometimes the back of the backpack, makes it much more comfortable for seniors to carry on their backs. The straps on your shoulders especially can dig into your skin and cause pain if they are not properly padded for comfort.
Waterproof – Ideally, I would choose a backpack with waterproofing compartments for two reasons. Firstly rain or wetness from the environment or placing the bag on a wet surface could cause all the inside items to become wet and soggy. Secondly, the senior person may like to carry a bottle of water or a drink with them inside the bag, which, if it spills, can cause wetness inside the rest of the bag and on the individual's clothing.
Easy Access – Choose a Backpack for seniors that is very easy to access, with zips and Velcro openings that are not difficult to use for more fragile elderly hands. I find that backpacks with more compartments allow seniors to easily organize their things, whereas they may have to struggle and search for smaller items when there are only one or two compartments.
---
Reviews: The Best Backpacks for Seniors
Listed below are some excellent quality backpacks with the perfect designs for Seniors;
---
1
I start with the Toco backpack designed specifically for traveling, with a laptop and other items.
The back pack is ideal for seniors who frequently travel by train, bus, or car and need to take a laptop or other electronic devices with them.
The Backpack has ample compartments and consists of top-quality waterproof materials.
It has thick padded straps that will be comfortable on your shoulders and fully adjustable.
For more security f your backpack, it has a front chest strap and an anti-theft design.
---
2
The North Face Jester Back Pack is a durable general-use backpack from an excellent quality brand.
The backpack consists of quality polyester material and is available in many colors from which you can choose.
It has a reliable zip closure and easy internal organization compartments for seniors.
Flex Vent Technology features a flexible yoke and injection molded foam shoulder straps with a padded mesh back for comfort and breathability.
There is an extra padded sleeve in the front compartment for safely keeping a tablet or a mobile device.
---
3
The Ivar Alta is a very comfortable, easily organizable backpack that is superb for seniors.
It has a main compartment with even weight distribution for easy carrying. Then there are Laptop compartments that are padded t protect your device and smaller compartments for storing other items.
The Backpack consists of Ultra-Durable materials and has a quality design YKK zipper for reliable durability.
The Straps are padded and fully adjustable for your comfort with an ergonomic design back.
---
4
The Osprey Farpoint is a larger travel backpack that you can use for small trips to hold all your clothing and other items.
It has a comfortable and durable design for seniors and is ideal for hospital visits or visiting family.
The backpack has a 40 Litre total volume and is quite large.
It has a secure lockable zipper that is high quality in design.
There is a padded laptop sleeve for laptops and tablets.
There are also two front mesh water bottle holders to protect the interior of your backpack.
Additionally, the backpack has a compartment with scratch-free materials for holding your sunglasses or glasses, making it perfect for seniors.
---
5
The SwissGear 1900 Scansmart backpack is the ideal design for seniors.
Likewise, this is a laptop backpack with a padded laptop sleeve and a TabletSafe tablet or mobile device pocket.
The backpack has easy zipper access that is durable and easy to use by seniors.
It has multiple storage and organization pockets and two mesh side pockets for holding water bottles.
The straps are well padded and fully adjustable, and there is an ergonomic and contoured design for easy carrying.
The backpack is available in many color options from which you can choose as needed.
---
6
The JanSport Agave Back Pack is a favorite hiking style and general-use backpack for seniors.
It consists of very durable and water resistant Nylon, Polyester,
The Back Pack is lightweight with AirCore shoulder straps that are adjustable sternum. There are also waist and side compression straps for a more secure and comfortable carry option.
The functional backpack is organized with multiple zipper compartments and a padded internal sleeve to keep an electronic device safe.
You can choose from a few available colors in the backpack.
---
Index Table: Top Rated Backpacks for Seniors
---
---