Adaptive and therapeutic-styled clothing and shoes are not a new concept and are becoming much more popular as the need arises.
Individuals who have certain physical disabilities and seniors who may find challenges as they get older in terms of mobility and physical capabilities can greatly benefit from adaptive clothing and footwear,
Footwear can sometimes be extremely difficult for seniors to put on and take off, not to mention uncomfortable and not very accommodating for their feet.
This is why we want to help you find the best Adaptive Therapeutic shoes for seniors, which will help you get your shoes on and off easily and, in turn, will be more comfortable and accommodating for aging feet and foot conditions.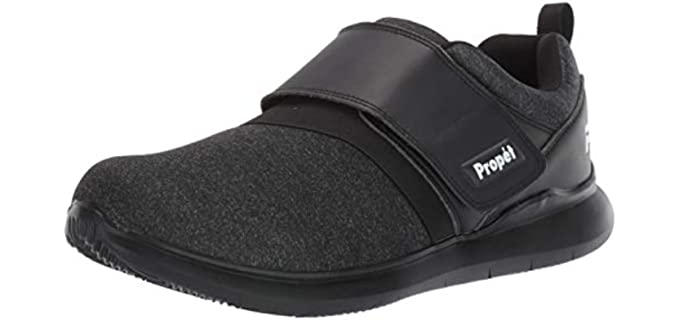 ---
---
How Exactly will Adaptive Shoes Help Seniors
With time, our bodies weaken, and our lifestyles and choices in footwear and clothing may need to adapt to get along.
Adaptive shoes can play a great role in your life as a senior and enhance the quality of your life.
There are so many features to adaptive shoes that make them ideally suited to seniors and disabled individuals;
They are slip-resistant – Adaptive shoes have highly slip-resistant rubber outsoles that offer excellent grip and traction.
Easy on and Off – Most adaptive shoes are easy to put on and take off, with extra features like double zips and depth designs.
Much More Room – Most adaptive therapeutic shoes have a wider fit or are available on wider widths and a much more room-toe box. This allows you to use additional insole and orthotics and is more accommodating for foot conditions such as hammertoes and bunions.
Extra Padded – Most adaptive shoes will have additional layers of padding and cushioning for underfoot support, shock absorbency, and comfort. They usually have removable insoles or footbeds that allow you to use your orthotics and insole.
---
Foot Conditions That Adaptive Shoes are Ideal for
There are certain foot conditions, especially in older adults, that Therapeutic adaptive shoes can be ideal;
Swelling and Edema – If you have a condition where your feet tend to swell or pool blood and liquids, maybe from sitting or standing for long periods, the adaptive shoes can offer an accommodating fit. Adaptive shoe models with very flexible and soft uppers allow a fit to stretch your feet and adapt. Some may have adjustable fit features and extra roomy designs to accommodate swelling.
Bunions and Other Foot Deformities – Bunions, hammertoes, and other foot deformities that may cause protrusions or painful spots require comfortable, adaptable footwear. Usually, you will need shoes with very soft and flexible uppers and a roomy and wide toe box to reduce pressure on these painful areas. The layers of cushioning also absorb impact to reduce pain.
Mobility Issues – For seniors who can no longer dress or even those who struggle to put on shoes and take them off, adaptable shoes can be the perfect solution. Adaptable shoes usually have a design in which a senior can easily slip their feet in and out of, with a Velcro or zip closure that is much easier to use than a lace-up closure.
---
Features of a Good Adaptive Therapeutic Shoe for Seniors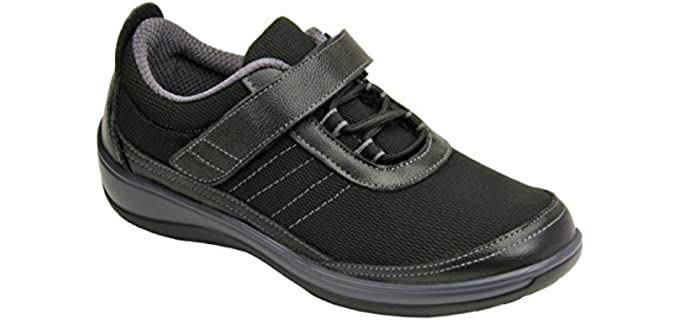 Comfort – Comfort features such as a removable cushioned insole, a shock-absorbing midsole, and good arch support are ideal. Also, look for shoes with smooth and seamless linings.
Slip Resistant – The outsole should be a durable rubber with a lug tread that will provide better slip resistance for seniors who may be unstable.
Wider Widths – Shoes should have a roomy and wide toe box or forefoot; it is also ideal to look for brands that offer wider width fits. A wider width provides support without placing excess pressure on any foot area.
Comfortable Closures – Opt for closures such as Velcro or zips that are much easier to use than laces. Also, look for a double-sided zip opening and larger insteps so seniors can easily place their feet inside the shoes without pulling or tugging.
Breathable and Flexible Uppers – Breathable and flexible uppers offer a more accommodating fit with less pressure. The breathable materials wick away moisture and keep your feet cool and dry, which may also include heth pain and swelling.
Supportive Base – Look for shoes with a supportive sole and base sturdy with low heels or a more solid sole with zero heel-to-toe drops.
---
Reviews: The Best Adaptive Therapeutic Shoes for Seniors
---
1
The Ugg Classic ankle boot comes in double-sided zip options for easier access.
There are soft suede leather uppers with a wool lining.
The Outsole is a durable and high-traction rubber.
There is a cushioned insole, and the accommodating fit allows for using your orthotics.
---
2
The Propet Viator Monk is a comfortable sneaker for seniors with a single-strap Velcro closure.
It has soft and flexible uppers and a durable rubber sole.
There is a well-cushioned and removable footbed,
The uppers are water-resistant.
---
3
The Dr. Comfort Marla is a Technology Extra-depth shoe for senior ladies.
It has a rubber sole and soft Lycra uppers,
The double depth is more accommodating and allows extra braces and swelling volume.
The fit is customizable with an easy closure.
---
4
The Propet Kade shoes are A5500 Diabetic rated shoes.
They are leather and suede with a Velcro closure,
There is a rubber cup outsole for grip and stability,
The DuroCloud cushioned footbed is removable for the use of your orthotics.
---
5
Cros generally offers a roomy and adaptable fit with soft cushioning crosslite foam materials.
The All-terrain model has an adjustable back strap and a more slip-resistant outsole.
It is available in more colors and wider widths.
Crocs are also highly breathable and have large drainage holes.
---
6
The Billy Sneakers is a wide-width model for seniors.
It has a removable insole, allowing you to use your orthotics.
The laces are decorative, and there is a large functional zip closure.
It has multi-density foam and gel cushioning for comfort.
---
Index Table: Top Rated Adaptive Therapeutic Shoes for Seniors
---
---