For an elderly person, it may become quite difficult and intricate to tie shoelaces. Just the effort of having to bend down to tie shoes, not to mention having to tie intricate laces, can be very frustrating for an elderly person.
This is why it is so much more ideal for them to have a secure and reliable slip-on shoe that they can weigh in and they don't need to do much bending or need to tie any laces.
In this article, we will be looking at some of the best slip-on shoes for seniors.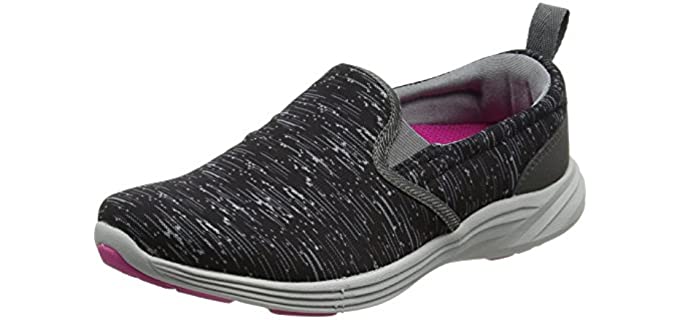 ---
Why Choose Slip On Shoes for Seniors
Firstly, a slip-on shoe is easy to slip on and slip off for a senior person that may be having to get in and out of bed regularly, or that spends most of their time in bed.
Slip-on shoes are also ideal for hospital visits, and they are also much easier to wear.
On the other hand, it may be difficult for an elderly person to tie their shoes. They might have problems with their hands, such as Parkinson's disease, or weakness in their hands.
It may not also be possible for the elderly person to bend down to tie their shoes or to take them off and put them on again. All in all, in many cases the slip-on shoe is just a much more comfortable and easier shoe design for seniors in general.
---
Getting The Right Slip-On Shoe for Seniors
Now, not just any old slip-on shoe is going to be comfortable, or the right fit for a senior. So you do need to look at a few features and characteristics.
Fit – Must slip-on shoes may have a loose fit, which can be dangerous for a senior. So you need to consider the fit of the slip, slip-on sheer, and how the person will get their feet in and out of the shoe without falling off when walking.
Comfort – Seniors do you need extra confidence support from their shoes, it does not matter what type of shoe it is. So first of all, thicker cushioning to provide comfort is ideal. You also want to show that is slightly more stable, with a firmer sole for a senior to keep their balance.
Traction – Your slip shoes need to provide excellent traction and have a slip-resistant outsole. Most rubber outsoles with high traction tread are ideal for seniors.
Materials – Seniors need durable shoes but also comfortable. You want shoes that have uppers that are more flexible and breathable and softer against their skin. You also want to show that as a more durable and reliable rubber outsole that provides good slip resistance.
Entry – The entry point of the slip-on shoe needs to be comfortable and wild enough for the person to easily get their feet in and out of the shoe. Most slip-on shoes usually have elastic gore on the sides of the shoe that stretches to allow you to place your foot inside the shoe easily, and then goes back to normal so that you have a secure fit.
---
Features of a Good Slip On Shoe for Seniors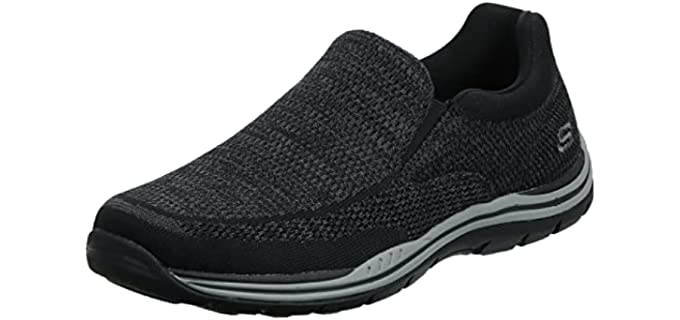 Uppers – From the options, we have chosen you will find slip-on shoes with leather, mesh, engineered mesh or knit, and synthetic uppers as a variety. Many models are lined for comfort and breathability.
Comfort and Support Features – The slip-on shoes will have a cushioned and supportive insole and midsole that is shock absorbing to provide comfort and stability.
Outsole – We have chosen slip-on shoes with a more durable rubber outsole that offers better stability and traction for seniors.
Options – We have chosen shoe models that are available in wider width fits, more colors, and extended size options for men and women.
---
Reviews: The Best Slip On Shoes for Seniors
In our review section, we have some of the best available slip-on shoes for the elderly;
---
1
Slip On Athletic Shoes for Seniors
The Skechers Go and Max are two of their most popular slip-on shoe models that are chosen many times by seniors for their comfort.
They are very easy to slip on and off and come in so many colors and options in size, and width.
The shoes have breathable mesh and synthetic uppers, and a durable rubber outsole.
They feature a high rebound cushioning insole, and a shock-absorbing midsole.
There is a soft fabric lining to reduce moisture and a padded collar for a more comfortable fit that will not chafe your heels.
---
2
Slip On Shoes for Seniors
The Vionic Khai for men has more of a Nubuck leather upper, than the Fitness for ladies with breathable mesh uppers.
They are both casual slip-on shoes for seniors, available in more colors, and wider widths.
The shoes have a comfortably cushioned footbed and shock-absorbing midsole.
The Biomechanical technology in the footbed provides excellent support and comfort for daily wear.
---
3
Here we have two lightweight slip-on sneakers for walking, for seniors.
They have a comfortable and easy fit and availability in wider widths.
The sneakers have fabric uppers that are durable and breathable, with a padded collar for comfort and an easy slip-on style.
There is Cloudstepper soft cushioning and an OrthoLite footbed that cushions, and wicks away moisture.
They are available in more color options from which you can choose.
---
4
Slip On Athletic Shoes for Seniors
The Skechers Go Walk Arch Fit slip-on shoes are more stable and supportive walking shoes for seniors.
The arch support is ideal for flat feet and issues such as Overpronation, and instability.
They are well cushioned, with Comfort Pillar technology for added support.
There is a dual-density high traction outsole that provides good shock absorbency, and stability.
The uppers are breathable and flexible and the shoes are easily machine washable and quick drying.
---
5
Slip On Dress Shoes for Seniors
These are two formal-styled slip-on shoes for seniors from Clarks.
The Cora Daily has a slightly stable heal and fabric and synthetic leather uppers.
The Cora daisy features a TPR outsole and comfort footbed that is well-cushioned.
The Escalade Step for men has leather uppers and a textile lining, with a very low heel and Non-Marking Outsole.
It has a flexible sole and a comfortably cushioned footbed.
---
6
Slip On Boots for Seniors
For those cold winters lounging at home, I have chosen the easy slip-on or rather pull-on ankle boots from Uggs.
Pair them with the orthotics of your choice, and they will become your new winter favorite.
They are available in many colors.
The boots are genuine sheepskin leather with a warm wool lining, and a thick, durable rubber outsole.
---
Index Table: Top Rated Slip On Shoes for Seniors
---
---