As a senior individual, hot closed style and clumpy shoes may not always be the most comfortable or fashionable option, especially in the summertime.
However, some pretty excellent shoe models and designs are available for seniors with many comfort features and easy and secure closures that you can enjoy/.
Velcro sandals for seniors offer a much more secure option than a slide or slip-on sandal, which is easier to tie than laces or buckles. It provides them with extra space as the velcro is easily adjusted. Therefore, they can be the best choice for overall performance.

---
---
Why Choose Velcro Sandals for Seniors
Velcro sandals for seniors are among the ideal sandal options you can select. They have a secure Velcro closure and many other comforts and support features.

Easier to Tie than Laces or Buckles – It is much easier and faster for seniors to use a Velcro closure that pulls open or pushes closed than struggling with laces or buckle closures.
Adjustable – Most Velcro sandals for seniors are adjustable for a more customized and comfortable fit.
Secure Fit – Seniors generally do not do well with slip-on sandals or flimsy flip-flops, and they need something safer that will stay on. The Velcro Closure offers a secure fit that will stay on your feet.
---
Choosing Velcro Sandals for Seniors
Choosing a Pair of Velcro sandals as a senior should be relatively easy.
Most Velcro sandals will have back and front Velcro closures to fully adjust the fit. However, some may only have a single Velcro closure.
Look for comfort features such as cushioning and arch support and designs that do not have hard pieces or seams that may scratch and irritate your skin.
Always opt for a low heel or solid sole, and stay clear of high-heeled and flat-soled sandals.
---
Features of a Good Velcro Sandal for the Elderly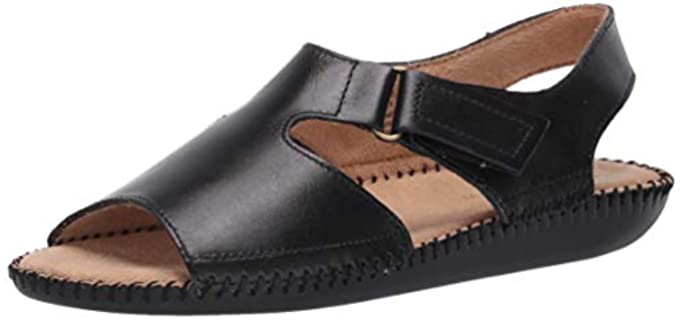 Uppers – Uppers can be a variety of materials, such as genuine or faux leather, fabric, or textile materials. There will usually be a Velcro closure with one or more straps and sometimes a slingback design Velcro closure. Opt for a sandal with a closed back if you need proper balance.
Comfort and Support Features – Sandals with a supportive, contoured, or anatomical-shaped footbed can provide stability and arch support. EVA, Memory foam, or foam cushioning provides comfort and absorbs shock.
Size and Fit – Ensure you get the right size and fit. Most sandal models do have wider width and extended size options available. The wider width makes them the perfect choice if you are looking for the best sandals for wide feet that also provide maximum comfort.
Colors – As from the models we have chosen, more color options are sometimes available.
---
Reviews: The Best Velcro Sandals for the Elderly
In our extensive list, we have some fabulous Velcro sandal models that are ideal for senior individuals;
We hope you love the products we recommend!
We may collect a share of sales or other compensation from the links on this page.
---
1
---
2
The Silverts adaptive sandal is ideal for seniors.
They have two solid straps with a Velcro closure.
The sandals are 100% soft polyester and very breathable.
They are well-cushioned and diabetic-friendly sandals for seniors.
The sandal has a non-slip technology sole.
They also have a fluid barrier to protect you against fluids and smells.
There are three colors available from which you can choose.
---
3
The Aerothotic sandal is a slide sandal with two uppers straps that are fully adjustable.
The straps are leather and have a Velcro closure.
They have an orthotic footbed with proper arch support and cushioning.
The sandal is comfortable and durable, offering a wide and roomy fit.
They have an anatomical structure for stability and to provide better alignment.
There are also a few more color options available.
---
4
The Naturalizer Scout flats are stunning feminine flat sandals for elderly ladies.
They have an adjustable hook and loop closure with a Velcro fastener.
They have genuine leather uppers and a weekend style with an open toe.
The sandal has a smooth lining and a cushioned insole.
The outsole is a non-slip, durable, stable design.
There are also a few neutral color options available.
---
5
Another addition from Silverts is their single strap Velcro closure sandal for seniors.
These are adaptive and accommodating sandals designed especially for elderly individuals.
They are designed with a fluid barrier for protection against fluids and doors.
The sandals accommodate a single adjustable strap with a Velcro closure.
They are well cushioned with proper arch support and soft, breathable polyester fabric.
The outsole is a durable and slip-resistant design for stability.
---
6
The Keen Rose range is outdoor sandals, but similarly ideal for seniors is the Keeclosed toe with a rubber bumper for toe protection and a high traction rubber outsole for grip outdoors and on trails.
The sandal is ideal for outdoor wear, even on trails.
They have adjustable hook and loop straps with Velcro closures.
The sandals are well cushioned and comfortable, with a molded EVA footbed and metatomical design.
They are quick-drying and offer different width options.
There are also plenty more colors you can choose as you wish.
---
7
I chose the Teva Forebay for the men, a comfortable leather sandal.
The sandal consists of synthetic leather with a smooth textile lining,
It has an adjustable hook and loop straps that have Velcro closures.
The sandals also have a lace-up bungee system for a more secure fit.
For comfort, there is a Compression-molded EVA footbed and comfortable lining.
The thick and durable rubber outsole offers good traction and grip.
---
8
The Dr. Scholls Gus sandal is of 100% genuine leather for men.
It is a formal and elegant design sandal for all occasions.
The sandal features an adjustable hook and loops Velcro closure easy and customizable fit.
They are casual and have a comfortable memory foam footbed for cushioning.
The sandal is also available in more neutral colors.
---
Index Table: Top Rated Velcro Sandals for the Elderly
---
---