Because of all the health issues and an aging body that most seniors may live with, their feet are one of the parts most affected. Thus comfortable slippers for the elderly are necessary, especially for wearing them at home.
Therefore, this article will look at some seniors' most comfortable slippers available.

---
What Are Safe Slippers for Elderly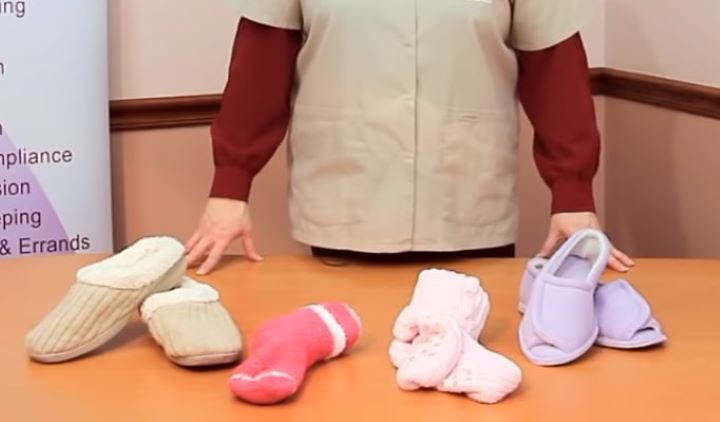 Besides comfort, which is a must in a slipper, one very crucial factor we forget to weigh in when it comes to slippers for seniors is the SAFETY Factor.
Most slippers do not offer a slip-resistant or supportive sole design because they are generally accepted as footwear worn indoors with less risk. However, a Slipper may be a staple item for a senior person, and because seniors are less stable on their feet, a sturdy, slip-resistant sole is VITAL!!
Safe slippers for seniors must have a slip-resistant, non-skid sole. Another factor that I have come across is easy access and on and off features. Most slipper designs are easy slip-on designs or have a Velcro closure, making them easy to use and safer for seniors.
---
Benefits of Good Slippers for Elderly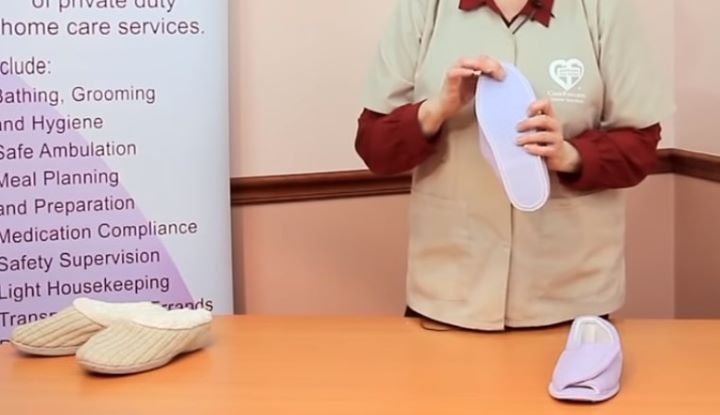 So let us look at some of the benefits of a safe and comfortable slipper for older persons;
Prevent Slips and Falls – Firstly, a safe slipper will have a slip-resistant lug and non-skid outsole that prevents slips and falls.
Better Support – With age, our ankles, feet, knees, and joints need excellent support because the general muscle in the legs and cushioning in the feet deteriorate as we age. Hence a shoe with ample cushioning and support is required.
Easy to Put On – A Hook and loop closure, Velcro closure, or slip-on design gives seniors easy access to putting their shoes on and taking them off.
They Accommodate Foot Conditions and Irregularities – A good slipper needs to be able to face all possibilities seniors face. These include hammertoes, Bunions, swelling, in other foot deformities. I always recommend a slipper with an adjustable fit or removable insoles.
They are Light and Comfortable – Because seniors lack the strength they used to have when they were younger, a heavy slipper may weigh them down and cause unnecessary fatigue. Therefore always look for a slipper that is light in weight. A breathable upper, a warm lining, and a cushioned or memory foam insole offer plenty of comfort for older feet.
---
Features of a Good Slippers for Elderly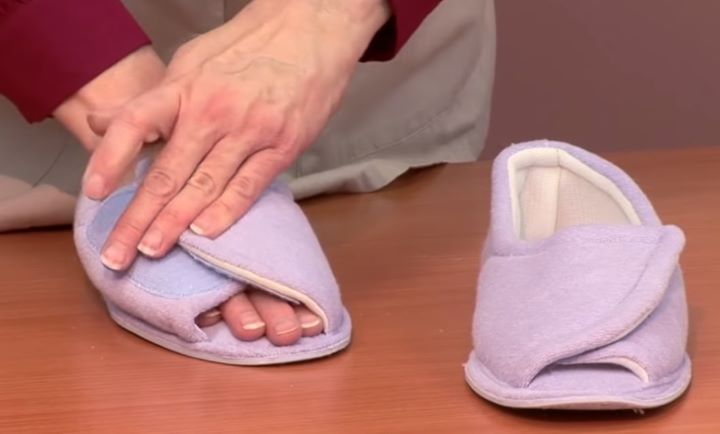 Uppers – Soft and comfortable suede, polyester, wool or other materials. The fit should be adjustable with a slip-on or Velcro closure design. Extra depth and width are a good choice for certain foot ailments requiring more space.
Lining – A wool, Sherpa, fur or moisture-wicking lining is ideal for comfort against fragile feet.
Cushioning – An EVA, Foam, Memory Foam, or Cushioned insole for comfort and a shock-absorbing Foam or EVA midsole.
Outsole – Rubber is the best choice in an outsole. The tread needs lug patterns and a Non-skid and slip-resistant design.
---
Reviews: The Best Slippers for Seniors
Here we have some of the most comfortable Slippers that are ideal for Seniors;
We hope you love the products we recommend!
So that you know, We may collect a share of sales or other compensation from the links on this page.
---
1
---
2
Flojos offers you stylish and comfortable slippers for seniors that are ideal for everyday wear.
The Tonga Lined slippers are warm and cozy, ideal for those cold winter months.
They are lined with a shearling material that is warm and insulated.
The sole is a durable and slip-resistant rubber.
The design is a moccasin-style toe and is easy to slip on and off with a secure and comfortable fit.
---
3
The Cush N Foot slipper is flexible and adjustable, making it ideal for elderly feet. There is also comfortable cushioning and a slip-resistant sole.
The uppers are a soft synthetic material with a plush and warm interior lining.
The Cush N Foot has a Velcro strap that is adjustable for a customizable fit.
The sole is synthetic and completely slip-resistant.
The fit is also very flexible and accommodating.
The Cush N Foot is Medicare A5500 approved.
---
4
The Propet Cush n Foot is an adjustable fitting slipper with many comfort features for elderly feet.
Neoprene stretchable upper has a Velcro strip as a closure for easy handling by seniors.
The RockDove slipper is available in a few colors and pattern options.
The footbed is cushioned and removable for using your orthotics.
The durable rubber outsole has a lug tread for slip resistance.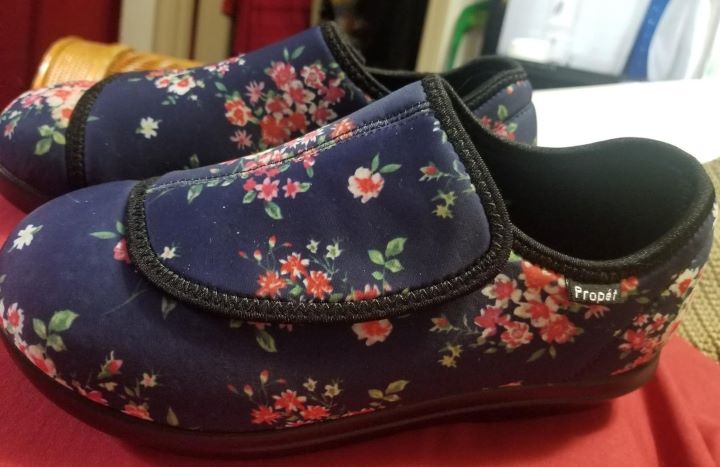 ---
5
For men, the RockDove Slipper has a warm Sherpa lining, is cushioned, adjustable, and comes with a durable slip-resistant outsole.
The RockDove Geri Active for men has Fleet Uppers with a warm Sherpa lining,
The rubber sole is durable and highly slip-resistant.
There are a cushioned insole and a supportive midsole.
The design is ideal for both indoor and outdoor use.
The Velcro upper strap also makes handling and access to the slipper much easier.
There are a few color options from which you can choose.
---
6
A perfect slipper for indoor and outdoor use ins the slip-resistant Rock Dove Geri-Active slippers with adjustable fit and Sherpa lining for warmth.
The Upper consist of blended wool, and the slipper is available in a few color selections.
It has an easy on and off adjustable upper design with a Velcro strap.
The slipper is fully lined with a moisture-wicking Sherpa that warms up cold feet.
There is a High-density EVA midsole for shock absorbency and a comfortable cushioned insole.
The durable rubber outsole is ideal for outdoor and indoor use.
---
7
The Slipper Sock from Acorn is something warm and cozy for seniors for indoor wear, which is available in many colors.
For home use, only this is a comfortable and warm slipper sock.
The Sock consists of wool, nylon, and spandex.
The sole is soft and slip-resistant leather.
Soft, multi-layered cushioning with memory foam underfoot and a suede reinforced toe.
You can also choose from quite a few color options.
---
8
The Podowell is a sneaker and slipper that is ideal for senior men.
These are slippers and comfortable sneakers all in one.
They have an easy-to-handle and Velcro closure system that you can also use to adjust the fit.
They have a non-slip rubber and durable outsole.
The inside is padded for comfort.
---
9
Crocs Blitzen 3 offers you the cushioning and comfort of a lightweight pair of Crocs in a luxury fur-lined slipper.
The Crocs Blitzen is a ladies' slipper based on the original Crocs design.
This is the Clog design that slips on and off.
There is a shearling lining for warmth and comfort.
They come in color black only, unfortunately.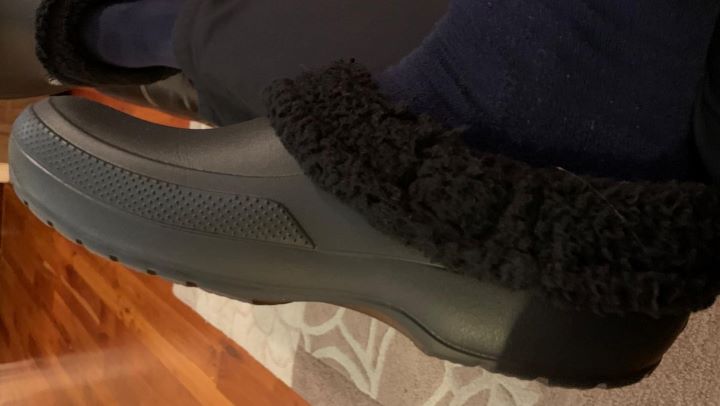 ---
10
This Classic Crocs Slipper has a fold-down heel and a cozy interior for warmth.
The Crocs Convertible slipper can be worn as a full slipper or a slide as the back can fold down.
They are ideal for all weather conditions with a soft and warm footbed.
The sole is durable and synthetic and ideal for indoor and outdoor wear.
These are available in a few more color selections.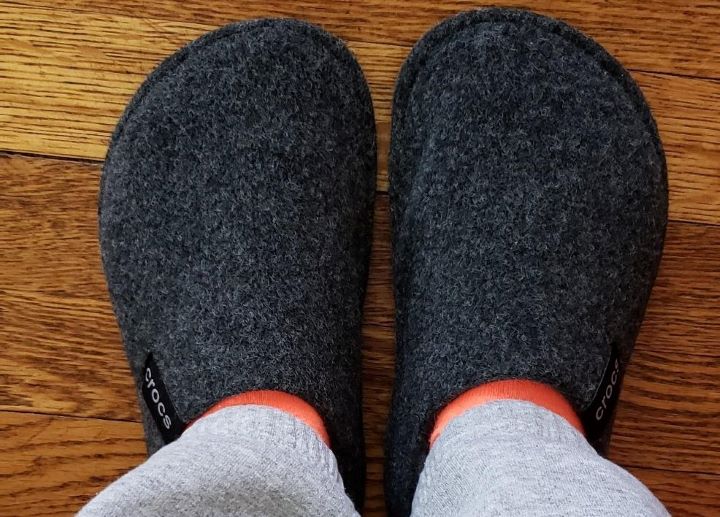 ---
Best Orthotic Removable Insole
1
As most slippers do not come with arch support, it can be helpful to add Soul Insole Shoe Bubble Orthotics into any of the above slippers to help enhance comfort and guide the feet to proper alignment.
Made with a soft memory gel, these insoles train your foot to strengthen its natural arch without causing your foot to become reliant on support.
This patented design works with your shoes to provide the ideal arch support and posting to stop over-pronation.
Shoe Bubble orthotic insoles come in multiple sizes and thicknesses for men, women, and children and also fit in all kinds of footwear, including sandals, dress shoes, and athletic shoes.
With their simple peel and stick adhesive backing, you can easily secure them, yet they can also be washed and moved from shoe to shoe.
Customers say they feel like "walking on clouds," and since they are so small, they will not make your shoes too tight!
---
Index Table: Best Orthotic Removable Insole for Slippers
---
Index Table: Top Rated Slippers for Elderly
---
---