Seniors need comfortable and supportive shoes for daily activities and walking.
One of my favorite shoe brands to recommend for seniors is the NewBalance range.
New Balance shoes for seniors offer many comfort and support features, as well as fit and closure options that are easy and ideal to use by elderly individuals.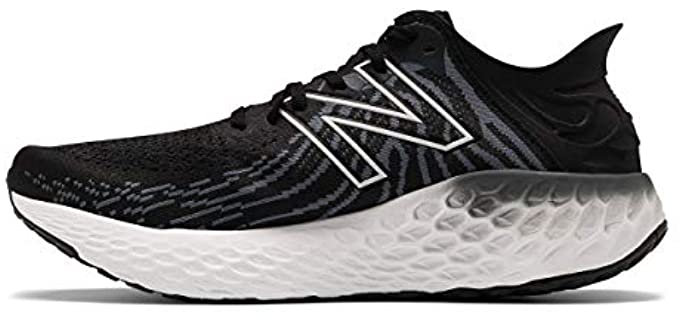 ---
Why Seniors Need Good Shoes
So, the boxy and nasty-looking, dull "old peoples" shoes are a thing of the past. Today you get shoes that act for the functional and fashionable needs of all seniors.
Your shoes no longer need to look old-fashioned just because you are older.
Seniors need good shoes because as they age, their feet change, and it becomes more necessary to get a better fit and accommodating comfort and support features;
Corns and Callouses – Many seniors suffer from corns and callouses, which are hardened patches of skin on their feet that develop from frequent friction and pressure because of ill-fitting and unsupportive shoes.
Bunions – Bunions are bony bumps that form at the base of the big toe because of the toes being cramped together. This occurs because seniors wear shoes with high heels or a very narrow toe box, especially in their younger years.
Less Arch Support -With age, the arches in your feet will weaken, also with weight gain. Your arches may completely collapse, so you need shoes that accommodate arches and provide more support to distribute weight and impact for walking and running evenly. Fallen arches: A condition in which the tendon supporting the foot arch weakens and allows the entire foot to contact the ground (something that can lead to knee and back pain)
Hammertoes – hammertoes are a joint deformity in the toe, causing your toes to curl downwards rather than pint forward, which can have many causes.
Heel Pain – Heel pain can occur because of conditions such as Plantar fasciitis, heel Spur, and even Achilles Tendinitis. Heel pain can be prevented by wearing cushioned and supportive shoes.
---
Best Shoe Types for Seniors
Seniors need shoes to match their lifestyles.
Here are a few shoe types that you can find from New Balance that are ideal for seniors;
Comfortable Walking Shoes – Every senior needs a pair of supportive, durable, and comfortable walking shoes for everyday casual wear and walking. They need to provide good cushioning, arch support, and a comfortable and breathable fit. As you will see, New Balance offers many such footwear options.
No Laces – Shoes that are slip-on or have Velcro closure that still provides a secure fit are ideal for seniors. New Balance has some options in shoewithve hook-and-loop Velcro closure, which are easier to use than laces.
Orthotic Friendly – Many seniors may have to use an additional orthotic device in their shoes, such as an insole or insert. Lacily, most New Balance shoe models have a removable insole that you can replace and wider fit options that are more accommodating for orthotic devices.
Around the House Shoes – these are shoes such as slippers that you can wear around the house for comfort and relief. However, the new balance does not make slippers. They have some more comfortable casual shoes and easy on-and-off models ideal for wearing around the house, which also still provide good grip.
---
Features of a Good New Balance Shoe for The Elderly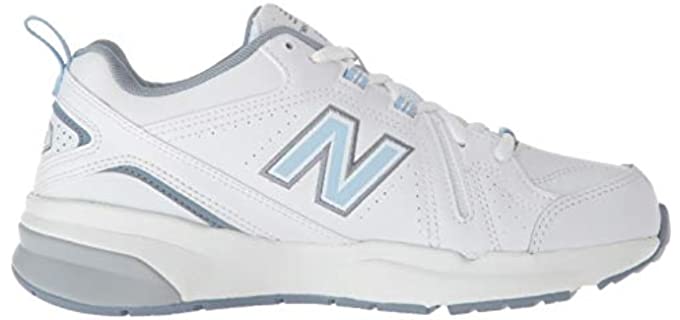 Uppers – New Balance shoes have a few variations when it comes to their uppers, They can be mesh, fabric knitting, textile, or genuine leather and synthetic. The uppers will offer a sleek and snug fit or a more comfortable, roomy fit depending on the model of the shoe.
Insole and Cushioning – New balance shoes all come with a cushioned New Balance insert insole for comfort. Different technologies include the Fresh Foam insole, Ortholite cushioning, PU inserts, and a moisture-wicking comfort sock liner.
Midsole – The Midsole can be ACTEVA or IMEVA foam, injection Molded EVA if EVA ENCAP all offer different cushioning and shock absorbency levels.
Outsole – The Outsole is regularly rubber with a lug tread but can also have an AT tread, be Blown rubber, or have deeper grooves for better traction.
Support Features -Support features will depend on the model. You have Rollbar functions for stability, an Internal shank, and arch support features.
Color and Width Options – New Balance shoes offer colors and wider width options in most of their ranges.
Closure System – New Balance shoes mostly have lace-up closures, but some models have two hooks and loop Velcro straps.
---
Reviews: The Best New Balance Shoes for The Elderly
So, all in all, here are the best available New Balance shoe models that are perfect for older adults;
We hope you love the products we recommend!
So that you know, We may collect a share of sales or other compensation from the links on this page.
---
1
The New Balance 411 model is a comfortable, easy-on-and-off shoe for seniors.
It has leather uppers, a two-strap hook, loop Velcro closure, and a roomy fit.
They gave a removable cushioned NB insole and a shock-absorbing foam midsole.
The outsole is a durable and high-traction rubber.
There are some more colors available, as well as wider width options.
---
2
Wide Running Shoes for Seniors
The M1540 model is ideal for seniors suffering bunions, hammertoes, and other foot deformities and issues.
They have breathable mesh uppers and a dual-density foam collar for comfort.
The shoes offer good arch and heel support with a shock-absorbing midsole and cushioned insole.
They are available in extended widths as well as more color options.
---
3
Velcro Walking Shoe for Seniors
The New Balance 928 is a comfortable and easy-fitting shoe for the elderly.
They have a hook-and-loop Velcro strap closure with two straps that is easier for seniors to use than laces.
The uppers are breathable and durable leather with a wide, roomy toe box.
The shoes have rollbar technology for stability and balance with a PU footbed and cushioned insole.
The midsole is a shock-absorbing foam.
The outsole is durable and has high-traction rubber.
The shoes are available in more neutral color selections.
---
4
One of my personal favorites, the 680V6 model, has very soft and moldable uppers that are breathable well and gentle on your skin. O would suggest sizing up half a size as the curled-up toe design makes them a bit smaller in fit. They have plush cushioning and a soft foam midsole. The outsole's design provides excellent shock absorbency and has a rocker design for stability. They are generally a medium width, but you get a wide option and many more colors.
---
5
Training Shoe for Seniors
The New Balance 608V5 is a snug-fitting and comfortable shoe for seniors.
It has leather uppers and a roomy toe box.
There is an EVA molded foam midsole for support and a comfortable cushioned insole.
The shoes have an internal shank to prove stability and protection under your feet.
The outsole is durable rubber with optimal grip.
---
6
Cushioned Shoe for the Elderly
Something from the Fresh Foam rage from New Balance.
This shoe offers plush and energizing cushioning that is lightweight and superb.
The sole has a slight rocker design and ample cushioning for shock absorbency.
There is an 8MM heel-to-toe drop which is ideal and has Fresh Foam cushioning.
Inside is a comfortable lining and insole.
The shoe has flexible and soft mesh and textile uppers.
---
Index Table: Top Rated New Balance Shoes for The Elderly
---
---