As we age, our feet may change in shape and have less fat and cushioning to protect them against hard impact. Many foot issues are related to age, and often elderly individuals do need more comfortable and accommodating footwear.
We often neglect our slippers, which we spend many hours of leisure in, especially if we are pensioners who stay at home most of the time.
Most elderly persons will need wider than regular slippers. However, many elderly individuals need a more narrow slipper because of a narrower foot shape or because they may have lost some weight along the way.
Whichever may be the cause, we would like to help you find the most comfortable narrow slippers for the elderly.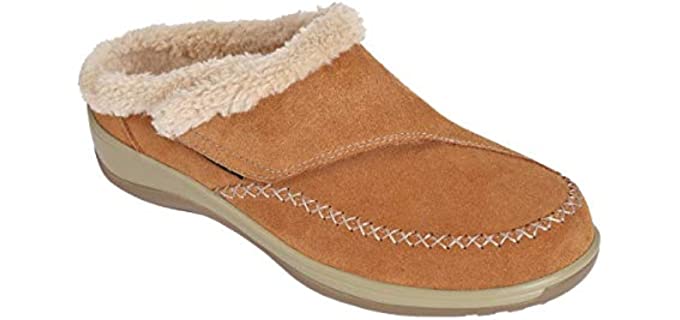 ---
Why Seniors Need Good Slippers
Firstly, let us look at a few reasons why seniors do need good slippers to start;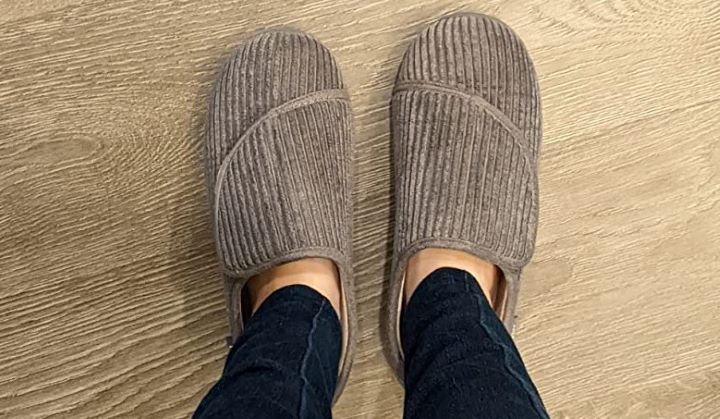 Safety – For seniors at home that prefer to walk barefoot or in socks and slippery flip-flops or flats, a good pair of supportive slippers with a durable rubber sole is much safer. Seniors may easily slip and fall on wet or slippery floors, which could cause some very serious injuries. A good pair of slippers can provide stability and grip, allowing you to walk easily on indoor and outdoor surfaces, even in your leisure time.
Prevents Disease and Infection – Keeping your feet warm is very important, especially when you get older and have a more compromised immune system. Did you know that cold from your feet restricts blood flow because your veins construct, which reduces the number of white blood cells that fight off infection to do their job? Thus, walking barefoot or having cold feet can be related to colds and flu. On the other hand, fungus and bacteria lurk all over your floors and can easily infect your feet if you walk barefoot.
Comfort – Slippers can be much more comfortable than your daily walking shoes or work shoes. They give your feet a rest with a more roomy and softer fit, as well as proper cushioning and support. Slippers can provide comfort and relaxation for your feet after a long day.
Warmth – In cold weather, there is nothing more comfortable and cozier than a pair of comfortable and fluffy slippers to keep your feet warm. As we have mentioned, warm slippers will also help to ward off infections and diseases that may cause colds and flu.
Easy Design – Slippers mostly have an easy slip-on or pull-on Design, which for certain elderly individuals who struggle with laces and closures on shoes, maybe a much better option. Slippers are quick and easy to slip in and out of for seniors in and out of bed or in hospitals and homes.
---
Why a Narrow Fit is Important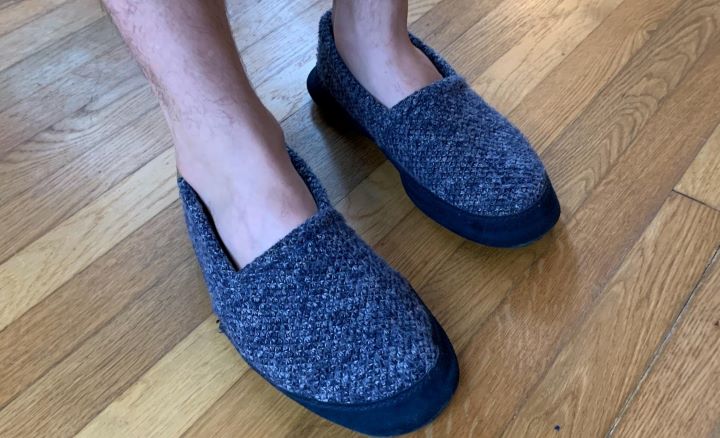 Then we get to the narrow fitting part of your slippers, which is highly important.
Any shoe, whether a slipper, work shoe, or athletic shoe, has to fit comfortably and snugly without squeezing your feet or placing pressure and not too wide as to slip off your feet.
Slippers are usually more generous and roomier in fit as they are leisure shoes; for seniors with very narrow feet, the wide and classic fit may cause them to slip and can cause a tripping hazard if the slippers are too wide and too big.
Luckily there are quite a few slipper brands that offer more narrow fitting slippers or narrow width options so that you can get a more snug and comfortable fit that will easily fit on your feet and not slip off, causing the risk of an injury.
---
Features of a Good Narrow Slippers for the Elderly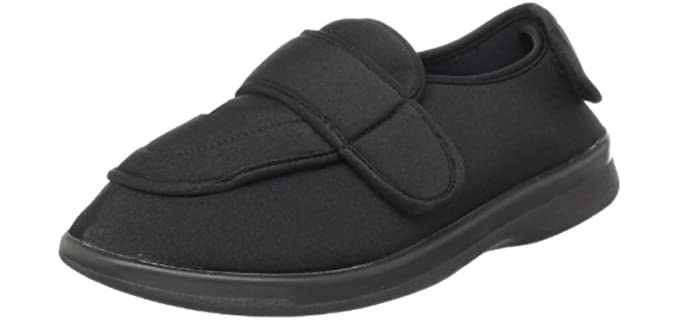 Uppers – The uppers of most slippers will either be a soft nubuck or sued leather or a synthetic textile material such as polyester, microfiber, fleece, or a knit fabric that is stretchable and warm. Some slippers come with a wool or fleece lining for warmth and comfort.
Comfort and Cushioning – For comfort, most slippers do have a moisture-wicking or fluffy lining. They come with a cushioned or memory foam insole and a supportive midsole that may offer some arch support.
Outsole – The outsole can be indoor or outdoor. Indoor slippers will have a suede or EVA outsole, whereas most outdoor slippers will have a durable rubber outsole.
Options – The slippers we have chosen are all available in more colors and sizes, and some are available in narrow widths.
---
Reviews: The Best Narrow Slippers for the Elderly
In our review section, you will find some of the best narrow-fitting slippers for the elderly;
We hope you love the products we recommend!
So that you know, We may collect a share of sales or other compensation from the links on this page.
---
1
Senior's Slip On Slipper for Narrow Feet
The Orthofeet Slip slippers have an innovative design that you can adjust for narrow feet.
The slippers have a roomy toe box and extra depth design to accommodate foot conditions in seniors.
It has layer cushioning and a warm, soft lining.
There is an ergonomic supportive footbed.
The slippers are available in different width options.
---
2
Adjustable Slippers for Narrow Feet
The Long Bay fleece slippers are perfect for seniors with narrow feet.
They have fully adjustable uppers with a single Velcro strap for a narrower fit.
The slippers have a non-slip, durable rubber sole.
They are cushioned with EVA and memory foam to support your feet.
---
3
The Acorn Moc slippers are textile slippers for seniors with narrow feet.
The slippers are available in narrow widths.
They are a comfortable closed design with a moisture-wicking lining.
The slippers are durable, with a rubber outsole and genuine suede side walls.
---
4
The Isotoner slippers are a comfortable narrow design for seniors.
They are easy to slip on and off and have soft textile uppers.
The slippers are cushioned with a supportive footbed.
They offer a narrower fit and have a durable rubber outsole.
---
5
Breathable Sock Slippers for Narrow Feet
From Scurtain, I have chosen slippers and socks that are ideal for narrow feet.
They have rubber soles so that they can be used indoors and outdoors.
The slippers have elastic mesh uppers, knitted fabric, and a snug fit for narrow feet.
They offer light cushioning for comfort.
The outsole is textured for slip resistance.
---
6
Narrow Moccasin Slippers for Seniors
The slipper models from UGG are available in narrow widths for the elderly.
They consist of genuine suede leather, warm wool lining, and a closed design.
The slippers have a durable rubber outsole for indoor and outdoor use.
They are available in a few neutral colors and width options.
---
Index Table: Top Rated Narrow Slippers for the Elderly
---
---