Gripper Socks for the Elderly can be essential to prevent slips and falls in seniors, particularly if they enjoy wearing socks around their homes.
The best non-slip socks for elderly persons provide excellent grip on indoor floor surfaces to prevent slipping and falling while allowing the person to enjoy the freedom of not wearing shoes.

---
Benefits on Non-Slip Socks for Elderly Persons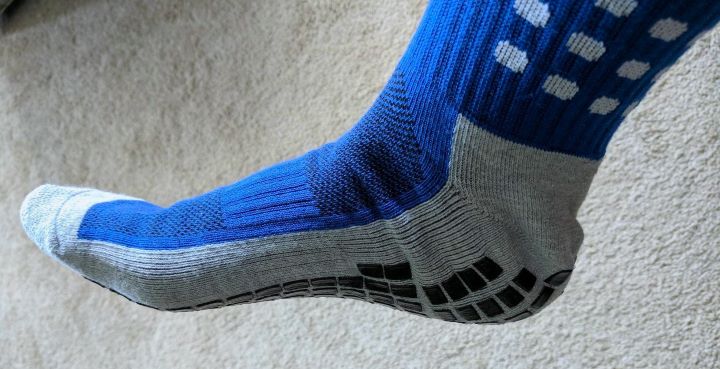 Fall prevention in adults and seniors is a major necessity that needs to be addressed in any way possible.
Adding grab bars in bathrooms and showers, slip-resistant shoes, and even non-slip socks can be a priority to prevent slips and falls in seniors.
Elderly persons may suffer much more severe injuries and conditions from a fall than younger adults, and therefore every precaution should be taken to ensure their safety.
Non-Slip socks are comfortable and ideal for seniors as they will allow them the freedom of wearing socks without the risk of slipping and falling.
---
Non-Slip Socks and Slippers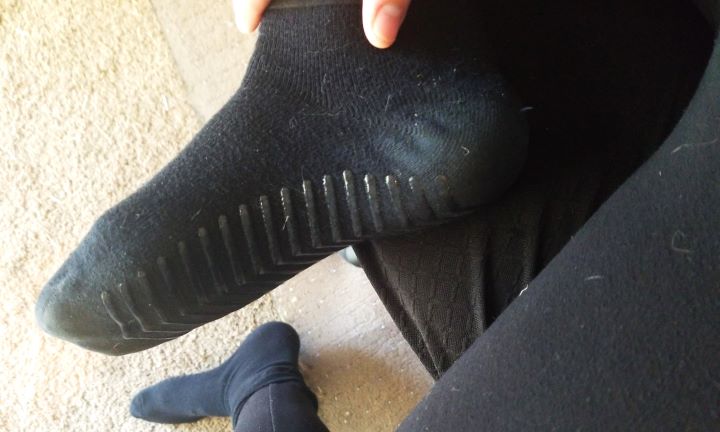 Non-Slip or Non-Skid socks are fuzzy and thick socks with a grippy rubbery or silicone sole. Non-Slip Socks are great to wear at home for leisurewear or to the hospital when you cannot change into shoes every time you visit the bathroom.
Anti-Slip socks come in many shapes and designs, some with underfoot padding, some light, some fuzzier and warm, so it all depends on your preference.
There is a debate on whether non-Slip Socks or slippers are a better choice;
Non-Slip Slippers – Non-Slip Slippers provide more underfoot protection with a thicker sole. Yet they are also bulkier, and you cannot sleep with them on or get into bed with them.
Non-Slip Socks – Non-Slip Socks offer much less underfoot protection, besides being slip-resistant, but you can sleep with them or get into bed with them. They are more suited for when you are in bed or resting most of the time and for short bathroom trips or a quick trip to the kitchen.
---
Features of a Good Gripper Socks for Elderly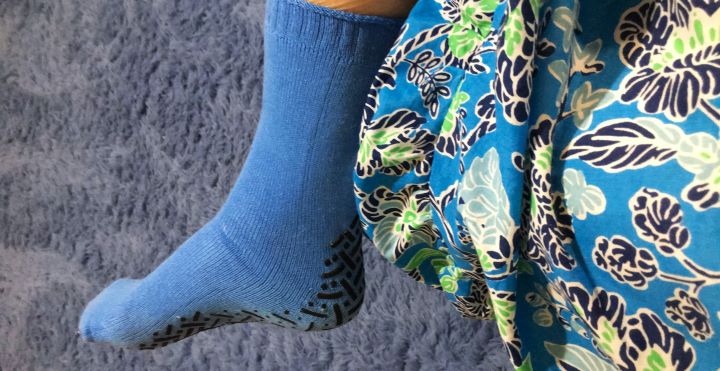 Materials – Non-Slip socks are available in warm and fuzzy designs or lighter and more breathable thin designs. They can consist of cotton, wool, acrylic wool, polyester, and stretchable materials.
Grips – Most non-Slip socks will have rubber or silicone grips on the sole of the sock for slip resistance. Some socks may even have a padded sole for your comfort.
Options – Non-Slip socks for seniors come in various colors and prints, as well as many size options for men and women.
---
Reviews: The Best Gripper Socks for Elderly
Below are our top choices for comfortable and safe non-slip socks for seniors.
We hope you love the gripper socks we recommend!
So that you know, We may collect a share of sales or other compensation from the links on this page.
---
1
From Rating, we have non-binding Terylene socks for seniors with an anti-skid sole.
These are adult indoor anti-skid socks perfect for seniors who need slip protection when wearing socks at home or in the hospital.
The hair is made of 97% Terylene and has a non-slip tread.
Plus, the design is very comfortable and non-binding with a breathable fabric, ideal for seniors and all types of foot conditions.
The materials are non-irritating and hypoallergenic for all seniors.
Besides, the arch support ensures a snug fit.
The socks come in more colors.
---
2
The Gripjoy non-slip socks are designed to be worn with or without shoes, making them quite versatile for seniors.
The GripJoy socks are hospital socks for men and women.
They are available in a three-pair pack option and more neutral color choices.
The socks are premium ultra-soft cotton that breathes well and is hypoallergenic.
There are rubber grips on the tread for slip resistance on various indoor floors, at home or in the hospital, and similar floors.
The socks are available in more size options to get a comfortable fit.
They are likewise unisex sizes suited for men and women.
---
3
The Vive Non-Slip socks are also designed for hospital wear and come in a set of six pairs of socks for seniors.
The socks come in six pairs which are convenient and ideal for seniors.
They are designed for hospital, home use, and medical-grade socks for seniors and adults.
They are a comfortable fit, with breathable latex-free material for allergies and a soft terry inner lining.
The socks have a moisture-wicking design and a rubber tread for slip resistance on most indoor floor surfaces.
The Socks are available in size options for men and women so that you can get the perfect fit.
They are also available in a few more colors for your preference and personal needs.
---
4
The Non-Slip socks from Pembrook are fuzzy, soft, and ideal for hospital wear.
These are fuzzy and soft non-slip grip socks for hospital and home use.
They are completely skidding resistant with gripping rubber tread on the sole that offers a good grip on almost any surface.
The socks are medical grade and have a unisex design.
They are available in more colors and plenty of size options.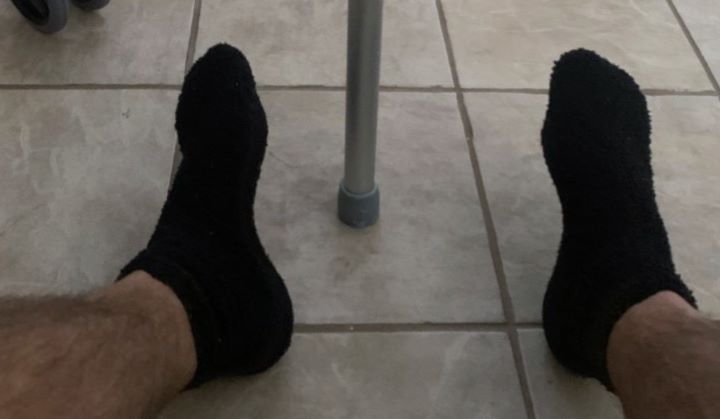 ---
5
The Secure Non-Slip socks are warm and comfortable with a high grip sole for slippery floors.
The Secure socks come in a single pair of non-slip socks and are available in more colors.
They consist of 80 % cotton, 18 5 Nylon, and 2% spandex for stretch.
Moreover, the socks have a cooler and more breathable design.
They have a non-slip tread pattern on the sole that consists of rubber.
They are ideal for home and hospital wear.
---
6
The socks have a non-skid silicone bottom for slip resistance.
They are ideal for fitness and hospital use by seniors.
The socks are breathable and comfortable in fit.
They are multipurpose and very versatile.
---
7
The socks consist of polyester and spandex for stretch.
They are a non-skid design with silicone on the bottom for slip resistance.
They are warm and cozy to wear by seniors.
There are also many colors and prints available.
---
8
Comfortable indoor non-slip socks for seniors with a rubber bottom.
They have breathable cotton and polyester construction.
The socks ate available in more colors from which you can choose.
They are of excellent quality and very durable.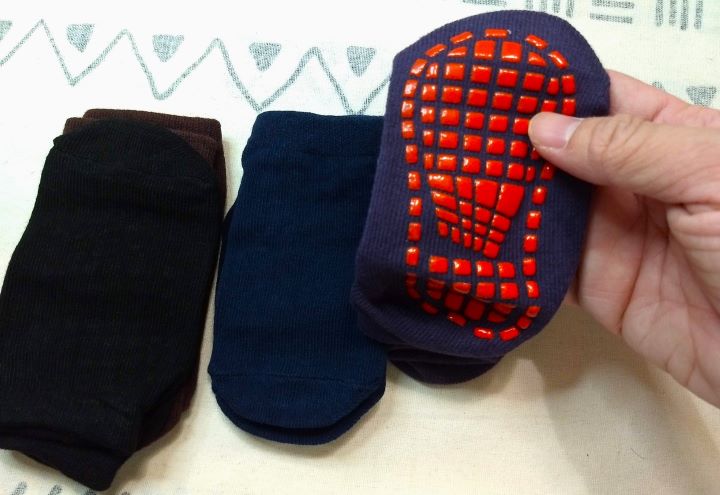 ---
9
The socks are ideal for men and are available in men's sizes.
They have an anti-skid bottom with grips.
The socks ate combed cotton with silicone grips.
They are lightweight and very breathable.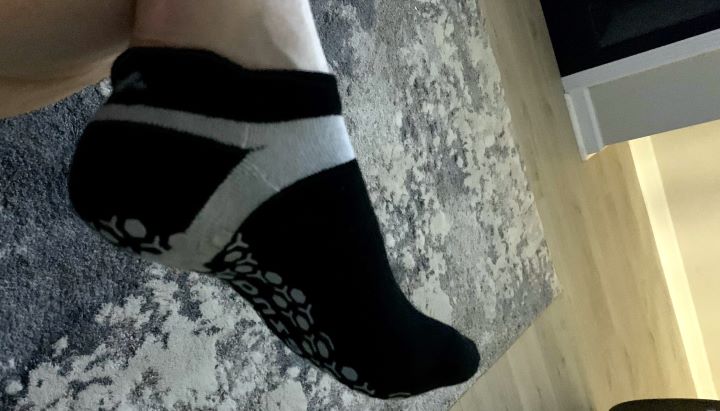 ---
10
These slipper socks are designed specifically for hospital wear for senior persons.
The socks are soft and fuzzy, ideal for colder weather conditions.
There are many colors available from which you can choose, and they consist of a chenille material.
The sock is designed to offer a grip with a non-slip design.
They are perfect for home and hospital use.
Sizes available are regular up to XL bariatric sizes.
---
Index Table: Top Rated Gripper Socks for Elderly
---
---