Searching for the best slippers for seniors may seem quite easy but does need a bit more attention than just purchasing a pair of fluffy slippers.
Seniors need just as much support and stability from their slippers as they do from their shoes.
On the other hand, most seniors may struggle with the closures on shoes, and this is where the best Velcro slippers for seniors may be your best solution.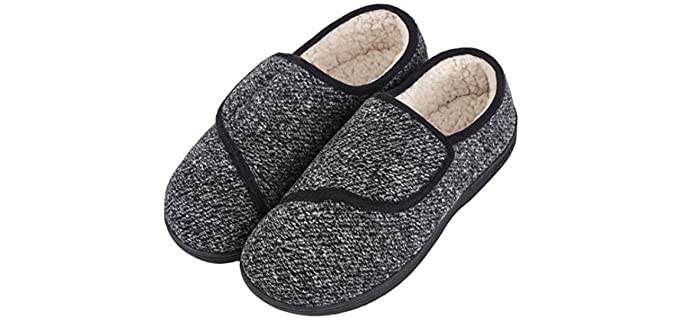 ---
Why choose Velcro Closure Slippers
Besides all the other comfort features of a good slipper for seniors, I want to concentrate specifically on the closure and design for seniors.
Velcro closures on slippers for seniors offer a secure fit, which will not slip off as easily as regular slip-on slippers. However, it is also not difficult to close by a senior.

No Tripping Risk – Slippers and shoes that have laces, ribbons, or any lengthy closure form can cause a tripping hazard for a senior should they come loose.
Velcro Shoes Stay Secure – Most slippers have a comfortable slip-on design and offer a loose and roomy fit. However, they may easily slip off, causing a tripping hazard or even chafe your feet. The Velcro closure allows you to adjust the fit of the slipper so that it is secure and stays in place.
Safer To Wear – Because Velcro slippers do not have zips, buckles, buttons, or other closure forms, they are safer and will not cause a risk of pressure or pinching your skin. Similarly, their secure closure means they will need sandals on, which is also safe.
Special Designs – I have seen many designs in Velcro Closure slippers for seniors from closed back to open back, winter and summer designs. They can still be fun and fashionable with their Velcro closure and comfort features.
Easy and Convenient to Put on and Take Off – Then again, the Velcro closure is easy enough for a senior individual to close and open. It allows for much easier entry. When you open the Velcro, the space is much larger for you to enter your feet, ideal for swollen feet or ear orthotics or bandages. You can then just as easily close and adjust the Velcro to the needed fit. Most slip-on slippers need you to pull at the back and may be difficult to put on and take off.
---
Choosing Velcro Slippers for the Elderly
There are a few aspects to consider when choosing Velcro slippers for seniors;

Seasonal – You need to keep in mind that seasons change and that your warm cozy slippers may not be too ideal in the hot summer months. Choose your Velcro slippers according to your area's season or weather conditions. You can always wear warm socks with regular slippers in winter.
Color and Style – Velcro slippers do come in many colors and styles. The color and style are generally your personal preference. The design needs to be functional, and the colors and style can be anything you wish.
Indoor or Outdoor Design – As you will see, you get indoor slippers, as well as indoor and outdoor slippers. The indoor slippers have a soft sole which I do not recommend for seniors. Outdoor and indoor slippers usually have a more durable and protective rubber sole that is also slip-resistant.
Comfort and Support Features – Make sure that the Velcro slippers you choose offer comfort and support features such as cushioning, an anatomical footbed, or arch support.
---
Features of a Good Velcro Slipper for The Elderly
Here are a few features to look out for in the bet Velcro slippers for seniors;
Materials – The uppers can consist of various materials such as leather, suede, knit fabric, polyester, or fleece. The outsole should be a more durable material such as rubber that offers slip resistance and underfoot protection.
Comfort Features – Make sure the slippers offer cushioning and support features. Look for a more anatomical shaped or arch support footbed, as well as cushioning in the insole or footbed.
Size and Weight – The slippers should be the right size and offer a proper fit. Lighter weight slippers are advised for elderly persons, as they may have some leg and foot weakness.
Quality – Choose quality brand slippers that are durable. Make sure to replace any old worn-out slippers.
Closure – You may get slippers with a single or double Velcro closure strip. The closure will also offer you an adjustable fit.
Colors and Options – Most of the Velcro slippers we have chosen do offer some choice in color options.
---
Reviews: The Best Velcro Slippers for The Elderly
These are some of the most sought after Velcro slippers models and brands that are perfect for the elderly;
We hope you love the products we recommend!
So that you know, We may collect a share of sales or other compensation from the links on this page.
---
1
Velcro Slippers for the Elderly
The Propet Cush N Foot slippers can be used daily as slippers or casual shoes.
They have flexible and soft uppers and Velcro closure.
There is a cushioned and arch-supportive footbed.
The sole is a durable and slip-resistant rubber.
You can also choose from more available colors as needed.
---
2
Velcro Slipper for the Elderly
The Longbay slippers are cozy and warm for seniors.
They offer a comfortable fit and secure Velcro closure.
The slippers have memory foam cushioning and a supportive footbed.
They have an indoor and outdoor rubber outsole.
---
3
Velcro Slipper for the Elderly
The Miles Kimbal is plush and comfortable Memory foam slippers with a Velcro closure.
They are, however, indoor-only slippers with a suede sole.
The slippers are cushioned with memory foam and very plush underneath your feet.
The fit is easily adjusted with the Velcro closure.
---
4
Comfort Slippers with Velcro for Seniors
The Cronus slipper is perfect for medical conditions such as diabetes, neuropathy edema, foot conditions, or deformities where there may be swelling.
The Cronus has an adjustable Velcro back strap that allows easy and off and a more customized fit.
The uppers consist of soft and flexible neoprene with a smooth lining.
They are well-cushioned and supportive.
Similarly, the slippers are Medicare/HCPCS code A5500 diabetic shoes.
---
5
From Orthofeet, we have the perfect Velcro slippers for seniors.
They have layered cushioning for support and accommodate orthotics.
There is a durable indoor and outdoor rubber outsole.
The Velcro closure is adjustable, and the uppers are soft and durable.
---
6
Velcro Orthopedic Shoe and Slippers for Seniors
Dr. Comfort Marla and Carter are shoes for seniors that need therapeutic care.
They have a secure Velcro closure and adjustable fit.
The slippers have an extra depth design and removable layers to accommodate orthotics.
They are seamless for less irritation and are well-cushioned.
---
Index Table: Top Rated Velcro Slippers for The Elderly
---
---