Getting regular exercise is an integral part of having a healthy star lifestyle, even for seniors. As we ate it, I ever becomes challenging to find suitable exercises and routines, and we may not be able to do the things that we used to or have the physical capabilities that we did when we were younger.
Walking in general, especially hiking is a very fun and active outdoor activity that seniors can enjoy, and that can be tiled to their ability levels and all their needs.
However, when it comes to hiking, seniors do need hiking shoes that are supportive and comfortable, and that is why we need to look at some of the best hiking shoes for seniors.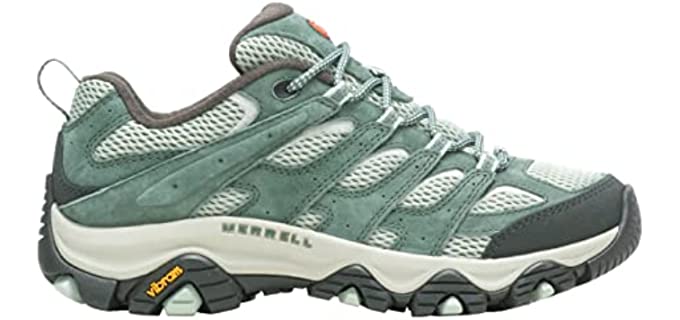 ---
Why Hiking
First, let us look at hiking and why it is such a great opportunity for all seniors to get outdoors and exercise. Walking in itself is a tremendously good, low-impact exercise that is easy for most seniors that are still reasonably mobile.
Walking outdoors and on trails such as hiking can be slightly more intricate, and they are all slightly more dangerous. However, there are many easy trials that seniors can enjoy.
Walking outdoors in nature just has so many more things for you to see and enjoy, and so many more things for your senses to experience than walking down a busy road. Walking in nature is much more calming and much healthier with fresh air all around.
Better Health – Walking outdoors can improve your cardiovascular health, and it can also have to improve circulation. It will help to reduce arthritis, joints, and knee pain, as it is a low-impact activity.
Improve Muscle Strength – Did you know that walking outdoors also improves your muscle strength much more than just regular walking? Besides just improving your muscle strength, it also increases bonding city which can help with bone health and will reduce your risk of osteoporosis.
Improves Mood – Walking outdoors or on trails also improves feelings of depression and isolation. It has a much more freeing experience than walking on busy roads. It is also much more calming to be around nature for a senior.
Safer – However, most hiking trails may hold their dangers. It is still safer than walking and busy roads where you could get run over by a car.
---
Choosing a Hiking Shoe for Seniors
First of all, when choosing a good hiking shoe, you need to consider the specific trails that you will be walking on. If they are completely dry trails, then you can opt for more breathable and more large weights, hiking shoe that is not waterproof. However, if there are lots of water bodies and wetness around, you may need a fully waterproof hiking boot, which can also be slightly heavier and less breathable.
For the most part, I would just advise a regular hiking boot or shoe for seniors that have more comfort features. Now, with comfort features, the hiking boot or shoe needs to have a well-cushioned footbed and good stability features such as a shank or a more rigid sole. You also want excellent traction from the outsole of your hiking boot or shoe, and you want something lightweight and breathable.
---
Features of a Good Hiking Shoe for Seniors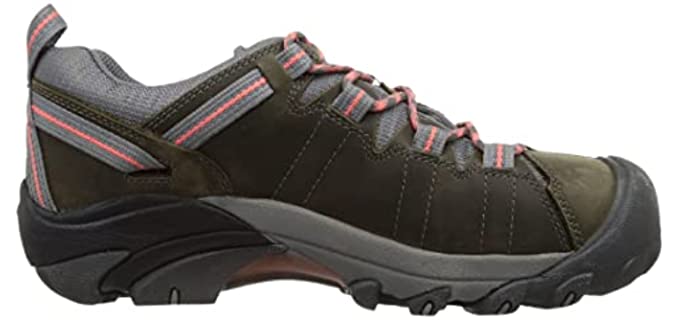 Uppers – Hiking shoes will have either waterproof or non-waterproof uppers depending on your needs. The uppers will be a durable leather or synthetic material that is suitable for heavy-duty wear. There will be a secure lace-up closure.
Comfort and Support Features – Most hiking shoes for seniors will have a supportive and comfortable footbed or insole that cushions your feet, with a shock-absorbing midsole. Many models also come with a stability shank, to help with balance on uneven terrains.
–
Outsole – Hiking shoes and boots generally have a very grippy and lug rubber outsole that offers slip resistance on wet and dry outdoor terrains.
Fit – many Hiking shoes will be available in wider widths fits and they are generally a more relaxed fit with a roomy toe box, for seniors.
---
Reviews: The Best Hiking Shoes for Seniors
---
1
We start with Hiking boots for Salomon an excellent quality brand with some superb features.
The mid-boot cut provides better ankle support for seniors and has a comfortable padded collar,
The hiking boots are fully waterproof with synthetic uppers.
They have an agile and grippy rubber outsole for all terrains.
There is a Gore-Tex breathable and fully waterproof membrane lining the shoes.
They are cushioned for comfort and have a seamless design for less friction.
---
2
The La Sportiva Ultra Raptor Hiking boots are ideal for seniors.
The boot fit offers good ankle support and stability, as well as additional protection.
They are fully waterproof with a breathable Gore-Tex lining.
The boots gave a TPU transfer shank for stability, that runs along the length of your foot.
There is a reinforced heel cup for stability on rocky trails.
They are available in medium and wide-width fits.
The uppers a leather with debossed detailing, and they are abrasion and water-resistant.
The outsole is a SureGrip Frixion AT 2.0 design with an impact brake system for traction and stability.
---
3
From Altra, we have the Lone Peak trail walking and Hiking shoes.
They are slightly more lightweight for seniors and have a more comfortable FootShape toe box.
The outsole is a touch DuraTread with multi-direction TrailClaw lug patterns for grip and traction.
Inside is balanced and comfortable cushioning to encourage low-impact landing,
The EGO foam adds good energy return and responsiveness in the midsole.
---
4
Breathable Hiking Shoe for Seniors
Here we have the Merrell Moab 3 lightweight Non-Waterproof hiking shoe.
It is breathable and lighter in weight, for dry terrains.
The hiking shoe has breathable uppers and a textile lining.
There is an Advanced Kinetic fit contoured cushioned insole, that has a reinforced heel for flexible underfoot support and stability.
Together with the nylon shank, the Vibram TC5+ outsole provides excellent traction and stability on all terrains.
The shoe has Air Cushioning and a high rebound compound in the midsole for excellent shock absorbency.
---
5
The New Balance Trail Walking shoe is a lightweight and durable shoe for light hikes on less harsh terrains, for seniors.
It has full leather uppers and a waterproof membrane.
The heel and collar are padded for comfort and stability.
The rubber sole offers excellent grip on outdoor surfaces.
The shoe is available in wider widths and neutral color options.
---
6
The Keen Targhee is a lower-profile hiking boot for the elderly.
It is safe, comfortable, and fully waterproof for seniors.
The shoe has leather and textile uppers with a Keen dry waterproof membrane that is also breathable.
There is a high-traction all-terrain rubber outsole for grip and a supportive shank for better balance on uneven surfaces.
The Original Keen fit us comfortably with a very generous toe room.
Inside is a removable metatomical footbed for arch support and cushioning for your comfort.
---
Index Table: Top Rated Hiking Shoes for Seniors
---
---