When seniors become more unstable and unbalanced on their feet or mobility becomes an issue, it may be time to look at the best walkers for Seniors.
A walker can help older people stay mobile and perform activities they need to with extra stability and help. Those not stable on their feet may suffer from frequent falls, and imbalance will greatly benefit a sturdy walker.
---
Why Invest in a Walker for Seniors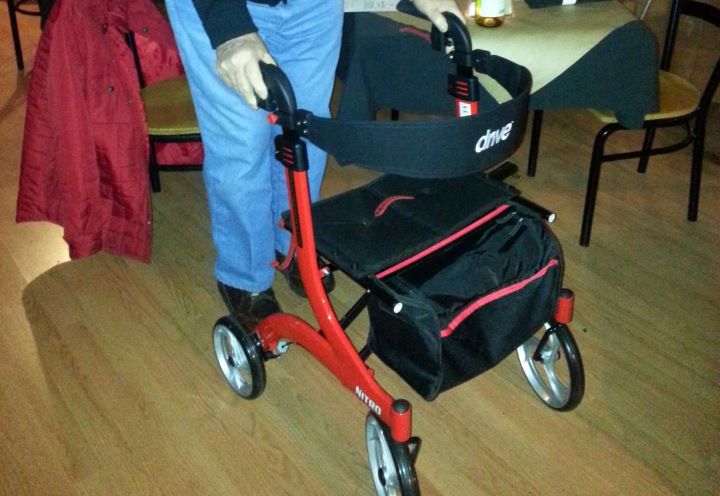 Acknowledging that you need a walker's assistance may not be easy to deal with, and then there is also the case of the multiple options available. Choosing what to get is quite difficult.
Walkers can help with many issues when you get older and may become a necessity for a few reasons;
Imobility – Using a walker to walk and get around may be much healthier and better than remaining sedentary or in your seat all day. It gives you much more freedom to get around and fight the depression that may also come from sitting in your house daily.
Balance Issues – For persons who are still mobile but struggle with balance and stability, the walker can provide extra assistance to prevent you from falling and suffering an injury.
Excercise – A walker is a good exercise for seniors who can no longer walk alone or lie down all day. It can be used as a device for stretching and exercising, even if walking a few steps, to improve seniors' health, flexibility, and strength.
Rubber Feet or Wheeled Options – Another thing that makes walkers so ideal is that you can choose between a rubber leg option that you lift and place down when walking or a wheeled option you can push.
---
How to Use and Maintain Your Walker
Using a walker may take some time to get accustomed to you as soon as you have chosen a walker that works well personally.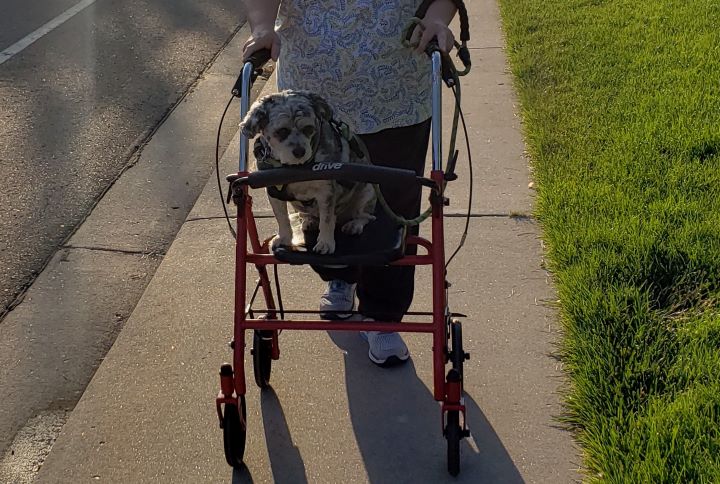 Here are a few tips that you can follow;
Customizing Your Walker – make sure that the Walker you invest in is adjustable, especially in height. The Top of your Walker must line up with your wrists when your arms are at your sides to keep a proper posture and prevent lurching or hunching over the walker. Keep your arms slightly bent so that they are at a comfortable angle for you, as this should be the correct height. Some models will also allow you to set the width at your comfort level.
How to Use a Walker Safely – In the Video, you will see how to use a walker safely. Having your walker at the correct, safe, and comfortable height is a good start. Some walkers require that you push them forward, such as the wheeled options. Others have to be lifted slightly and placed ahead. Ensure you stay upright when walking to prevent hunching your back and hold the walker still and secure as you move forward one leg after the other. Take smaller steps when turning and be careful with turns, as this is where most accidents occur.
Maintaining Your Walker – firstly, keep your walker clean by wiping it down regularly and cleaning the handles. Could you keep it in a safe and dry place? Ensure to replace any worn-out and damaged parts immediately and check the wheels and feet for replacement as soon as they become too smooth.
---
Features of a Good Walker for Seniors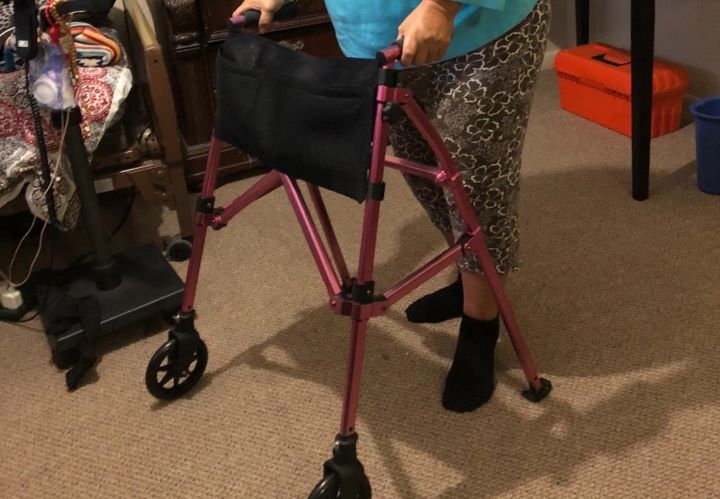 Type Of Walker – There are three walker options, the standard rubber leg option that you lift, a two-wheeled option that you push, and the more advanced Rollator option with four wheels.
Materails – Look for a durable metal frame such as aluminium that is sturdy and durable. Rubber and plastic or foam can be used for the handles and rubber for the feet.
Wheel Options – Wheels come in normal design-forward wheels and swiveling options which are lockable. There should also be a proper brake system for wheeled option walkers.
Foldable – Some designs can be folded for portability and storage.
---
Reviews: The Best Walkers for Seniors
These are some of the best available brands and models of Walkers ideal for seniors and elderly persons;
We hope you love the products we recommend!
So that you know, We may collect a share of sales or other compensation from the links on this page.
---
1
---
2
Another compact and foldable option from Drive Medical is their Deluxe lightweight walker for senior individuals.
The Drive Medical is a Foldable Walker with Wheels.
There are Vinyl contoured hand grips for easy grip and comfort,
Each side will operate independently, allowing easier movement through more narrow spaces.
The new rear glide cap designs allow the walker to easily and smoothly slide over most surfaces.
The aluminum frame base is also very sturdy and durable.
---
3
We have an all-in-one lightweight and foldable walker and chair for elderly persons from Oasis Space.
A compact design folds neatly, and the front wheels are removable for storage.
The Wheeled Rollator and Walker design have a broader seat and much larger wheels for better stability and security.
It comes with a bicycle-type braking system for security and safety.
The paint is baked on the aluminum frame's surface for added durability and rust resistance.
---
4
The Nova design is ideal for ladies because of its smaller and narrow size. It also has a seat and collapsible design that is very lightweight.
The Nova comes in classic Junior and Petite size options for ladies and gents.
The Nova is a Rollator and walker all in one that is very lightweight,
The seat is fully adjustable in height and very comfortable,
The frame has a narrow, lightweight design that is durable and long-lasting.
---
5
The Stander Easy Fold n Go is a lightweight and foldable Walker that is quick and easy to use for seniors with wheels.
You can get the Stander EZ in a few more color options for the frame.
It can fold four times smaller than its original size for portability and easy storage in small spaces.
The walker also has a Rollator design with six-inch-sized wheels and locking swivel wheels for your choice.
The Easy Glide Feet will maneuver easily and smoothly over all surfaces.
The handles' height is fully adjustable, and the handles have a comfortable and ergonomic design.
The frame is durable and can support a weight of up to 400lb.
---
6
The Able Life Compact Foldable Walker is very lightweight and ideal for those with limited space.
The Able Life Space-saving design is small, compact, and foldable for easy storage.
The frame is sturdy enough to support 400lbs in weight, and the handles have an ergonomic design in durable materails.
The fixed front wheels provide stability and security when walking, and there are locking swivel wheels that you can choose.
The design is narrow and elegant, as well as self-standing and durable.
---
7
The Roami Progressive Walker is self-adjusting and ideal for walking up and down stairs and ramps.
The Roami is a 3 in one mobility aid.
It is a walker, Rollator with wheels, and a stair assistant all in one.
The height is fully adjustable, and a few color options are available.
The frame is durable, and the handles are easy to grip and use.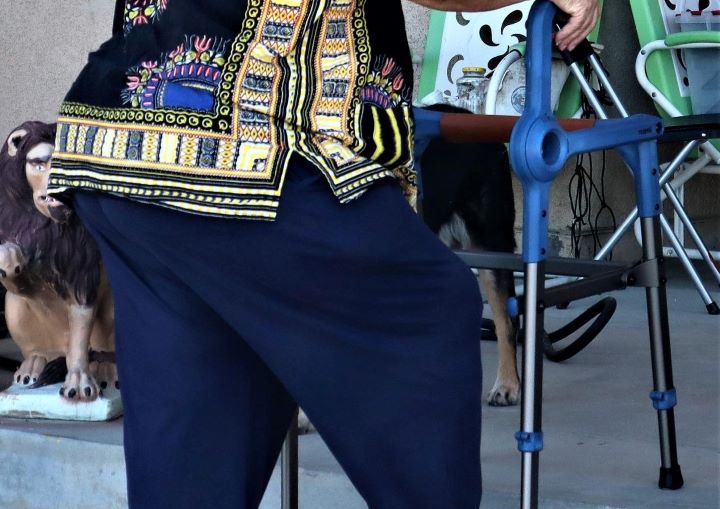 ---
8
The Medline is a walker and Rollator with a comfortable seat and large eight-inch wheels.
This is a premium rolling walker with a comfortable memory foam seat when you get tired.
It comes with all the required accessories and a convenient seat and cup holder.
The walker is easy to handle and fold.
There are also larger 8-inch wheels for smooth gliding.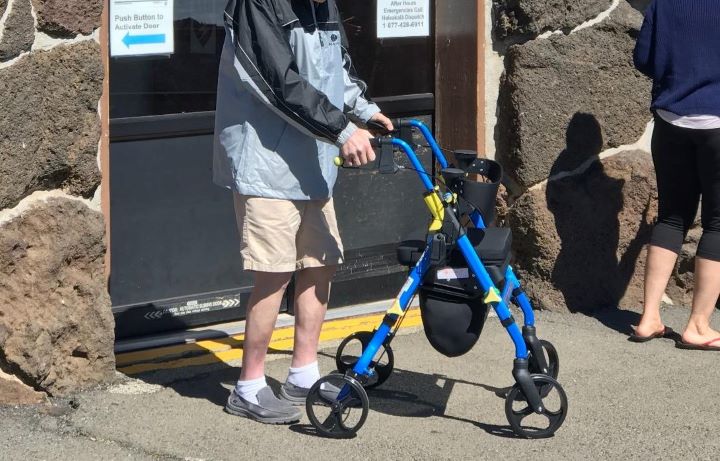 ---
9
The Drive Medical Walker comes with a comfortable seat for when you need a bit of rest.
The Drive Medical Two-Wheeled Walker is simple and easy to use for seniors.
It is a walker and Rollator all in one with a durable frame and easy-grip handles.
The height is adjustable, and the handles are contoured for better grip.
The Walker is also foldable for easy storage and portability.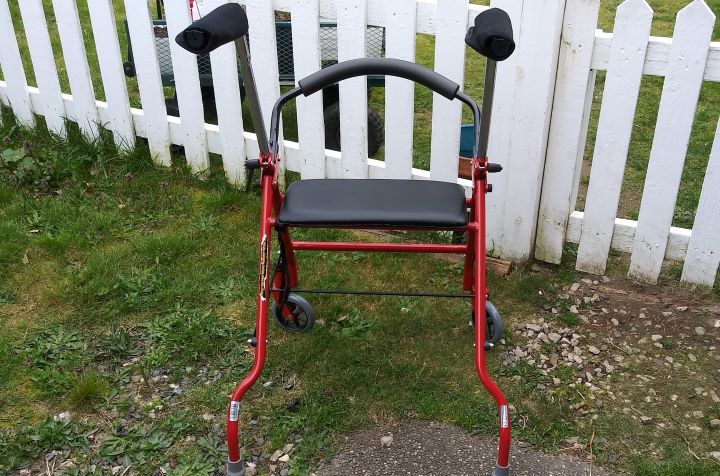 ---
Index Table: Top Rated Walkers for Seniors
---
---