A good walker for seniors should enhance their mobility and provide them with secure and stable confidence for their daily activities.
Walkers do come in a variety of shapes, sizes, and designs. However, one of the most popular walkers today is the Rolling Walker for seniors, which can come with two, three, or four wheels.

---
---
Walkers or Rolling Walkers?
Considering your needs in the argument between rolling and stationary walkers would be best for me.
You will need to pick the walker up with every step with a stationary walker, whereas a rolling walker will roll independently.
However, a stationary walker is much less hazardous than a rolling walker for more stability.
Here are a few differences between the two;
Stationary Walkers – Stationary walkers are the most common, affordable, and easy walker style. They are lightweight and offer maximum support for fully reliant individuals on the walker. However, they are more suited for indoor use and should be lifted to walk.
Rolling Walkers – Rollators come with two front wheels, four wheels, or a tripod with three wheels. They are more suited to seniors that are slightly more mobile. Rolling walkers are heavier than stationary walkers; they are very easy to push forward and can be used outdoors. Many of them also come with a seat and storage.
---
Rolling Walkers
Rolling Walkers or rollators do come in different designs;
Rollators – They are ideal for active users and more independent seniors. Rollators have three or four wheels.
Three Wheel Rollators – The Three wheel rolling walker is ideal for small spaces and has many other features.
Four Wheel Rolling Walkers – They are ideal for outdoor and long trips and often have a storage bag and seat for longer excursions.
Two-Wheel Walkers – These have two front wheels and stationary back feet, meaning they are stable but can be pushed forward. They are more suited for indoor use.
---
Features of a Good Rolling Walker for Seniors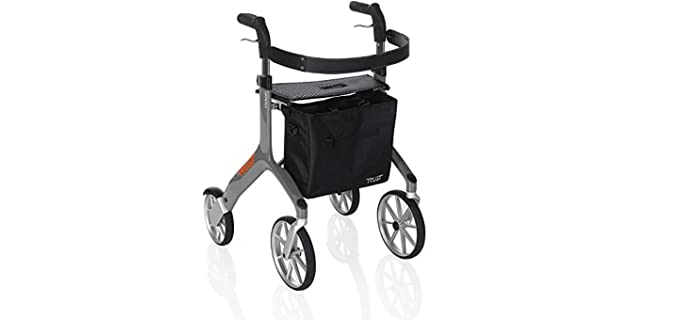 Width – Most rolling walkers are large and wide. However, you get models for narrow spaces, which I have included in the review section.
Handles – the handles of the rolling walker will usually have an adjustable height, as well as comfortable foam rubber or plastic grip.
Seat – Many rolling walkers also come with seats that are usually only the seat, though some may have a backrest. The seat height will mostly be adjustable.
Brakes – Most rolling walkers will have loop brakes in the handles that you easily engage by squeezing the handles, though there are models with single-touch button brakes.
Capacity – Most rolling walkers come with a weight capacity if between 200lbs, and 350 lbs. However, heavy-duty models have a weight capacity of up to 500 lbs.
Foldability – Many Walker models are also foldable for easy storage and portability.
---
Reviews: The Best Rolling Walkers for Seniors
In our list, we have some superb options of a variety of Rolling Walker designs just for you;
---
1
---
2
The Escape Roller Walker is another excellent design for seniors that is safe and comfortable.
It similarly has a more compact design, making it easier for you to fit through narrow spaces.
The rolling walker is foldable and portable and comes with an easy lifting handle.
It has an anatomical and comfortable design, and the handles have an adjustable weight.
The rollator has a gentle touch brake system that engages quickly and easily for your safety.
---
3
From Healthline, we have a roller walker designed specifically for narrow spaces and ideal for use in malls, your home, and other small spaces.
The design is also foldable and quite compact for transport and easy storage.
It has a durable, heavy-duty frame with adjustable height and seats.
The rolling walker has a three-wheel design, three large and durable wheels, and a reliable brake system.
---
4
The Medline rolling walker comes with a comfortable seat for taking a break from walking.
It has a durable, sturdy steel frame and a weight capacity of 350 lbs.
The rolling walker has a storage bag for keeping small items and groceries in as needed.
The wheels are durable and safe, and they are safety brakes for a quick stop when needed.
---
5
The Healthcare Direct is a Steel rolling walker for seniors with a very comfortable seat.
The rolling walker has an alloy steel frame that is lightweight and durable, with four wheels.
It has a comfortable padded seat and a backrest for full support should you need to sit down for a while.
The wheels are large and durable, and an additional storage bag is underneath the seat.
---
6
The UPwalker for seniors is a comfortable and lightweight wheeled walker.
The walker comes with four wheels and has a sturdy frame and design.
It has a seat that you can use to take a quick rest and a safe brake system.
Similarly, the rolling walker is fully certified for your safety.
---
7
The Drive Medical Deluxe is one of these top brands, a favorite Rolling walker that is very lightweight and sturdy.
The rolling walker has bariatric features and five very sturdy and reliable wheels.
Two wheels are in front, and the back feet are solid for safety.
There is also a two-button folding option for easy portability.
---
8
The Drive Medical Trigger model rolling Walker easy-release walker is perfect for seniors and us.
It is easily operated and can be folded for storage and transportation.
The premium design has an aluminum frame and two wheels in front, with solid back wheels.
It is lightweight for quick and easy use.
---
Index Table: Top Rated Rolling Walkers for Seniors
---
---