If there is one thing that every senior person needs, then it is a good pair of the best non-slip slippers for the elderly.
Comfortable non-slip slippers provide footwear that is accommodating, safe, and very comfortable for seniors' feet as a home and leisurewear choice.
Generally, most slippers for seniors tend to be wide and clunky. However, we have made it on a mission to find more lightweight slippers that still offer many comforts and support features and a slip-resistant outsole.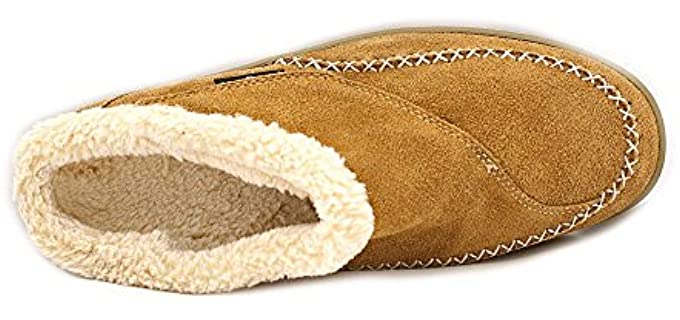 ---
Why Choose Slippers for Seniors
Then again, you may wonder why slippers are so important for seniors.
Well, think about this, a senior person may eventually not have the sight or motor skills to close a buckle or shoelaces on a shoe, not to mention the strength and flexibility to bend down to put on a pair of shoes.
As they get older, seniors will generally not spend too much time out, and most have retired.
Other than that, for a senior person weaving a pair of slippers in public is also quite acceptable.
Slippers are comfortable footwear that is easy to put on and take off and provides adequate protection for your feet.
---
Types of Slippers for Seniors
Choosing the right slippers for a senior person could be quite a challenging task, so here are a few slipper types that are more suitable;
Closed Slippers – Standard closed style slippers such as Mules, moccasins, or pumps are the best choices, like an open back or slide-on slipper offers little stability for seniors and may become a tripping hazard. Slippers that are backless easily slip off, especially when the elderly person has numbness in their feet because of a condition such as Diabetes. Or neuropathy.
Boot Slippers – Bootie slippers are a great choice for winter; they provide excellent warmth and stability. Most ankle boot style slippers are quite ideal. I would not recommend longer than an ankle length.
Sock Slippers – Sock slippers are a good choice for indoor use only, and rather just for getting out of bed and going to the bathroom at night or for hospital use. I do not recommend them for walking and wearing around the house.
---
Features of a Good Non-Slip Slippers for Seniors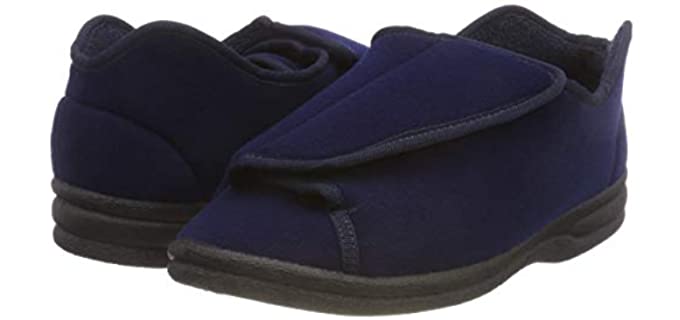 Lightweight – Good slippers for an elderly person needs to be quite lightweight. This helps to prevent fatigue and injuries. It might be difficult for and weakened elderly person to drag along heavy shoes or slippers. Although you do not want them so light as not to be felt, they do need to be still stable enough for the person to retain control over their steps.
Fit – The Fit of slippers needs to be comfortable and the right size. You want enough width and toe room, yet not a slipper that is so loose to cause friction and blisters or a tripping hazard. Likewise, you also want a more accommodating fit for elderly persons with foot deformities and ailments such as bunions and callouses.
Roomy Toe Box – Make sure that the toe box of the slippers is roomy enough not to cause any pressure on the toes and forefoot, and allow your toe to spread out your toes fully.
Cushioning – Comfortable underfoot cushioning provides a comfortable and soft platform for walking and standing on, while firmer midsole cushioning helps to absorb shock and protects the feet from hard floors and protruding objects such as stones and gravel.
Slip Resistant Outsole – Most importantly, the outsole needs to be a thick and durable rubber with a lug tread for optimal slip resistance on most floors, indoors and outdoors.
---
Reviews: The Best Non-Slip Slippers for Seniors
Below are some safe and comfortable slippers just for elderly seniors;
We hope you love the slippers we recommend!
So that you know, We may collect a share of sales or other compensation from the links on this page.
---
1
I love the UGG classic boot slippers for seniors because it is versatile for casual wear or as a slipper.
The boot has genuine suede leather uppers with a warm interior fur lining.
The sole is a thick and durable rubber that is slip-resistant.
You can use a cushioning orthotic with the slipper or enjoy the already padded footbed.
There are also many color options available in this model.
---
2
The Propet Cush N Foot slipper for ladies is much similar to that for the gents.
It has adjustable fit uppers with a Velcro closure and more color options available.
The slippers are sturdy and durable, with a slip-resistant outsole.
The uppers are very stretchable, and you get some fun prints for the ladies.
The slippers are cushioned and very comfortable.
---
3
The Propet Cush N Foot is a leisurewear shoe and slipper for seniors.
The fit is adaptable with the adjustable uppers Velcro closure, allowing easier on and off for an elderly person.
The slipper has a thick and slip-resistant rubber outsole.
The uppers are synthetic and very soft against the skin.
There are likewise wider width options available and more neutral color options.
---
4
This is the classic UGG ankle boot slipper model for ladies.
It is available in some lovely feminine and neutral color options.
The boot is leather with a fur lining and a durable, slip-resistant rubber outsole.
The footbed is lightly padded, but you can also use your orthotics.
The boot offers a comfortable and roomy fit, and the leather gradually shapes your feet.
---
5
The Charlotte from Orthofeet is an Orthopedic leather slipper for ladies available in a few neutral color options.
It has leather uppers and faux fur trim.
The uppers are adjustable in fit, and there are wider widths available.
The slippers feature a therapeutic design and layers of cushioning.
It is ideal for sensitive feet and all types of foot ailments.
---
Index Table: Top Rated Non-Slip Slippers for Seniors
---
---