A compression sock has many benefits and even much more for senior persons.
However, the right type and brand of compression socks are crucial, so in this article, I will show you some of the best available Compression Socks for seniors and why.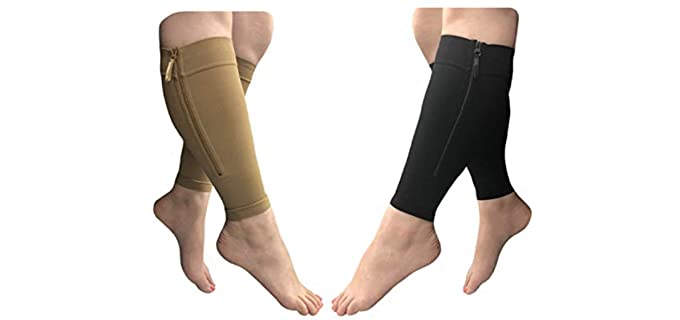 ---
Benefits of Compression Socks for Seniors
But before we look at some great designs and models for compression socks, let's look at some of the reasons why Compression Socks are so beneficial for seniors;
Stylish and Easy to Wear – I start with this because most compression socks for seniors usually come in awful designs and colors that make them feel like a medical device rather than a piece of clothing. So here, I will show you some lovely designs, colors, and options that are stylish, fashionable and give some options to seniors.
Renewed Independence – Because the Compression sock makes it easier for you to stand and walk, you can now take part in activities that you loved but were previously unable to perform.
Safe Pain Relief – A good compression sock for seniors will offer safe and effective pain relief in the feet and lower limbs. It will also reduce chronic pain in the joints and muscles.
Better Blood Circulation – The main advantage of a compression sock is that it improves blood circulation. This, in turn, can prevent blood clots as elderly persons are more predisposed to blood clotting. Better circulation also improves health and reduces pain.
---
Types of Compression Socks for Seniors
Then we get to the different types of compression socks that are ideal for senior people;
Compression Levels – The compression level depends on the person's condition to e using them. Most compression socks offer moderate compression, which is usually ideal. You can also choose between lower and higher compression levels. A 20-30mmMmHG is a high to moderate level of compression, whereas 15-20MmHG is low to moderate. These are usually the two safest levels of compression for seniors.
Type of Compression – For the most part, I recommend GRADUATED Compression, which offers the right levels of compression in the areas where you need it. Graduated compression means that the pressure is the highest in the lower leg and ankles and gradually decreases as the socks go up the leg. Then there is also supportive hosiery which offers very light compression and slightly more support than anything else. The Anti-Embolism Stockin is another option: an elasticated stocking that prevents blood pooling in your legs.
Size and Style – In compression socks for seniors, I recommend only the knee length or longer and not the ankle length. Also, you can choose the footless design, which is called a sleeve, the full closed-toe, and a design with a zip closure, which makes it easier to get on and off.
---
Features of a Good Compression Socks for Seniors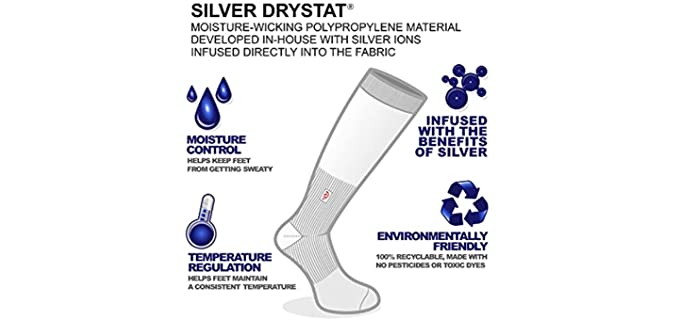 Compression Levels – Look for levels between 15 and 30 MmHG in compression which is a moderate type of compression, ideal for seniors. Graduated comression is also recommended.
Design – There are footless sleeves, a closed full toe, and zipper closure design. I would always opt for calf, knee, or thigh-length for seniors.
Colors – Most models come in a variety of fashionable colors that you can choose from.
Materails – Materails used in a good compression sock can be spandex, lycra, or nylon for compression, and added cotton or polyester for breathability in comfort.
---
Reviews: The Best Compression Socks for Seniors
These are some of the best available compression socks, which are perfect for older persons;
We hope you love the socks we recommend!
So that you know, We may collect a share of sales or other compensation from the links on this page.
---
1
The Vitalsox compression socks are knee-length graduated compression sock that offers mild compression and a comfortable fit.
The Compression Sock consists of 70% Silver Drystat material, 10% Spandex, 10% Lycra, and 10% Nyon materials.
The Drysat material keeps your feet dry and reduces odors.
The Sock provides moderate graduated compression and has a 4-way stretch design.
You can also get your Vitalsox in many colors options and designs.
---
2
The Smartwool athletic compression sock is made from wool, which insulates and provides warmth and comfortable compression.
For outdoor use and extra warmth, the Smartwool sock is ideal.
There are a comfortable fit and moderate compression.
The materials are breathable and very durable, and the bottom of the foot is cushioned for comfort.
The sock comprises 49%merno Wool, 43% Nylon, and 8% Elastane.
The design is for men but could also be used by ladies.
---
3
The Sockwell Chevron has a colorful range of compression socks for older ladies that offer moderate graduate compression in four zones.
The Sockwell sock comprises 50% soft Polyester, 21% Flexible Nylon, 17% Acrylic, and cotton and spandex for comfort.
You can machine wash these compression socks.
The socks are recommended for everyday wear and offer light compression in a four-zone design.
There are women's sizes only available, unfortunately, and a large variety of color options.
---
4
The Presadee Original is the closed-toe design full-length compression sock, which features a convenient zipper closure.
The Presadee is a closed-toe design Compression sock with a zip closure for easier on and off.
It offers higher compression levels up the top 30 mmHg.
The Zipper is prophetic not to irritate the skin.
The materials used are comfortable and breathable.
You can choose from a black or beige color selection.
---
5
These are the perfect lightweight and UV-resistant compression socks for the older lady who likes to walk or even jog.
The SB compression sock consists of 80% Flexible Nylon and 20% Elastane.
It offers graduated compression with the Invista Lycra that promotes blood flow and reduces muscle damage and fatigue.
The 360 degrees knit construction design creates very consistent and powerful high compression.
The material is lightweight unbreathable, and the fabric is 50UV resistant, making it the ideal outdoor sock.
---
6
The HealthyNees compression sleeves come in a set of two. They are footless and have a zip closure.
The HealthyNees Compression sock comes in a set of two, and you can choose between a beige or black color option.
It offers a moderate to high 20-30mmHG of compression grade.
The sock is a calf-length with a zipper closure designed to protect the legs from friction.
You can enjoy better blood circulation in reduced swelling and leg fatigue with the HappyNees compression sock.
---
7
These are easy zip-up compression socks for men and women.
They come in neutral and black color options.
The compression socks are footless and have an easy zip closure.
These are breathable and ideal compression socks for seniors.
---
8
The Charmking Compression Socks are also for men and women.
They offer 15-20mmHg of compression.
There are many color options available for your choice.
The compression socks are comfortable and breathable for everyday use.
---
9
The Sparthos Compression Socks offer very high 20-30mmHg of compression.
They are ideal for swelling and edema.
The compression socks are comfortable with seamless toes.
Perfect for seniors who suffer from swollen feet.
---
10
The Copper Fit 2.0 is also great for seniors.
They are copper-infused compression socks.
The socks are an easy pull-on and off knee-high design.
They are Nylon, Spandex, and Polyester.
Ideally, fully machine washable.
---
Index Table: Top Rated Compression Socks for Seniors
---
---