There comes a point in many of our lives when mobility and walking also become quite difficult tasks with age. It is no shame to look upon mechanical aids to help us with these basic daily tasks.
So, in this article, I want to discuss specifically walkers as a walking aid, in the most Lightweight walkers for Seniors.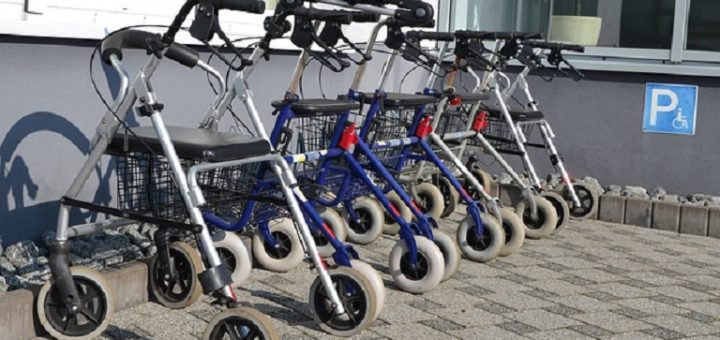 ---
Benefits of a Lightweight Walker for Seniors
The most significant benefit of a good lightweight walker for a senior is that they have support to keep their mobility still.
A walker is designed specifically to keep the user stable and well-supported when standing or moving around. They are designed to provide safe travel and walking experiences and improve the user's confidence.
Lightweight walkers are designed to be more portable and easier to operate. Most of them fold for storage and travel and can also be used at home.
Lightweight walkers can help seniors to walk long and short distances, with the assistance that they so much require,
Using a walker can also help seniors keep up with physical therapy and exercise, which their bodies need for proper blood flow and health, even though they may be weak or have balance issues.
A walker is very easy to use and inexpensive but can make a great deal of difference to the user.
---
Types of Light Weight Walkers for Seniors
There are, however, a few different types of walker styles from which you can choose. Here are some of the most basic types;
Standard Walkers – Standard walkers have four legs with rubber grips at the bottom of each leg for sturdy grip. These walkers need to be lifted with every step and placed down for walking. They are very sturdy and can hold your full weight, Most of them also offer adjustable height, and they can be quite lightweight for portability. Regular walkers are for seniors who need plenty of support and stability, rather than moving around fast and far.
Rolling Walkers – Rolling walkers have a similar design to standard walkers, with the difference that their front legs have wheels. They are ideal for seniors that can still use their legs to support most of their body weight. Rolling walkers are not as stable as regular walkers, but you have a much faster and larger range of movements.
Rollators – Rollators are walkers with wheels at the bottom of the legs, usually three or four wheels, to allow you to walk fast by just pushing the walker easily. Rollators also almost always come with brakes for safety and when you need to be stationary. If you are quite active and need something that you can travel faster and easier with, then a rollator is one of the best options.
---
Features of a Good Lightweight Walker for a Senior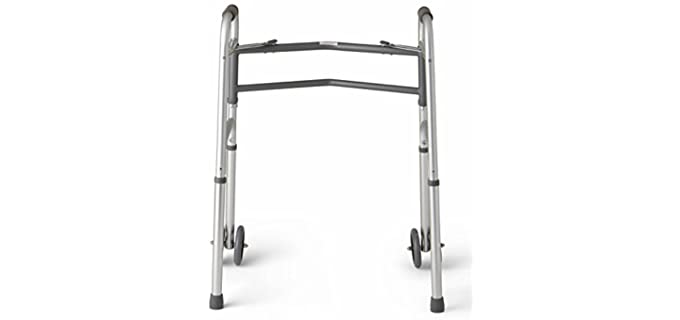 Adjustable Height – Most walkers will have adjustable height settings, making them ideal for customizing the height. You do want to have to slouch over them to walk, but rather walk in a more natural and upright position.
grips and Brakes – Look for a walker that has soft and padded ergonomic grips that are easy to hold on to by and an elderly person and will not slip. The brakes must be easy to use and access, especially for wheeled walkers.
Lightweight – Lightweight walkers should be sturdy yet easily lifted and moved around by senior individuals. Most lightweight walkers consist of aluminum or plastic lighter materials in general.
Use Location – Before investing in any walker, you will need to consider the areas where it will be used compared to the size of the walker. If your home has very narrow walkways, a wide walker will not easily fit through. So keep this in mind when looking at the sizes and dimensions of the lightweight walker.
---
Reviews: The Best Lightweight Walkers for Seniors
These are some of our top favorite lightweight walkers that are perfect for seniors;
---
1
The Drive Medical Trigger, the release walker, is lightweight for seniors.
It is very easily operated and folded for storage.
The walker us a premium design with wheels for easy and smooth operation.
It consists of very lightweight quality aluminum.
---
2
The Drive Medical deluxe is another favorite lightweight walker.
The walker has a two-button folding option for storage and transportation.
It is lightweight aluminum and very strong.
The walker also has bariatric features and five wheels.
---
3
The Lumex lightweight walker is perfect for seniors.
The walker has a 400 lb weight capacity and is quite sturdy.
It can be folded for storage and transportation.
The walker is sturdy and has a safety grip contoured handle design.
---
4
The UPwalker for seniors is very lightweight.
This is the original design lightweight upright walker to help with your posture.
The walker is very lightweight and sturdy.
It also comes with a seat and is fully certified.
It has wheels and safe brake systems.
---
5
The Medline Freedom walker is also lightweight for seniors.
The walker is a folding aluminum design.
It has height-adjustable arms and a seat.
The walker has a comfortable padded seat and backrest option.
---
6
This is the heavy-duty lightweight walker from Medline.
It has a very sturdy frame with five-inch wheels and durable plastic hands.
The walker is lightweight and can hold a weight of 500 lbs.
It has an easy two-button folding option.
---
Index Table: Top Rated Lightweight Walkers for Seniors
---
---