As we age, we may develop difficulty walking or keeping our balance, or standing.
Staying mobile for as long as possible is ideal for seniors, so a Walker is always a great option.
Although, as a senior, you may get tired from walking or standing and may need some rest, then a Walker with a Seat can come in quite handy.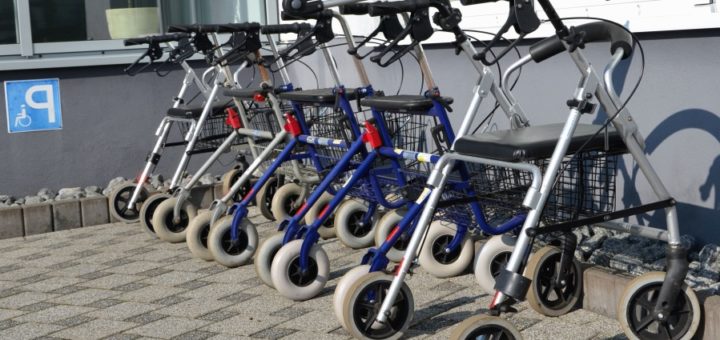 ---
---
Why You May Need a Walker with a Seat
Firstly, a Walker for a senior person assists them in keeping their balance when walking or standing. This tool is ideal for many occasions, such as running errands, walking for exercise, or even shopping at home.
However, when you are in an area such as a shopping mall or park, and there is no seat alternative available, one thing that could surely help is having a seat on hand.
Walkers with seats for seniors give you the option of a walker and a foldable or built-in seat that you can use to rest on in these instances.
---
Walkers and Rollators
When we talk about walkers, they essentially fall into two categories;
Walkers, and Rollators. While both are, in fact, walkers, the only difference is that one has wheels and the other does not.
A regular walker requires you to lift the entire walker each step to move forward, while a rollator is pushed forward on its wheels.
You will see that you only get regular walkers with seats partially, as Rollators are much more popular and advanced.
The Main Difference Between Walkers and Rollators
The main difference between a rollator and a walker is the wheel and the fact that you lift a walker and push a rollator.
Rollators may have four wheels or only two wheels in front, which means you still have to do some light lifting for the back legs of the walker.
A walker is much more sturdy than a rollator and offers much better support for weight-bearing when a person needs to stand or move very slowly in a small space, say from the bedroom to the bathroom.
A rollator gives you much better mobility and a slightly faster pace as it is pushed and not lifted.
Rollators are ideal for more mobile seniors who do not need to rely on a walker for balance and standing upright completely.
Rollators offer better maneuverability and faster walking speed while still providing help with stability and balance.
There are, however, a Few Factors to Consider Before Choosing a Walker or Rollator for an Elderly Person

Remember that a regular walker requires upper body strength to lift with every step.
Both rollators and walkers should not be used on uneven and slippery terrains.
If the senior struggles with stability and balance, you should opt for a regular walker.
For traveling outside your home regularly, a rollator is the best choice.
Could you ensure the height and dimensions of the walker are a perfect fit for you?
---
Features of a Good Walkers with Seat for Seniors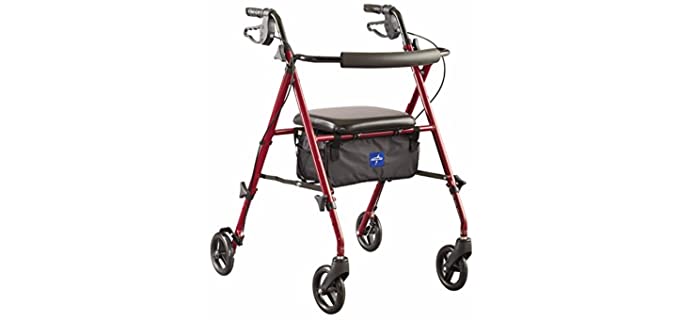 Stability – Make sure that the walker with seat has a durable and stable frame that can hold your weight.
Brakes – Especially for rollators, you will need easy-to-use brakes that are effective. The brakes help to stop the wheels immediately n case of an emergency.
Number of Wheels – A Rollator may have four wheels or just two in the front and regular legs at the back.
Weight capacity – make sure that the weight capacity of the walker or rollator suits your weight.
Storage – It is a good option to look for a rollator or walker that is easily foldable and compact for storage.
Seat – The rollator or walker seat should be comfortable, the right size, and sturdy enough.
---
Reviews: The Best Walkers with Seats for Seniors
These are some of the best Walkers and Rollators with a seat for Seniors;
---
1
The Drive Medical Walker with seat is a four-wheel design.
It is a rollator with four wheels and a seat.
The Walker also has back support that is removable when you are seated.
The handles and the seat is adjustable.
There is a spacious storage pouch on the walker.
---
2
The Nova Cruiser De-Light is the perfect walker with a seat for seniors.
It has a classic rollator design and five rubber wheels with brakes.
The rollator has a thick padded seat for comfort.
There is also an additional storage area for shopping.
---
3
The Medline Rollator with a seat is ideal.
It is a sturdy steel frame with a high weight capacity of 350lbs.
The design has a convenient storage bag and seat.
The wheels are safe and come with brakes.
---
4
The Stander Let's Fly is the perfect walker with a seat.
It has wheels and locking brakes.
The walker has a comfortable, water-resistant seat.
It is lightweight, and the height is adjustable.
---
5
The Healthcare Direct Steel Rollator also has a comfortable seat.
It is a wheeled walker with an alloy steel frame.
There is a comfortable padded seat and backrest.
It has 6-inch wheels and a bag underneath the seat for storage.
---
Index Table: Top Rated Walkers with Seats for Seniors
---
---