Balance Boards for seniors are quite a strange concept. However, it can be an excellent idea to help improve their balance and stability.
Balance boards are not just there to teach you to surf or skate but can also make an excellent piece of exercise equipment in terms of helping to improve your balance and stability on your feet.
For seniors, balance and stability become particularly important as they age, as this usually starts to lack with age.
Thus, we want to help you find the best balance boards for seniors that are suitable to help with balance and don't issue.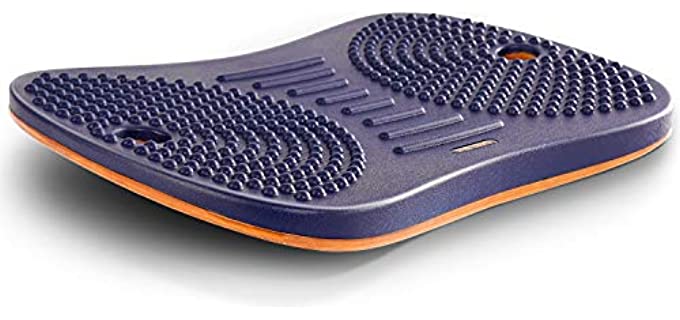 ---
---
Types of Balance Boards for Seniors
You get both Rocker and wobble balance boards that are ideal for seniors and are considered the easiest to start with for beginners.
The Rocker balance board is an extremely simple wooden board with a rocker attached to the bottom. You can rock forward and backward or side to side on the Rocker board as needed and easily change positions.
The Wobble Balance Board, on the other hand, includes the board and a Fulcrum, which we call the wobbler, that is in the shape of a half-sphere attached to the board. You can rock on the wobbler in any 360-degree position and direction, giving you much more freedom and better exercise.
Whether Balance Boards are safe for seniors rises quite a few times. A balance board is a piece of training equipment like any other and needs to be treated as such, and it is safe to use with caution by seniors that can use a device.
Seniors will already need a fair share of balance and mobility to use a balance board in a standing position. However, some can be used in a seated position.
Other than that, most balance boards come with safety features such s an anti-slip mat, and I have included a model in the review with handles. Otherwise, you can always hold on to a desk or sturdy furniture for balance.
---
Choosing Your Balance Board
There are, however, a few things that you should consider before deciding on a balance board for seniors;

Easy Storage – Especially if you are limited in space, it is important to get a balance board or wobble board that will be easy to store under a desk or where needed.
Low Impact Design – You get balance boards for high, and low impact workouts. As a senior, I recommend starting with a lower-impact balance board that allows you to improve your balance and posture.
Height – If you use a Balance board at a desk, you must ensure that it is a comfortable height to reach and hold on to your desk easily and not too high or too low. It would be best to have the exact height, especially when you want to work on a balance board in a standing position.
Budget – I would not recommend buying the cheapest balance board as it may not be good quality, sturdy, or as safe as you need. So keep a clear budget in mind and compare prices on some of the better quality brands.
Talk To Your Doctor First – If you have any health or mobility issues, you should speak to your doctor first and determine whether a balance board is the best option for you and what type would work best.
Noise Levels – Check the noise levels if you use a balance board in an area among other people or at work. Many balance boards squeak and make noises when in use. Thus, it is important to opt for a more silent design.
---
Features of a Good Balance Board for Seniors
You get different balance boards for seniors, yet as discussed, rocker and wobble boards are the most popular for seniors.
Here are a few criteria to consider when choosing a balance board for seniors;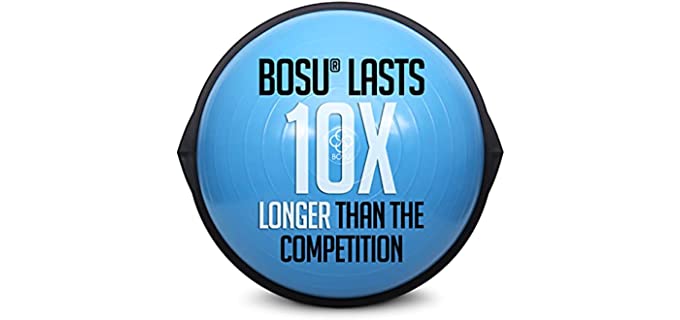 Weight Limit – You will need to look at the weakened capacity of the specific balance board. Some more sturdy and durable models will hold a much heavier weight.
Surface – The Top of the Board should be wide enough to comfortably and easily position yourself on the board; it should have a durable surface with a good grip with anti-slip materials.
Tilt Angle – The Tilt angle will determine how hard it will be to hold your balance on the balance board. The greater the tilt, the harder it is to hold your board balance.
Portability – Make sure the balance board is lightweight and portable enough to carry and move around as needed as a senior.
---
Reviews: The Best Balance Boards for Seniors
---
1
Here we have a professional wooden Rocker Style balance board for seniors.
It has a rugged and durable design with a non-slip surface,
Ideal for physical therapy and rehabilitation.
It consists f excellent quality hardwood.
---
2
The Blue Planter Surfer is a balance board ideally for surfers but also beneficial for seniors.
It offers a more elaborate 360-degree balance surface and can be used while standing behind a desk.
The balance board gas a safe and non-slip deck.
It is wide and sturdy.
---
3
The Yes4All plastic Wobble balance board is a great design for seniors.
It has a versatile and compact design to save space.
Ideal for rehabilitation and balance exercises.
The wobble board has an anti-skid bottom and a wider, more sturdy design.
---
4
The Nalanda Wobble board is the perfect score and balance trainer for seniors.
It offers heavy-duty support up to 660 lbs and is very easy to clean.
The surface is non-slip and safe for seniors.
The Multi-use wobble board is portable and very durable.
---
5
The Fezibo Wooden Wobble board can also be used behind the desk at work.
It comes with an anti-fatigue mat and stability rocking design,
The design is ergonomic and safe for seniors.
There is a no-slip grippy surface with a wide platform to stand on.
---
6
This is a full training set using a balance board.
It has handles for your safety and will help you easily regain your balance.
The set comes with a full DVD with some exercise programs.
It is a complete training set with everything you need for easy assembly.
---
Index Table: Top Rated Balance Boards for Seniors
---
---