The best pedal exercisers are designed for seniors who cannot walk long distances because of chronic conditions such as arthritis, obesity, or heart disease. Those with limited mobility due to injuries from accidents or surgeries can also use them.
However, the best pedal exerciser for seniors will probably differ from what someone 20 years younger might need. So here are the best options for you. Check them out!
---
How a Pedal Exerciser will Benefit You as a Senior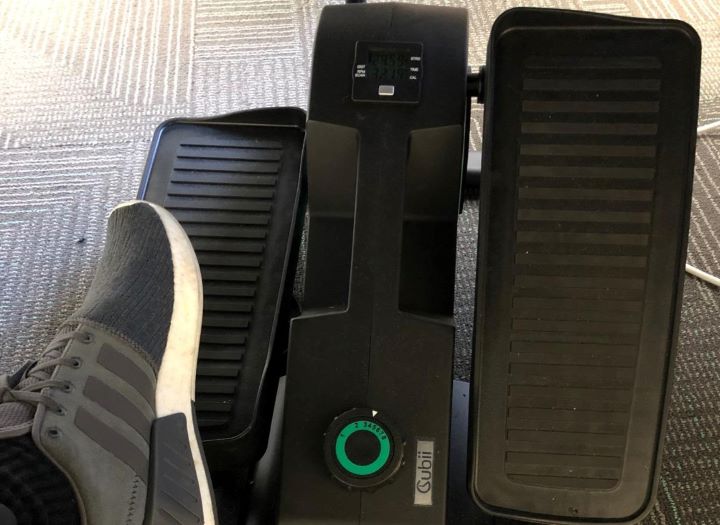 Before we examine how a pedal exerciser will help seniors, let us first examine exactly what it is.
The pedal exerciser for seniors is a tube-framed machine with pedals that move like a bicycle.
You can sit down while pedaling; some even come with handy arm motion designs.
This way, seniors can exercise their arms and legs effectively and tone their arms and legs.
How does The Pedal Exerciser Help?
The pedal exerciser provides some cardio workouts and mitigates the negative effects of sitting down for long periods.
Additionally, a pedal exerciser will help tone your legs and arms and keep them healthy and strong.
A study examined the death percentages of persons who only sit daily and do light exercises. The ones performing light daily exercises had a longer lifespan than those who did not.
---
Considerations Before Choosing the Best Pedal Exerciser for Seniors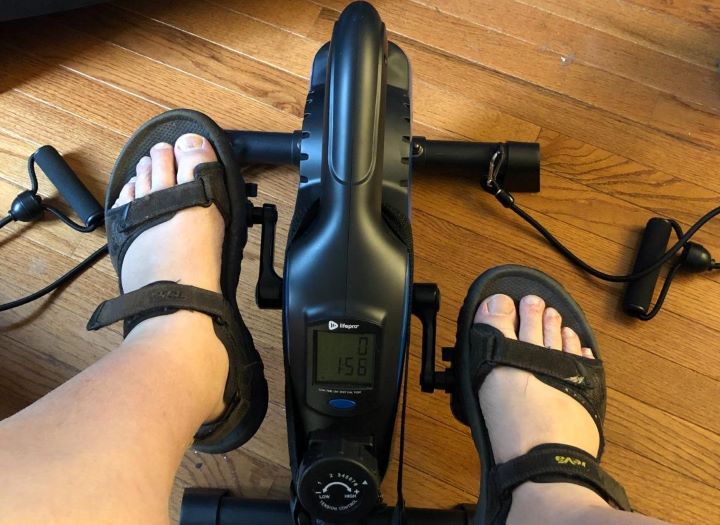 Before you decide on the perfect pedal exerciser, it is advised to itemize exactly what you expect from your pedal machine for a senior member;
Does it Need to be Foldable – If you do not have enough space for a stationary pedal exerciser, you will need to look at easy foldable options that can be folded and stored away after use.
How Much Physical Space is allocated for the Pedal Machine – If you want a stationary machine, you will need to find a spot to place it and consider the machine's size compared to the available space.
Do You Need a Machine that will Keep Track of Progress – Do you need a digital monitoring Pedal Machine to check our progress and other things such as calorie burn and heart rate. Then it is advised to invest in a more advanced electrical type Pedal Machine.
Do You Want a Small Under Desk Pedal Machine – You get small under desk decide pedal machines that you can store easily and take up little space. However, these designs are usually only adequate for leg exercises.
Are You Performing Leg and Arm Exercises – An under-desk pedal machine is ideal for leg exercises only. You will need a large foldable or stationary model to exercise your arms.
Are You Going to use The Pedal Machine Frequently – If you invest in an expensive and advanced quality pedal machine, it is not worth it if you will not use it frequently enough. You need to decide whether you will exercise regularly on your pedal machine and ensure that this is the option you want to go for and not just purchase a white elephant.
---
Features of a Good Pedal Exerciser for Seniors
Here are a few features that you can consider in a good pedal exerciser machine for a senior person;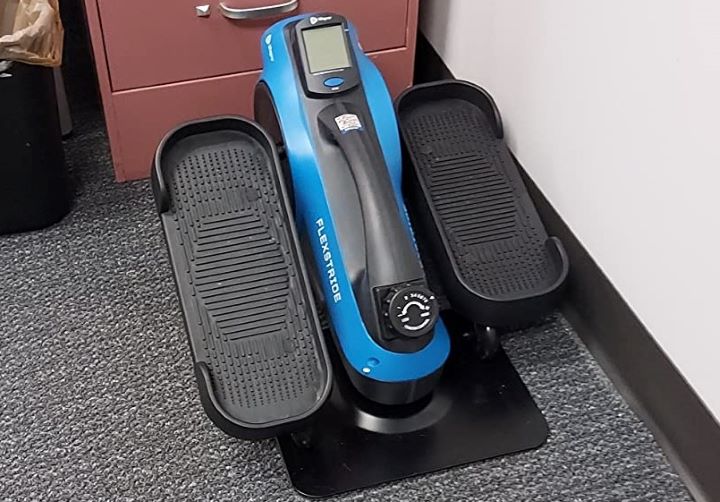 Assembly – look for a model that is easy to assemble and comes with clear instructions.
Weight – Lighter weight Pedal machines are easily portable and easy to move around. However, a heavier pedal machine is much more stable and safer.
Warranty – Ensure a warranty and a good after-sale service experience. You can check this by looking at the reviews and descriptions of a product.
Tension – The tension or resistance of a pedal machine refers to the intensity levels that can be set when the machine's tension is adjusted for a harder workout.
Storage – Look for a pedal machine that you can easily fold up and store if you do not want a stationary pedal machine.
Pedals – The pedals are essential; they need a non-slip surface that is spacious enough for your feet, with an adjustable strap for secure placement.
Noise – The noise depends on where you will use the pedal machine. A Magnetic Pedal Machine will run much quieter if you use it in an office or where you want to watch television or read a book. On the other hand, you will find that a friction resistance pedal machine will be much noisier.
Height – If you opt for an under-desk pedal machine, you need to ensure that the pedal machine's dimensions will fit underneath your desk.
Feet – The pedal machine's feet are usually made of rubber that will not scratch floor surfaces, which is very sturdy and reliable.
Display – The display of the machine can be digital or LCD. The screen will show progress, tension levels, heart rate, and calorie burn.
---
Reviews: The Best Pedal Exerciser for Seniors
Below are some of the best pedal exercise machines that work well and easily for seniors.
We hope you love the products we recommend!
So that you know, We may collect a share of sales or other compensation from the links on this page.
---
1
---
2
The MaxKare Under Desk Pedal exercise stores easily for seniors.
There are magnetic wheels and eight levels of adjustable resistance.
It has a bi-directional flywheel and multiple workout postures.
There is also a multi-functional LCD screen.
Easy to assemble and easy to use by seniors.
---
3
The FityDesk pedal exerciser is an under-desk exerciser for seniors that is very easy to operate.
Here we have another excellent under-desk pedal exerciser model.
It has a full and clear digital display that mounts to the machine or can be placed on a desktop.
The motor is tranquil and operates smoothly and easily.
The pedals are large with added grip for safe use.
---
4
The Vaunn Medical is a full pedal exerciser for seniors with an electronic display and a foldable design.
The pedal exerciser provides very light, low-impact exercises.
It has a quick-release folding system and is easy to store.
The multi-functional digital display monitor is clear and concise.
There are adjustable tensions. Know where you can change the resistance.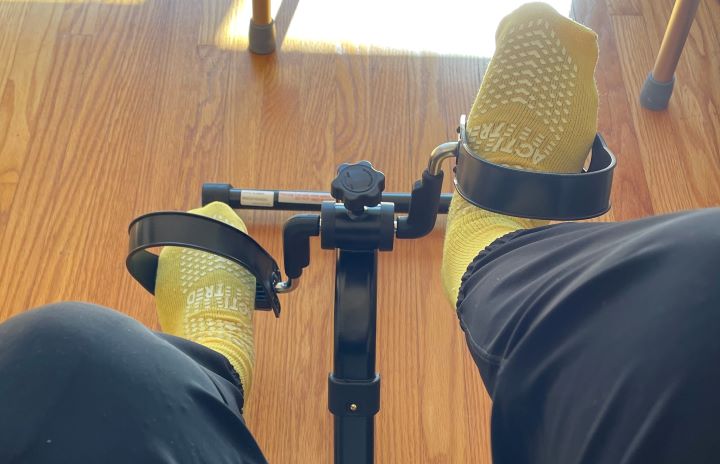 ---
5
The DeskCycle is an under-desk design pedal exerciser for seniors that is ideal for home and office use.
This is a larger stationary model pedal exerciser.
It has a high-quality desk design that fits neatly underneath any office or other desk.
The patented magnetic resistance mechanism is quiet and operates smoothly.
There are calibrated resistance settings and a clear LCD screen.
The pedals are safe and durable to use.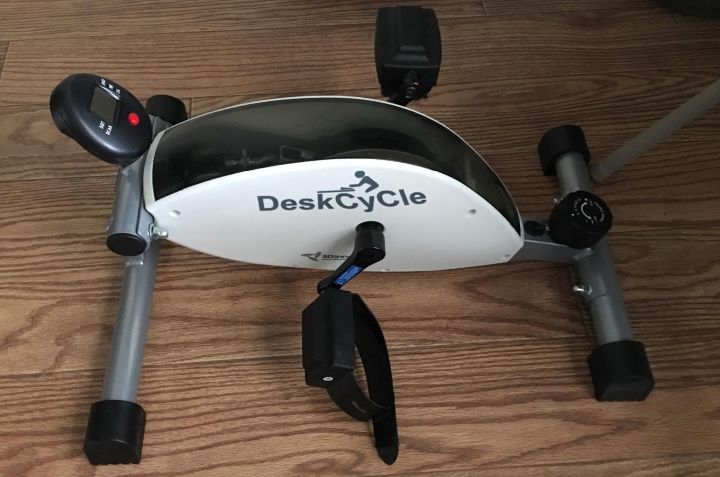 ---
6
The Ativafit is an under-desk design small pedal exerciser for seniors.
This is a small under-desk elliptical bike and pedal exerciser in one.
You can use multiple functions n a sitting or standing position.
There are also adjustability settings for tension and resistance.
The Built-in monitor is clear and easy to read by seniors.
The pedals are larger with an anti-slip rubber design.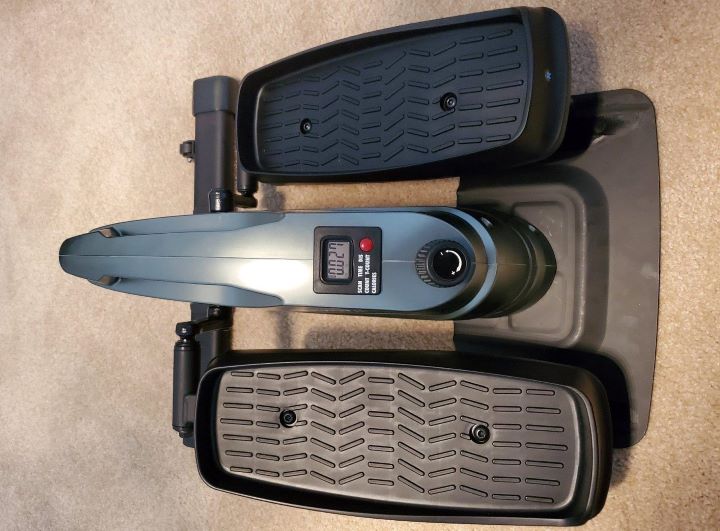 ---
7
The Hausse pedal exerciser is a larger model with a clear Electronic display and a foldable design.
This is a larger model foldable exercise pedal machine.
It is ideal for strengthening the arms and legs alike.
The electrical display shows time, revolution count, and calories burned and tracks your progress.
There are oversized anti-slip rubber foot pads for safety and comfort.
It is easy to fold and store.
---
8
The Kranich Pedal exercise for seniors is small, compact, and easily portable.
The Kranich has a smaller and more portable size for those with little space available.
It comes with a digital display screen and five different functions of display.
The machine is straightforward and quick to assemble, with clear instructions given.
The exercise bike and peddlar are of good quality and sturdy, durable design.
There are also large and safe pedals for seniors.
---
9
The Goredi is a Pedlar and Exerciser that is stationary for seniors.
A heavy flywheel that is more durable a d quality.
Mini design that fits under a desk.
Adjustable resistance for better intensity levels.
Easy to use and store.
---
10
The Hausse is a lightweight and portable pedal exercise for seniors.
A fully portable under-desk design.
There is a multifunctional LCD screen.
Minibike pedlar design.
Ideal for seniors.
---
Index Table: Top Rated Pedal Exercisers for Seniors
---
---