Just for seniors are the best resistance training equipment forms that they can use at home.
Kettlebells are safe to use by seniors and come in different weight options for different resistance levels.

---
---
What Are Kettlebells
A kettlebell is a free weight consisting of a heavy ball with a wide handle that you can pick up with both hands.
Today, however, kettlebells come in many different shapes and designs, some ideal for elderly individuals.
The kettlebell usually consists of heavy metal or cast iron, painted or wrapped in vinyl for a smooth surface.
---
Benefits of Using Kettlebells for Seniors
The kettlebell can provide so many excellent benefits in improving strength and fitness in seniors;
Stretching – Using a kettlebell can help to improve your body's flexibility and can be used in many stretching exercises.
Improves Strength – The Kettlebell can be used in multiple ways to increase muscle strength throughout your body and to help build muscle in seniors.
Better Endurance – Kettlebell exercises will help improve seniors' endurance.
Cardio – The Kettlebell is also an excellent tool to use during cardio exercises to make them more effective for seniors.
---
Features of a Good Kettlebell for Seniors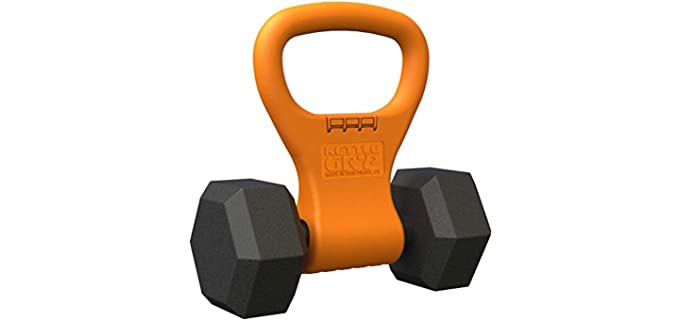 Weight – Most Kettlebells come in weight options of around five up to 40 pounds, or lbs weight or kg weight. They usually are available in increments of 5, such as 5, 10, 15 and 20 lbs weights.
Construction – Kettlebells are constructed using cast iron or heavy materials, with a plastic, rubber, or vinyl coating for comfort and to protect your floors.
Handle – The handle needs to be a comfortable design that has a textured grip that will not slip out of your hands.
---
Reviews: The Best Kettlebell for Seniors
Listed, we have some of the top favorite Kettlebell choices specifically suited for seniors;
---
1
---
2
The Gymenist kettlebell is perfect for seniors with a neoprene coating and safe design.
The Kettlebell has a single solid iron design with an easy-grip handle and a durable neoprene coating.
It has the perfect weight for building muscle and getting fit for seniors.
There are different weight options, each marked with their weight size to make it easy to identify the weight.
The neoprene coating protects your hands and your floors.
---
3
The ProSource Vinyl plastic kettlebell comes in many weight options that are perfect for seniors at all levels of fitness.
The kettlebells come in a range of 10, 15, 20, 25, and 30 lbs weights.
They are ideal for aerobic and strength training for seniors.
The Kettlebells have a smooth vinyl coating and heavy iron construction.
The handle offers a safe and comfortable grip that will not easily slip out of your hands.
---
4
The Best Choice Products three-piece kettlebell set is perfect for seniors and can improve your strength gradually.
They are a set of three with a 5, 10, and 15-pound kettlebell for more lightweight aerobic and strength training.
The kettlebells have ergonomic handles that are wide and comfortable for a two-hand grip.
They come with a convenient storage rack and consist of heavy-duty materials that will last very long.
---
5
The Jpodream Kettlebell is an adjustable, all-in-one design perfect for seniors.
There is a light blue and a light pink option from which you can choose.
The Kettlebell is a four-in-one design of which you can adjust the weight from 5 to 8 to 9, and 12 lbs in weight.
It has a large handle for a comfortable and easy grip and a flat bottom for easy and safe placement that will not damage your floors.
The Kettlebell is a multi-purpose design for strength and cardio training.
---
6
The Bowflex Kettlebell uses its SelectTech 840 design, which is perfect for seniors.
The kettlebell has a turn dial that automatically changes the resistance and weight of the kettlebell from 8 to 40 pounds.
It is an all-in-one kettlebell that gives you different weight options in resistance, with an easy dialing system.
The kettlebell saves you on space as it replaces six different weight kettlebells.
It also has a comfortable, ergonomic handle and durable molding around the metal plates.
---
7
Here w, we have the Cast iron model Kettlebell from Amazon Basics.
It comes in a 10,15, 25, 35, and 45 weight option.
These are ideal for seniors that can handle heavier weights and have already built up some strength.
The Kettlebell is cast iron with a black painted surface.
It is extremely durable and has textured handles for comfort and grip.
The model we have featured here weighs 35 pounds.
---
8
Lastly, I felt I had to add the Original Kettle Grip.
In turn, this is not a kettlebell weight but a universal grip that you can use on any dumbbell or weight to instantly turn it into a kettlebell.
So if you have some dumbbells lying around and do not want to waste money on another kettlebell, you can use the Kettlebell grip to turn your dumbbells into a kettlebell.
They offer a comfortable and secure grip with safe ABS plastic and a textured handle.
They are premium quality and portable with any gym bag.
---
Index Table: Top Rated Kettlebell for Seniors
---
---