Walking, as well as mobility issues, are very common amongst elderly persons. Having difficulty moving around can have a great impact on the life of and elderly individuals.
This is why we recommend the best upright walkers for seniors in order to aid with mobility and increase their confidence and freedom.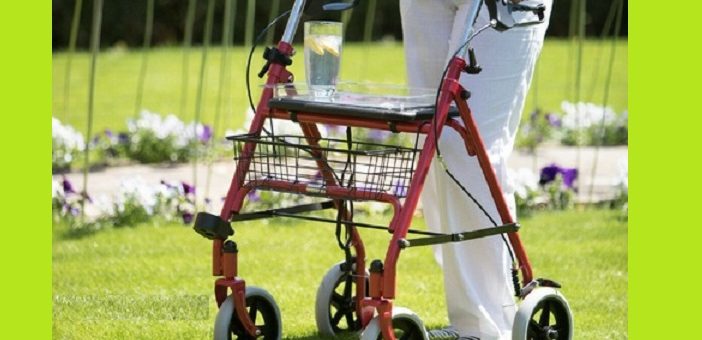 ---
Why choose and Upright Walker?
A traditional walker is a widely known solution for mobility issues in most seniors. However, an upright walker just takes the same concept much further.
The taller upright walker allows you to stand up and push the walker around on wheels, rather than having to hunch over to hold on to the walker.
An upright walker will help to reduce back pain, and the senior will also be able to walk much faster.
The upright walker is a relatively new option that is unknown to many, however one of the best ideas for more long-term use. With an upright walker, the user will see their confidence improve because they can now stand upright fully and look people straight in the eye, rather than having to hunch over to walk and stand.
Upright walkers will generally also promote a much better posture in the user over time, and they are an excellent way to keep an elderly person active and on the move without causing unnecessary physical damage to the person.
Most upright walkers have wheels and a brake system which allows for better mobility, speed, and safety. Some may come with a small bench or seat should you need to sit down and take a break.
---
Who Needs and Upright Walker
Sometimes you may need an upright walker, or a tall walker for a senior, and sometimes not, as this s quite a costly item. For the occasions that you might need an upright walker, the price may be minuscule in relation to what you will get in return.
Here are a few instances where it will be well advised to get an upright laker for an elderly individual;
Back and Neck Pain – When the person using a regular walker suffers from back or neck pain, it may be a better idea to rather invest in an upright walker.
Long Term Use – For a senior that needs a walker for long-term and regular use, an upright walker is a much better option for their comfort.
Small Living Space – When a person has a smaller living space or needs to move in smaller spaces, an upright walker has a much more narrow design and easier movement that navigates well in tight spaces.
Tall User – For a person that is generally taller in posture, an upright walker is a much better option, and the height of the walker is usually adjustable.
Respiratory Problems – If the person using the walker may have a heart condition or respiratory issues, or other ailments, they may need to pause and rest when walking, in this case, a portable chair is convenient.
Less Prone to Falling – It is much safer to use an upright walker than a regular walker as it is much more sturdy, and the user will be less prone to falling.
---
Features of a Good Upright Walker for Seniors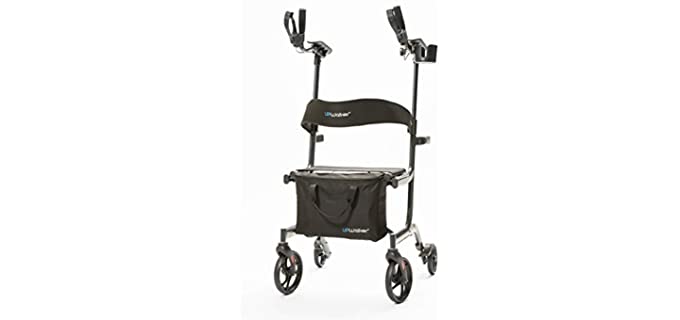 Ergonomic Design – Look for an upright walker that has a more ergonomic design and adjustable height. Comfortable grip ergonomic handles are also advised.
Seated Upright Walkers – For a senior that will be using an upright walker for a longer period of time and on a regular basis, an upright walker with an additional seat is advised for them to rest on.
Wheels – Most upright walkers may have wheels making it much easier for a senior person to move around. The models that need to be lifted to walk around maybe a bit more difficult for most seniors to use.
Affordability – An upright walker may be more expensive because it is a more advanced quality product. However, you can always opt for a pre-owned model if you cannot afford a new upright walker.
Covered by Medicare – Some upright walkers may be covered by Medicare Part B.
---
Reviews: The Best Upright Walkers for Seniors
These are some of the best available Upright Walkers for seniors;
---
1
From Elenker, we have an Upright walker and rollator for seniors.
It has four wheels and a padded armrest for your comfort,
The Upright walker is foldable and easily stored.
It has a backrest seat design for rest periods.
---
2
From Drive Medical, we have a wheel rollator and upright walker for seniors.
The walker is durable with premium features and four wheels for easy movement.
It has a foldable design for easy storage and is quite lightweight.
The Upright Walker has adjustable features for the perfect height.
---
3
The UPWalker is the perfect tall upright walker for seniors.
This is their original model.
It is a stand-up walker that also comes with a seat and wheels.
The Upright walker has an ergonomically and comfortable design and safe brake cables.
It is engineered for maximum safety and stability.
---
4
The Goplus is a safe and durable upright walker for seniors.
It has removable arm support pads and a comfortable design.
The upright walker is very easy and lightweight to fold up and carry around with you.
It also has a sturdy and stable frame for walking with an adjustable height.
---
5
The Drive Medical Nitro Upright walker is a rolling waler that comes with a seat,
It has securer wheels and a built-in brake cable for your safety and security.
The upright walker has an adjustable height and comfortable seat,
It is foldable and comes with a spacious storage bag.
---
6
Here we have the UPWalker Lite model that is more portable for seniors.
It is an upright walker that is lightweight and foldable for easy storage.
The walker has a more compact design and is ISO Safety Certified.
This walker is very easy to fold and can store quite compact if you have limited space.
The walker comes with safe brake cables and wheels, as well as adjustable height features.
---
Index Table: Top Rated Upright Walker for Seniors
---
---