As we age, everything slows down. Daily activities like standing up from a bed or chair, walking, and sitting down become more and more difficult.
These limitations are usually caused by a decline in muscle strength and flexibility.
Flexibility is our muscles and tendon's ability to stretch in response to a movement and allow joints to move through a range of motion.
The Best Stretching DVD for Seniors will help strengthen your muscles and improve your levels off; flexibility, gradually, you can follow as a senior at a pace.
---
Why is Stretching Important for Elderly Individuals
Stretching for seniors is extremely important to retain their flexibility and muscle strength in general.
However, there are a few more reasons why every senior person should invest in the best stretching DVD for seniors;
Stretching Improves Energy and Bloodflow – Low intensity stretching that uses movement to improve the stretch helps t lengthen muscles and increases circulation ad nutrient flow throughout your body. Increased Circulation and nutrient flow will ensure active and independent aging and increase the body's energy levels.
Stretching Supports a Good Posture. As you age, much of your flexibility and elasticity is lost because the water content in your connective tissues, such as your tendons and ligaments, is gradually lost. Tight ligaments are the greatest contributor to poor posture. Poor posture will become more likely for persons who spend years hunching over a desk or in a hunched position for long periods. However, consistent stretching will help to loosen tight muscles and ligaments, which, in turn, will improve your posture.
Stretching Can Reduce the Risk of Falling – Along with improving strength and flexibility, stretching also improves your balance significantly. Research shows that a wider range of flexibility and range of motion will help support your balance and increase seniors' stability. The Muscles and joints that are strengthened and the muscles and joints in your lumbar spine directly affect your static and dynamic balance.
Stretching Reduces the Symptoms of Arthritis and Back Pain – Lower back pain can often result from the condition of Osteoarthritis in seniors or spinal stenosis. When the cartilage between your joints starts to degenerate as your age, osteoarthritis can cause pain and inflammation as well as stiffness. Osteoarthritis also causes sciatica pain, affecting the sciatic nerve that causes pain in your; legs and sometimes numbness or weakness. Osteoarthritis and spinal stenosis are age-related and common condition that causes back pain and stiffness. Warming up properly and stretching regularly can help you successfully manage these conditions' pain and symptoms.
---
How Will a Stretching DVD Help
Anyone from an absolute beginner to an accomplished athlete will greatly benefit from stretching exercises daily. Stretching helps prevent injuries, relieves stress, and improves fitness, flexibility, balance, and core strength in senior individuals and all ages.
Likewise, stretching will improve your posture and help to reduce back pain and other painful symptoms.
Most stretching DVDs for seniors come in easy-to-follow step-by-step routines with clear instructions at paces that vary from beginner to more advanced, so they are great for everyone.
---
Features of a Good Stretching DVD for Seniors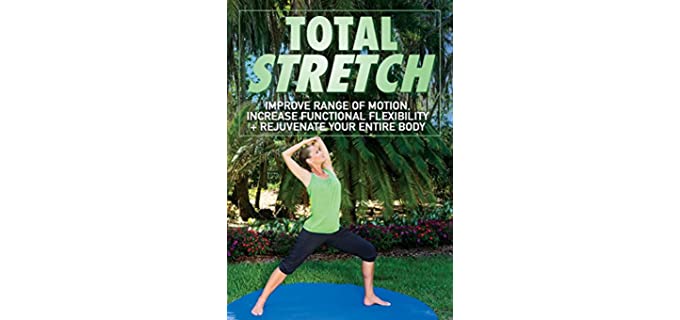 Warm Up – A Good Stretching DVD will have an initial warm-up session for a few minutes to get you warmed up and ready to start stretching.
Step By Step Stretching Excercises – Every Stretching DVD comes with step-by-step instructions on how to follow every step and move that are clear and concise.
Different Levels – There are usually different routines from beginner to more advanced levels that vary in time.
Diet Plan – Some Stretching DVDs also include a healthy eating plan and more tips on creating a happy and healthy lifestyle.
---
Reviews: The Best Stretching DVDs for Seniors
Below are some of the best available Stretching Exercise DVD's that are easy to follow with stretch and warm-up exercises ideal for seniors;
---
1
This is a versatile Stretching DVD for seniors who hold different exercises to improve strength, flexibility, and balance, specifically in seniors.

The exercise routines are ideal for elderly persons who have Arthritis.
The workouts include routines that strengthen muscles, improve circulation, and aid with flexibility and balance.
All workout routines are easy for seniors and beginners to perform.
There are alternating discs that you can use for a full workout session.
---
2
The Total Stretch DVD has three sessions where intensity levels are increased. The Stretching Exercises improve strength and flexibility in seniors.
The total run time of the DVD is a full 80 minutes, so you get ample routines.
Three sessions consist of a Deep Stretching session, a Dynamic Stretch session, and a Total Stretch session.
A mat and towel are required for the workouts, and no additional weights or equipment is needed.
The workouts are simple and easy to follow, with clear instructions.
---
3
The Independence Fitness Stretching DV focuses on Strength, Flexibility, and Balance workouts for seniors.
This is light stretching program DVD for older seniors and frail elderly persons.
The routines are easy to follow, and slow step-by-step instructions are given.
Using this DVD, you can easily recuperate form and injury to get back to your exercise routines.
An ACE also features the sessions certified trained professionals in the industry.
---
4
The Total Stretch DVD for Beginners has a session for beginner seniors and a full flexibility session for balance and flexibility training.
There are two DVDs included in the package for a Total Body Stretching exercise routine and a Beginners Stretching Routine to Improve Flexibility.
The Total Body Stretching Routine for beginners is designed in three separate 10-minute routines that are easy to use.
The Beginners Stretch for Flexibility DVD features a thirty-minute full-body stretching workout for flexibility balance.
No added tools or weights are required for the workouts.
---
5
This DVD employs easy chair exercises for seniors who struggle with flexibility, improving overall strength, flexibility, and balance.
The Sit and Be Fit DVD is an award-winning Chair based Exercise routine DVD.
These workouts are ideal for persons with arthritis or who have had issues with balance and mobility.
The Routines n include a variety of Aerobic, Strength, Circulation, Balance, and Flexibility exercises.
These routines will help keep your heart healthy and greatly improve fitness in seniors.
---
6
The Stretching for Seniors DVD has easy-to-follow step-by-step routines that strengthen muscles, improve flexibility, and enhance seniors' balance.
I suggest the Ann Smith Stretching for seniors DVD for something a bit more calm and relaxed.
These tranquil and relaxed routines improve flexibility and balance and increase core strength.
The step-by-step routines are straightforward to follow, and the instructor is easy to understand.
There is also n special equipment needed. And the exercise routines are perfect for seniors with arthritis.
---
7
From Evergreen Wellness, we have a workout DVD for seniors and beginners that includes many stretching exercise routines.
The DVD offers safe and comfortable training routines for strength and flexibility.
It is straightforward to follow and helps to motivate seniors.
The workouts are ideal for ladies over 50 years of age.
---
8
More Than Stretch is an intensive stretch DVD for seniors.
It includes safe and effective stretch routines for seniors.
The DVD has routines to keep you flexible and help to alleviate stress.
Ideal for beginners and elderly persons.
---
9
Flexible Seniors is a Flex Routine DVD just for seniors.
It has safe, easy, and even chair exercise and stretching routines for the elderly.
The DVD also comes with cardio programs for weight loss and heart health.
Ideal for beginners and intermediate.
---
10
The Seniors Arthritis DVD is a Stretch DVD for joint health.
The DVD is a two-set Stretch workout for seniors.
It includes Yoga, dance, Stretching, and other routines.
The routines are easy to follow and low impact.
---
Index Table: Top Rated Stretching DVDs for Seniors
---
---