Adding an ankle or wrist weight to your exercise can help beginners and elderly individuals increase resistance when doing bodyweight exercises if they do not have access to training equipment and weights.
Most ankle and wrist weights for seniors are lightweight and safe to use, thus making them ideal.
Today, this article will look at some of the best available ankle weights for seniors.

---
---
Ankle Weights for Seniors
Ankle weights are a common training device many individuals use for exercise and daily activities.
Ankle weights for seniors can help them strengthen their legs and ankles, reduce body weights, and improve walking. In turn, the exercise you perform helps prevent cardiovascular disease risks.
On the other hand, seniors who wear ankle weights can improve their knee joint repositioning and balance and help them recover from strokes.
Overall and ankle weight will provide general fitness and strength for seniors.
---
How to Use Ankle Weights
Here are a few safe ways for seniors to incorporate ankle weights unto their fitness programs and daily activities;
Use Them Regularly – You must wear your ankle weights at least three times a week for 20 minutes when you start.
Use them for Slow Walks – Use your ankle weights for slow walks and movements rather than jogging or fast walks.
Do Not Wear Them Too Long – Wear your ankle weights briefly when walking or during an exercise routine. Long enough may result in overuse injuries.
Right Weight – Avoid exceeding 3% of your entire body weight in your ankle weights.
Slowly Increase Weight – You should Incrementally increase the weight of your ankle weights to prevent overuse injuries,
---
Features of a Good Ankle Weights for Seniors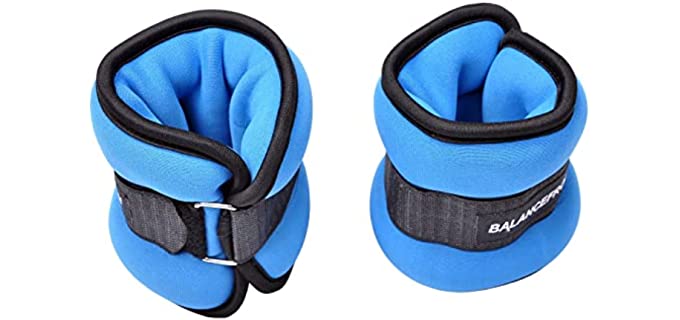 Weight – Ankle weights for seniors do come in different weight options depending on the brand and model. Most will be around 2lb or 1 lb; some come in different weight sets.
Material – Most ankle weights have iron, steel, or sand fill for weight, with a neoprene or silicone cover that is breathable and gentle on your skin.
Closure – Most ankle and wrist weights come with a long adjustable strap with a Velcro or buckle closure, for a secure and adjustable fit.
---
Reviews: The Best Ankle Weights for Seniors
Below are some of the best available ankle and wrist weights that are perfect for seniors;
---
1
---
2
The P. Volve Home workout ankle weights are perfect for seniors who want to tone their legs and strengthen them.
The ankle weights were durable, with a sandal fill and adjustable straps for a comfortable fit.
They allow you to work out anytime and anywhere easily.
The design is comfortable and easy to use by seniors.
---
3
The Adidas Performance ankle and wrist weights come in weight increments of 1 lb, 2lb, 3lb, 4lb, and 8 lb weights.
They are ankle and wrist weights in one design that helps to enhance your workouts.
Different weight options exist so you can use them at all fitness levels.
They are durable and have a comfortable inner suede lining, with a cast-iron buckle and Velcro closure,
The weights can sit close to your skin without irritation or chafing.
---
4
The Sportneer Adjustable ankle and wrist weight comes in a set of 4 lbs adjustable in fit.
There is an option of a two-pack of 1-4 lbs weights.
The ankle weights can be used on both your wrist and ankles, and they have a comfortable and adjustable fit with Velcro closures.
The weights ate quality with a neoprene exterior and reinforced stitching for durability.
They are soft and comfortable on your skin and for seniors especially.
---
5
The Ambor ankle weights for seniors come in one pair of 2,3,4, and 5 lbs adjustable weights.
They are ideal for strength and leg training and can be used by men and women.
The ankle weights ate nylon and have adjustable straps for a perfect fit with a Velcro closure.
They have soft, breathable neoprene material that is comfortable and hypoallergenic against your skin.
You can use them on your wrists and ankles for w wide variety of exercise routines.
They also fit men and women alike.
---
6
The BalanceFrom GoFit Fully adjustable ankle weights are perfect for seniors.
They are a pair of ankle and wrist weights that can be used for gym, cross-training, and aerobics in seniors and adults.
The ankle weights are fully adjustable with oversized Velcro pads, and they are easy to put on and take off by seniors.
There are different weight options from which you can choose; 1-lb pair, 1.5-lb pair, 2-lb pair, 2.5-lb pair, 3-lb pair, 4-lb pair, and 5-lb pair.
---
7
The Gaiam ankle weights are ideal for strength training in seniors.
They come in a 10 lb and a 5 lb weight option in different colors.
The ankle weights for seniors are ideal for men and women and have an adjustable fit with Velcro straps.
They are comfortable in fit with soft materials and high-quality stitching that is very durable.
The ankle weights allow you to perform multiple strength and cardio exercise routines.
---
8
The Topesct adjustable ankle weights are a great design for seniors that is comfortable and easy to use.
They come in a set of two 1 lb and 2 lb in weight that you can wear on your ankles and wrist.
The ankle weights for seniors consist of quality iron blocks with a soft silicone wrap that is sin friendly.
They are a simple and comfortable design that can be adjusted to fit men and women.
The ankle weights add some intensity to your workouts and are very easy to use by seniors.
---
Index Table: Top Rated Ankle Weights for Seniors
---
---