A small Treadmill for seniors will accommodate them for getting appropriate exercise while taking up too much space in their homes.
As a senior, going to a gym or jogging outside may not always be feasible or physically possible. A Treadmill provides you with a safe alternative in your home for exercise. The smaller size is ideal should you not have enough space available.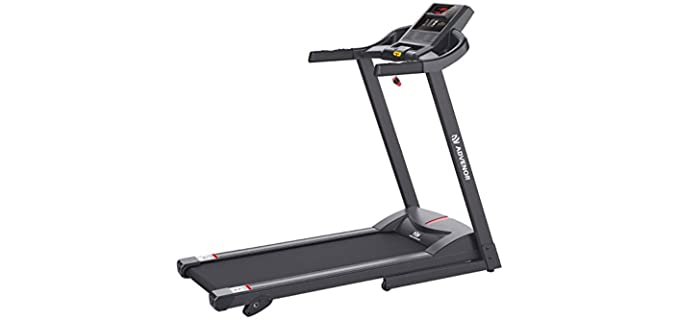 ---
---
The Small Treadmill for Seniors
A small treadmill for seniors is ideal for providing safe and enjoyable exercise without worrying about a machine that will take up too much space in their homes.
Many seniors live in a small apartments, old age homes, or even in the home of a loved one, where space may be limited.
As a senior, you likewise do not want to overcrowd your living space further and may benefit from a small or even foldable treadmill that you can easily store away after use.
On the other hand, the treadmill must also be suitable for your physical needs and limitations and safe and durable for use.
A treadmill in our home eliminates issues such as walking or running outside, where it may be dangerous, or joining a gym.
With a treadmill in your home, you can enjoy safe and fun exercise at your own pace.
---
When You Will Need a Small Treadmill for Seniors
When space is an issue in your home, you may have to seriously consider getting a small treadmill that is safe for seniors.
The Treadmill will still need to be long enough to accommodate your stride with a wide enough belt that you can comfortably run or walk on.
Most foldable treadmill options are smaller or slimmer, allowing you to store the treadmill after use so that you do not have space issues.
Get the Right Spot for Your Treadmill
Before choosing a treadmill for your home, it is important to understand where and how you will place it.

It is ideal for creating a specific workout room or corner in your home allocated for this specific purpose.
If you do not have additional space, your living room is usually the largest area where you can place a treadmill and, who knows, even watch television while exercising.
As a last option, you can place the treadmill in your room.
Foldable treadmills can be used anywhere with space available, but you will need an area to store the folded treadmill.
Look for Horizontal or Vertical Folding Options
Most treadmills that fold flat can easily be slipped underneath your bed or a desk. Heavier models will fold vertically and horizontally. Remember that heavier models may be more sturdy and durable than flat-folding models.
---
Features of a Good Small Treadmill for Seniors
There are, on the other hand, a few critical things to look for in small treadmill for seniors;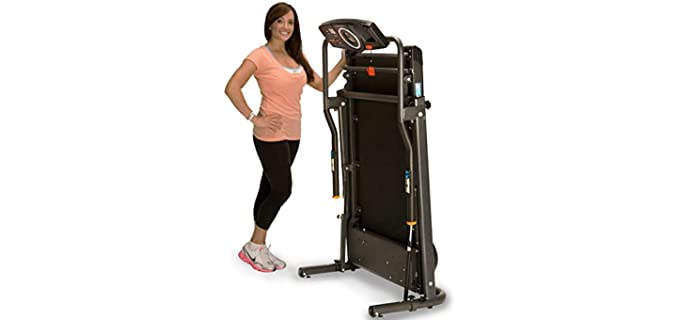 Speed – Make sure that the speed setting on the treadmill are adequate for the senior using it and not too fast, as it can become dangerous.
Hand Rails – Hand rails should be comfortable and full length. Full-
Weight Capacity – Although heavy-duty models are available, a weight capacity of around 250 to 300 lbs is average.
Safety Key – The emergency stop button must be visible and easy to reach by the senior when needed.
Incline and Decline – Most treadmills do offer incline and decline options and resistance levels.Monitor and Programs – The Monitor should be easy to read with set programs, and a heart monitor, as well as checking progress.
Motor – Look for a powerful, quiet motor that runs smoothly.
Deck – Make sure that the deck is suitable for the height of the senior individual. The running belt should be well lubricated and have a secure and wide design. Or more.
Extras – Most Small treadmills for seniors will come with a water bottle holder and holder for your mobile device. Some may even have wheels for portability.
Portability – Some Treadmill models, especially smaller models, will have wheels for portability.
Compact Size -Take Note that the treadmill is compact and will fit your available space.
---
Reviews: The Best Small Treadmills for Seniors
These are the ideal smaller sized Treadmills for seniors;
---
1
The Sunny Health Treadmill has a convenient foldable and compact design that you can easily store.
The small compact size allows it to easily fit into smaller spaces of your home or apartment.
The design is safe and comfortable to use by seniors.
It has a Backlit console that has easy to read display for seniors.
The belt is sturdy and offers good traction.
---
2
The Urevo treadmill is the perfect small treadmill for seniors.
It has a foldable design to easily fold it for portability or store it in a small space.
The compact size is perfect if you do not have much space available.
The treadmill has a Powerful and smooth motor and fitness tracking display.
It has a wide and secure belt that has multi-layers.
---
3
From ProGear, we have the perfect small treadmill for seniors.
The Treadmill can hold a weight of up to 230 lbs and is quite sturdy.
It has a lightweight design that is easy to move and a steel frame with a coated finish.
The safety rails are wide for safety, and there are longer handles with foam grips for holding on to, which is ideal for senior ladies.
The Bel is oversized with rollers that provide a smooth and consistent rolling experience.
---
4
Another addition from Sunny Health is their premium Asuna treadmill model for seniors.
The treadmill has a slim folding design that stores compact and will not take up much space in your home.
The treadmill has an easy-to-use display to follow your workout progress.
The Treadmill is very portable in design and has a sturdy build.
It has versatile transport wheels for easy moving around.
You can also connect your music device to it and play your tunes.
---
5
A comfortable, lightweight, and easy-to-store treadmill for seniors.
The Horizon Fitness T101 comes highly recommended for seniors.
The treadmill has an LED screen that is easy to read and use.
It has a durable and high traction belt and comfortable handles.
The design is small and compact to help save you space.
---
6
The Exerpeutic TF1000 is an Ultra High Capacity Walk to Fitness Electric Treadmill.
The Treadmill is ideal for walking and a compact size for space-saving.
It has 1.5 horsepower with a high-torque motor and adjustable speeds for walking.
The belt is 20 inches wide, and there are extra-long safety handles.
The monitor is an LCD screen that tracks your progress.
---
Index Table: Top Rated Small Treadmills for Seniors
---
---