Whether you enjoy a bicycle ride or use an exercise bike at home, the most comfortable bicycle seats for seniors can help make the ride or exercise so much more enjoyable.
Most bicycle and exercise bike seats tend to be quite uncomfortable and may make the experience something you do not look forward to, but this is where a new specialized bike seat can help.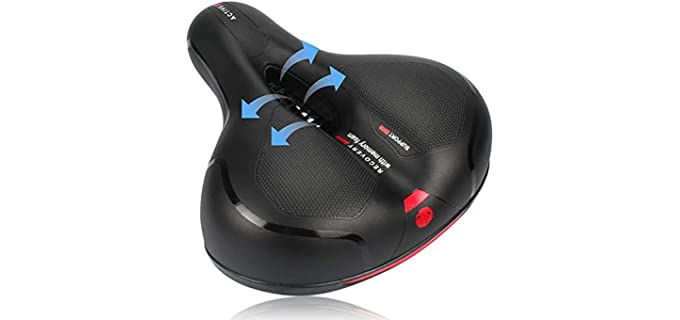 ---
---
Why do Seniors Need a More Comfortable Bicycle Seat
As an elderly individual sitting on a hard and uncomfortable bicycle or exercise bike seat can be especially painful and uncomfortable.
As we age, we no longer have the required muscle tone and padding to protect us from hard impact, and our skin also tends to become more fragile and thinner.
A specialized Bicycle seat comes with softer materials, a proper supportive shape, and plenty of plush cushioning, which is ideal for protecting you from impact and the discomfort of a regular bike seat.
There are two basic bike types, in which case you can use a bicycle seat;

For a Bicycle – You can use your new bicycle seat on any regular bicycle or tricycle, as most have a universal seat.
For and Exercise Bike – Most upright exercise bikes and some recumbent exercise bikes do have a regular seat, so you can swap them out with a bicycle seat of your choice.
---
Choosing the Best Bicycle Seat for Seniors
The right bicycle seat for seniors can help improve their posture, provide a comfortable space to sit on, and create a more enjoyable cycling experience, which benefits seniors.
There are a few factors to consider when choosing a comfortable bicycle seat for seniors;
Width – Especially for senior riders, you need to consider the width of the bicycle seat. A wider seat is much more comfortable than the standard narrow widths seats.
Type – The bicycle seat you choose should fit the bicycle or exercise bike type. Look for a universal bike seat or a specialized set for your bicycles, such as a step-through bike, mountain bike, or regular bike.
Soft Padding – Look for a bicycle seat for seniors that has a plush and soft padding. Usually, memory foam and gel are your best options. The padding should be thick and shock-absorbing.
Durable – Durability is key, as you will need a comfortable and durable seat for your bicycle so that it will last. Leather or PU covers for the saddle are ideal as they are easy to clean and last quite long.
---
Features of a Good Most Comfortable Bicycle Seat for Seniors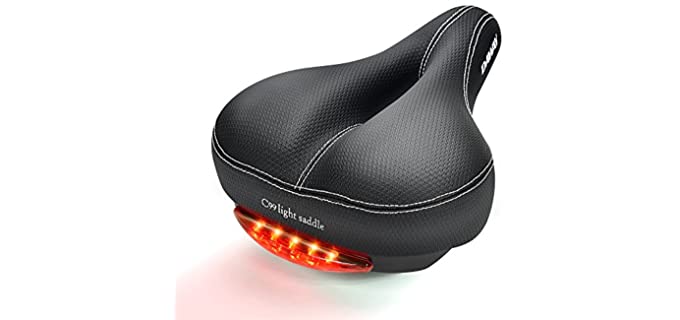 Size – Make sure that the size and width of the bicycle seat are adequate for your body size and will fit your specific bike seat.
Fill – Memory foam and foams are excellent options for padding. Some models also have gel foam for cooling abilities.
Cover – The cover can be durable genuine leather or PU leather that is waterproof, resistant, and easy to wipe.
---
Reviews: The Best Most Comfortable Bicycle Seats for Seniors
In our list, we have some excellent, versatile options in bike seats that are ideal for seniors;
---
1
The Bikeroo is an Oversized bike seat compatible with Peloton Exercise or road bikes.
The seat has a very wide cushion and extra padding for your comfort.
The seat is elegant and has an ergonomic design to provide you with optimal support and comfort.
The design is perfect, especially for seniors that need extra comfort and support on their exercise or regular bike.
---
2
The Daway Bicycle seat for seniors is comfortable with an extra-wide design.
The Bicycle seat cushion has soft, supportive foam padding and an extra-wide design for everyone.
It has a waterproof cover that is durable and very easy to clean.
There are bottom-high elastic shock-absorbing materials to protect you against hard impacts.
---
3
The Tonbux Bicycle seat for the elderly has a very comfortable and shock-absorbing design.
The bicycle seat has dual shock-absorbing materials in the ball-style seat, with gel-infused memory foam.
Not only does it provide excellent cushioning, but also the Gel keeps you cool.
The seat comes fully equipped with a mounting wrench.
---
4
The Bivan Bicycle seat is well-cushioned and comfortable for seniors.
It is a wide seat for Mountain bikes with very high-density, quality memory foam.
There is a very durable waterproof cover that is easy to maintain and lasts long.
The bicycle seat has an ergonomic set for full support and offers a universal fit for most bicycles.
---
5
The Daway Bicycle seat is ideal for seniors.
The seat has soft, comfortable memory foam and a wider design.
It has a leather cover that is durable and waterproof.
The Bright tail light design makes sit more eye-catching and easier to see, especially at night.
The bicycle seat has a soft, elastic, and non-slip design.
---
6
The Grean bicycle seat is comfortable and perfect for senior men and women.
It is a Dual shock absorbing bicycle seat with a wide saddle fit and ergonomic design.
The bicycle seat is versatile for stationary, exercise, indoor, mountain, or even road bikes.
It has a universal fit that is extremely easy to use.
---
Index Table: Top Rated Most Comfortable Bicycle Seats for Seniors
---
---