Elderly persons have much less energy in comparison to someone younger. This is because their body parts are not as flexible and active as today's youth.
The best treadmill for Seniors is a machine that can help meet a senior person's needs to get healthy exercise at their own pace and intensity.
Because the treadmill has a secure design and can easily set the speed and intensity, senior people can use and benefit from a Treadmill for seniors.
---
Why Get a Treadmill for Seniors
Cycling, Walking, and Running are the best exercise for most people and seniors. Cardio exercises keep you healthy and fit and improve circulation.
Unfortunately, not all older people may ca capable of going for a walk or run because of mobility issues, safety concerns, and other dangers lurking outside. They also may not have the means or confidence to join a Gym.
This is where the Treadmill for seniors comes into play. You can use a Treadmill in the convenience of your own home where you are safe and secure and have ample help at hand. Most treadmills also come in Foldable designs that can be stored and save you space.
---
What to Look for When Choosing a Treadmill for Seniors
The Treadmill Is an excellent way for a senior person to get much needed exercise in the comfort and safety of their own home.
But what should you look for when choosing the best treadmill for seniors?
Speed – Stability in seniors becomes less prominent as they age. Seniors may adjust a treadmill's speed without knowing, so they need stable handlebars and maybe a treadmill with lower speed settings for jogging and walking rather than sprinting and running.
Handles – As a safety feature for seniors handles are of utmost importance. Look for full handles on the treadmill and avoid treadmills with no smaller or shorter handles. Also, check that the handles have an ergonomic design and materails such as foam or rubber grip easily and will not slip.
Safety Keys and Emergency Buttons – A vital Treadmill feature for seniors is the emergency Off button or safety key. This allows a senior person to stop the machine from working entirely by pressing a single button.
Cushioned Deck – Some models offer a cushioned deck for walking on, ideal for seniors with arthritis or joint pain. Likewise, a cushioned deck reduces stress on the knees and joints by cushioning the impact of walking or running.
---
Features of a Good Treadmill for Seniors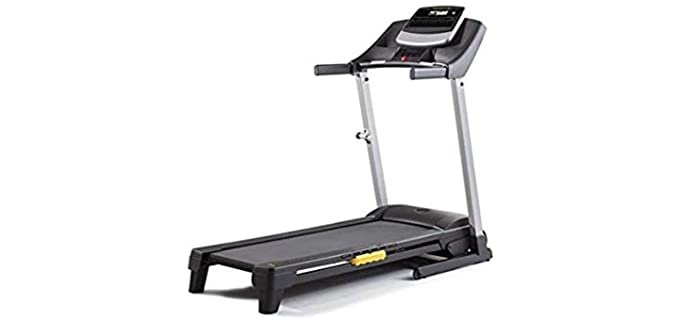 Frame – The frame is usually a durable and sturdy painted metal.
Motor – Look for a high quality motor that comes with a full warranty.
deck – A cushioned and slip resistant, durable deck is ideal for sneiors.
Display – LCD or HD digital display shows the ideal levels, intensity, speed, heart rate, and calories burned. The console should also be easy to use and set.
Emergency OFF – An Emergency off button is an absolute necessity. It should be easy to reach for seniors and is usually a single press button.
Handle Bars – Look for large handlebars that offer an ergonomic handgrip design longer in length. Rubber or foam materails are ideal for preventing slippage on the handles.
---
Reviews: The Best Treadmills for Seniors
Listed, we have some exceptional options in treadmills that are easy and safe to use for seniors of all ages;
We hope you love the products we recommend!
So that you know, We may collect a share of sales or other compensation from the links on this page.
---
1
---
2
The Xterra Treadmill is a foldable option for easy storage that comes fully equipped with speakers, pre-set workouts, and three setting modes.
The Treadmill comes with three modes and 12 automatic workout programs.
The Multifunctional Display LCD screen is easy to use and effective.
There is a safeguarding emergency stop key for safety and control at all times,
The Belt for running is durable and slip-resistant EVA composite, and the frame is a heavy-duty material.
The Treadmill is also foldable for easy storage and portability.
---
3
Here we have a lovely design for seniors unable to stand on a Treadmill. This is a heated treadmill with an easy manual design from North America.
A user-friendly treadmill with a smaller and more compact design if you need to save on space.
You can store the treadmill underneath your desk or in a small space.
The design is ideal for individuals that cannot stand or are not mobile. You do all your exercises seated.
The Walkingpad is very easy to set up and comes with clear instructions and different operation modes, just like an actual treadmill.
---
4
The Gold's Gym trainer is an iFit technology-advanced treadmill with a dual grip design for seniors' safety.
A great space-saving full treadmill that can fold up small and be stored easily.
You can adjust the AirSride design mat for cushioning to suit your needs and prevent your joints' impact.
The setup is straightforward with out-of-the-box assembly.
It is iPod-compatible so that you can play your favorite music.
The machine also has a heavy 300lb weight capacity.
There are Dual padded Handles with a Heart rate monitor to keep track of your heartbeat.
---
5
Advanced technology for the capable senior is the Matrix Fitness Treadmill with a Xer Touchscreen Console.
The Matrix Fitness has a built-in spring of eight high-intensity systems for interval training.
The heavy-duty design is very sturdy and durable.
An HD touchscreen console works with the best class APPs for easy operation.
The Treadmill is also Bluetooth compatible with your favorite devices.
It comes with a trustworthy lifetime warranty on the frame and the motor.
---
6
The Sunny Health Foldable Treadmill for seniors comes in two color options from which you can select.
The Sunny Health treadmill comes in two available color options.
It has a peak HP drive system and three manual options for adjusting incline levels.
There are nine built-in workout programs and a large LCD screen.
The handles are large and comfortable for seniors, and there is a safety stop button.
---
7
A comfortable and top-brand Treadmill that is ideal for seniors from Nordic Track.
This is a fully interactive home training system that is great for seniors.
It has a one-touch incline control and 10 MPH smart speed control with the iFit system.
The smart response motor allows more effective speed and interval, as well as endurance training,
The innovative design saves you space.
---
8
The OMA Treadmill is ideal for walking, running, and jogging and comes with pre-set programs and incline capabilities.
The Oma home treadmill is a quality design for a healthy life.
It has a powerful and high-performance motor.
There are preset programs and three custom programs.
The design is sturdy and durable.
The handles are safe and ideal for seniors and allow for fast control.
---
9
Nordic Track is something new and innovative new and innovative that is still perfect for seniors.
The Commercial Series from Nordic Track is a bit basic and easy to use.
It has the iFit system and a 1-year iFit family membership.
There is a ten-inch interactive Hd touchscreen menu and smart response motor settings.
The Innovative design is small and stores quite compact for saving space.
---
10
The Advenor is a light and compact commercial treadmill that will work well for a senior person.
This is a lite commercial treadmill for seniors with a potent and reliable motor.
Three independent LCD screens have a monitor, real-time data, and heart rate function.
It also comes with a handy cup holder and keeps your iPad or mobile device for some music.
Preset programs and training modes to allow you to get the best workout of your choice,
The belt is comfortable to run on for seniors, and the handle is safe and easy to use.
---
Index Table: Top Rated Treadmills for Seniors
---
---