The Best Elliptical for Seniors comes in two forms: a seated foot pedal design only or a large standing machine with other training elements.
For seniors, the best Elliptical training machine can be a great piece of equipment that keeps them fit and healthy in the comfort of their own homes.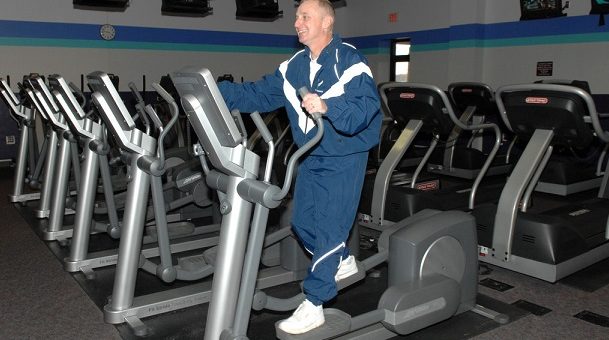 ---
What to Look for in the Best Elliptical for Seniors?
Before choosing the best Elliptical machine n for senior persons, there are a few most crucial characteristics;
Durability – An Elliptical machine is an expensive piece of equipment, and it is always best to look for a good quality brand in terms of durability. A weight limit of around 300lbs indicates a more robust and stable machine. A sturdy metal frame ensures higher quality and a more stable machine. Also, note the warranty for quality purposes.
Performance – In a good Elliptical machine performance is key. The fixed handlebars should come with a heart rate monitor and built-in sensors. Resistance levels should be adjustable, and there needs to be a clear indication LCD screen, which shows you your distance, time, and calorie burning and allows for different settings and pre-set programs.
Resistance and Incline – A good elliptical machine needs to have electromagnetic or magnetic resistance, which is generally quieter.
Flywheel Weight – The Flywheel needs to be at an optimal weight, not too light to be unstable, and not too heavy for older persons to struggle with movement. The ideal weight is around 20 and 30 pounds.
Incline – Some models allow you to change the machine's inclination, which allows for a more challenging exercise routine in general.
Safety Fetaures – The handlebars should offer good slip-resistant grip, even for sweaty hands. The design of the pedals should also be such that your feet do not slip. Amn auto-off selection button is desirable should the person need to stop immediately.
---
Benefits of the Best Elliptical Machine for Seniors
The Elliptical Machine holds many health benefits for seniors; here are a few;
Cardiovascular health – The Elliptical machine is a great way to improve cardiovascular health in elderly persons and improve lung capacity and heart health.
Weight Loss – Training on an Elliptical Machine can help you lose unwanted weight and keep you fit.
Muscle Strength – The Elliptical Machine helps older people regain and keep their muscle and joint strength and health. It will also greatly improve your mobility and muscle functioning overall.
---
Features of a Good Elliptical Machine for Seniors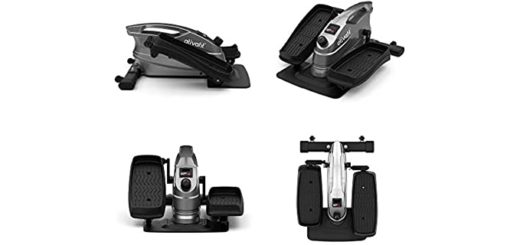 LCD Display – Most Elliptical machines come with an LCD screen which shows you the distance traveled, Time Passed, and Calories burned. A Heart Rate Monitor and Pulse monitor will also show results on the screen.
Slip-resistant Pedals and Handrails – The Hand Rails and Pedals should have a sturdy and slip-resistant surface that offers a good grip even when you are sweating.
Resistance Settings and Work Out Programs – All Elliptical Machines come with Resistance levels that you can set, and some have different pre-set workout programs from which you can select.
Extras – Some designs will also have an additional wtare bottle holder or mobile device holder.
Compact Designs – The compact Elliptical machines are pedals only without handlebars. These can be used seated, or standing and are an excellent option if you do not have much space for a large machine.
---
Reviews: The Best Elliptical for Seniors
The below list shows some of the best brands and models in Elliptical Machines, which are safe and easy to use for Seniors. Also, please note that this page includes affiliate links.
---
1
The Bowflex is a full training and elliptical machine for low-impact training that is perfect for seniors.
The Bowflex Max trainer comes in four different options and different price ranges.
It combines the easy low impact motion of an elliptical machine with the calorie-burning power of a stepper.
There is an interactive backlit display screen that has 2 workout programs and 8 resistance levels,
This is the ideal workout system for senior that is looking at losing some weight.
---
2
The Schwinn Compact elliptical machine is safe to use for seniors and ideal for smaller spaces.
The Schwinn comes in different sizes and technology options that range in price.
It has a compact yet sturdy design that is ideal for smaller spaces.
There are 16 levels of resistance and a large 18-inch stride area.
The streamlined console displays time, speed distance, calories, and heart rate.\there is also a built-in media rack and water bottle holder added.
---
3
TheFunMily Under desk Elliptical machine is ideal for seniors who struggle with standing and mobility or balance and can be used in a stead position.
Another excellent under desk model.
It has magnetic wheels, and there are 8 levels of adjustable resistance,
You can enjoy this elliptical machine in a seated position that is ideal for seniors with mobility issues.
There is a Bi-Directional Flywheel and Multiple workout posture technology to support a forward and a reverse striding motion.
The Multifunctional LCD screen is large and clear and lets you take control of your workouts.
---
4
The Sunny Health Elliptical Machine is a Cross-training and Elliptical Machine in one for seniors.
You can also use the Elliptical machine for other training forms as it is a full cross-training piece of equipment.
There are easily adjustable resistance levels up to eight levels.
A digital monitor with a pulse follows your progress and monitors your heart rate.
The anti-slip handlebars and footpads make this machine much safer to use for senior persons.
There are also stabilizers in the machine to level your elliptical bike.
---
5
The Body Flex Champ is a Three in One Trio Elliptical machine and Trainer for elderly persons.
The Patented Three in one design Elliptical and training machine provides three hassle-free functions.
An advanced computer interface features seventeen training programs and pre-set options from which you can select.
The Magnetic adjustable resistance and motor drive computer interface are easy to use and set.
There is also an integrated hand pulse and heart rate monitor.
The seat has a deluxe design with a faux leather cover and back pads, adjusting in two ways.
---
6
The Ativafit is an under-desk elliptical machine for seniors that can be used seated or standing.
The Ativafit has multiple functions as a mini trainer and elliptical machine used while standing or seated.
The small compact design allows for easy storage underneath a bed or desk.
An LCD monitor features five functions: time, count, distance, calories, and total count settings.
The pedals are large with an anti-slip surface, safe, and effective for older persons to use.
The built-in monitor is likewise highly adjustable, and there are multiple resistance features.
---
7
The Marcy Magnetic Elliptical and Cardio Training Machine are perfect for a full-body workout for senior persons.
The all-in-one workout station will give you a full-body workout in the comfort of your own home.
You can train your upper and lower body simultaneously on the Elliptical Trainer.
There is an LCD screen that keeps track of time, distance, and calories burned.
The Ergonomic handles and pedals are slip-resistant and easy to use for elderly persons.
The design is sturdy and durable, as well as easy to transport and assemble.
---
8
The DeskCycle Eelyptical machine can be used by seniors while seated and neatly stored underneath a desk.
This is an under-desk elliptical machine that you use in a seated position.
Ideal for seniors that cannot stand by themselves and need some good exercise.
The design is easy to use and sturdy.
It has a large 6 Function LCD, and there are 8 calibrated resistance settings.
The pedals are extra long and wide so that you can adjust the shape of your elliptical motion by where you place your feet on the pedals.
---
9
The Cubii JR1 is a seated Elliptical machine for seniors that easily stores underneath a chair or desk.
The Cubii has an ergonomic and compact design that makes elliptical training easier for seniors.
There is a lower impact on your joints with the eight resistance levels from which you can choose,
The compact elliptical machine is straightforward to assemble in four steps and comes with clear instructions.
Now you can keep fit even in and seated position, in the comfort of your own home.
---
10
The Orbitrek is a compact under desk design elliptical machine for seated training with senior persons struggling with standing and balance.
The Orbitrek is a top favorite for seated elliptical machines that allow you to exercise while sitting down.
The small compact design stores easily underneath a desk or table and are very easy to use.
It has 8 workout options and three training modes, with five different speed levels.
It is also a very affordable option with advanced features and technologies as well as space-saving.
---
Index Table: Top Rated Elliptical for Seniors
---
---