Puzzles are a pastime that many adults and children enjoy, but why should you not still enjoy them as a senior?
The Large Piece Puzzle for seniors offers a larger puzzle piece that is easier to see and handle for seniors in a similar adult design puzzle.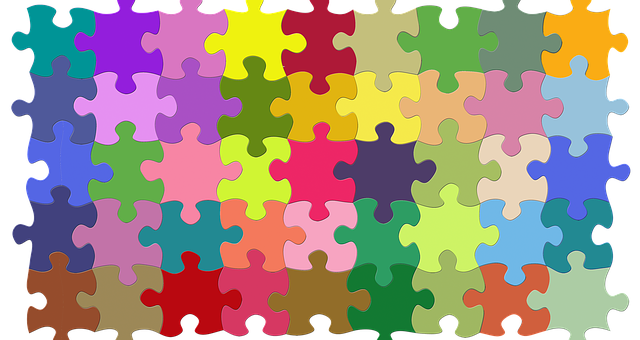 ---
---
Benefits of a Puzzle for Seniors
So whether you prefer jigsaw puzzles or other types of puzzles, they can all be very beneficial to you s a senior adult;
There are many reasons why puzzles are so great for seniors, whether you prefer traditional jigsaw puzzles, wordy crossword puzzles, brain teasers like Sudoku, or others.
Boosts Your Cognitive Functions – Puzzles will help to boost your cognitive function by building up your cognitive reserve. They help reduce the risk of developing Dementia and Alzheimer's.
Improves Your Memory – Because of the focus and concentration puzzles required, they can help improve your short and long-term memory. The specific areas of your brain participate in very specific tasks, which improves memory.
Helps to Relieve Stress – Enjoying an activity such as building a puzzle help relieve stress and relax you by taking your mind off other stressful situations. Puzzles help relieve stress and relax. Your worry levels will drop, and you can relax while building a puzzle.
Improves Problem-Solving Skills – A puzzle in itself ultimately is a problem that needs to be solved; thus, it will improve problem-solving skills in seniors. Problem-solving skills are crucial for helping elderly people improve their cognitive skills and memory.
Boost Your Mood – Building a puzzling can help boost and improve your mood, especially if you have accomplished something.
Encourages Social Interaction – You can enjoy building puzzles with friends or loved ones, which in turn helps to encourage more social interaction.
---
Choosing a Puzzle for Seniors
Consider the follininfollowingg when choosing a puzzle as a senior individual;
Avoid Puzzles with Children's Activities – Do not get puzzles for children with pictures and activities. This may not be fun as an elderly adult or seem childish.
Choose a Larger-Sized Puzzle – Choose a puzzle in which the pieces are a larger size. The puzzle may be large depending on the number of pieces, so you will still need adequate space to place the puzzle.
The Picture Should be Familiar to Seniors Person – Choose a puzzle with nostalgic or familiar pictures for a senior person. Classic scenery or nature settings may be ideal.
Design and Easy to Clean – Always choose a puzzle that has a durable design, and materials, that will also be easy to wipe down for cleaning.4. Puzzles need to be easy on the eye and made of materials that can be easily wiped clean.
---
Features of a Good Large Piece Puzzle for Seniors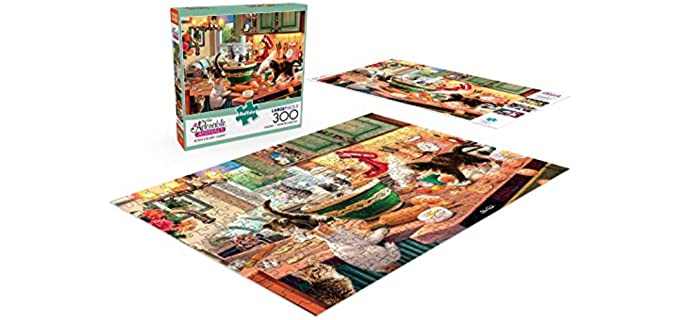 Size – The Puzzle piece sizes should be large and visible. The puzzle can have anything from 20 to 300 more pieces. Fewer puzzle pieces are more suited to seniors with Alzheimer's or Dementia. As for them, the larger amount piece puzzle may be confusing and stressful.
Design – Look for a colorful design more suitable for adults. Landmarks, nostalgia, classic vintage images, and even nature settings are ideal. Ideally, you should choose a design and picture that the senior person would find interesting and amusing, something they enjoy personally.
Materials – Most puzzles are wood or cardboard with a waxy or smooth finish that you can easily wipe to clean. Wood is much more durable than cardboard puzzles, though. You will see that many of the puzzles that e have chosen likewise have quick Snap or Quick-lock technologies that allow them to fit into place and be removed much more easily for seniors.
---
Reviews: The Best Large Piece Puzzles for Seniors
These are some excellent choices in large-piece puzzles, especially for seniors;
---
1
The Ravensburger Cozy retreat puzzle is ideal for seniors.
It is a 500-piece puzzle that has very large pieces.
The puzzle features a cozy retreat image.
They are soft-click technology puzzle pieces ideal for seniors.
You can choose from other picture designs.
---
2
We have the Pine Road Service image puzzle for seniors from the Buffalo games.
It is a large piece of a puzzle with 300 pieces.
The puzzle is a premium quality Pajamas materials and some materials with a large poster.
It also has perfect snap technology to make sure pieces fit flawlessly.
---
3
From Relish, we have a smaller 35-piece puzzle for seniors.
The puzzle has large pieces and is ideal for persons with Alzheimer's.
The pictures are nostalgic scenes.
It is a durable puzzle for seniors with memory loss and cognitive issues.
---
4
From Bits and Pieces, we have the 300 Piece puzzle for adults.
The adult puzzle has larger pieces and depicts an Ocean Sunrise.
It is a very durable design and comes with a sealable bag for the puzzles.
Ideal for seniors and adults.
---
5
The Buffalo Games Puzzle for seniors is ideal.
It has large puzzle pieces and 300 pieces.
The Puzzle has a full-color bonus poster included.
It is durable and of excellent quality.
The Picture is of a Kitchen with Kittens.
---
6
Dancing Shoes from Relish is also a favorite puzzle for seniors.
The Puzzle has anand old fashion dancing scene picture.
It is a large-piece, 300-piece puzzle set for seniors.
The design is durable and easy to clean.
---
Index Table: Top Rated Large Piece Puzzles for Seniors
---
---