Physical activity becomes more and more important as we age. As a senior, most physical exercise forms may be difficult if not important, so why not opt for something more relaxing and safe such as Yoga.
Yoga is seen as one of the best forms of exercise for older adults that improve strength, flexibility, balance, and relaxation.
In this article, we will look at some of the best Yoga DVD's for Seniors specifically and what they have to offer.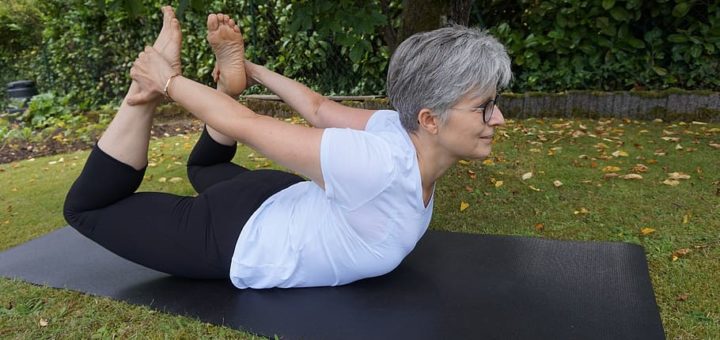 ---
Benefits of Yoga for Seniors
Yoga for seniors is the perfect exercise and relaxation routine, and here are a few reasons why;
Retirement is the perfect time to try new things and pick up some healthier habits you may not have had time to consider in your working years. If you've never tried yoga before, check out a class and experience some of the benefits of yoga for seniors like:
Alleviates Aches and Pains – Yoga exercises relax and strengthen your muscles, improves balance and flexibility, which in turn will reduce aches and pain and also help with the symptoms of osteoarthritis.
Lessens the Risk of Depression – Because Yoga is a natural mood booster, with the combination of movements, breathing, and meditation, it gives you a sense of well being and fights depression.
Flexibility, Mobility, and Strength – The slow and measured movements involved in Yoga will lead to better balance and movement, as well as flexibility and core strength. This, in turn, will prevent slips and fall from instability and being unbalanced on your feet.
Better Sleep – Yoga for seniors is very relaxing, and many individuals have reported that they sleep much better after a relaxing Yoga session.
Reduces Stress – Yoga offers you a very relaxing way of letting go of tension and stress. This, in turn, lowers your heart rate and helps with high blood pressure in seniors.
Bone Strength – Yoga in seniors helps to prevent the onset of Osteoporosis, which causes your bones to become weak and brittle.
---
How Does a Yoga DVD Help
For most seniors attending a Yoga class may not be ideal, and regular Yoga routines may be difficult to follow and perform.
The best yoga DVD for seniors provides a variety of Yoga routines that are specifically designed for seniors at different levels from beginner to advanced.
Most Yoga DVDs also have a Morning and Evening routine for energy and relaxation to get you through the day.
The Movements are easy to perform, and the instructions are clear to follow.
---
Features of a Good Yoga DVD for Seniors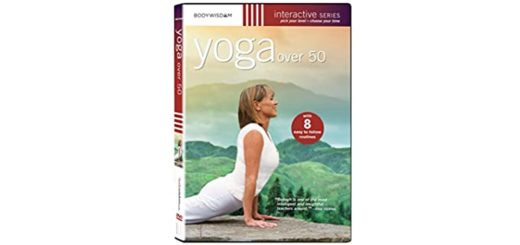 Warm Up – Most routines will start with an easy warm-up to get you relaxed and ready for a routine.
Easy Beginners Stretching Levels – There are different levels for beginners and more advanced Yoga Routines. Some even offer you evening and morning options for energy during the day and relaxation in the evening.
Backdrop and Music – Most Yoga DVDs have a calming backdrop of a peaceful nature scene and light calming music in the background for tranquility.
Day and Night as mentioned, many Yoga DVDs offer programs for mornings to provide you with ample energy for the day, some even have a mid-day quick session, and then you have a relaxing evening session that calms your nerves and soothes you for better sleep at night.
---
Reviews: The Best Yoga DVDs for Seniors
---
1
The Gentle Yoga Beginners Yoga DVD for seniors improves strength and flexibility and aids in overall senior persons' overall relaxation.
The Gentle Yoga DVD is ideal for beginners and seniors of all ages, shapes, and sizes. It can also be used by persons who have arthritis and similar conditions.
The Backdrop features the beauty and grandeur of the Glacier Natural Park for your relaxation.
Three different Yoga sequences are ideal for a different tie of the day.
The exercise helps to improve core strength and flexibility in older adults and provide great relaxation and calmness.
There is a Midday relief Practice, a Morning Practice, and also a Calming evening practice routine that you can follow.
---
2
The Yoga for Seniors DVD from Jane Adams has three complete practices that improve balance and strength and seniors' flexibility.
This is the second edition and a favorite in Yoga DVDs for seniors that are a bit more advanced in their training routines.
There are three Levels of Yoga Practices that you can follow, each with their own time frames.
The routines are gentle and offer easy movements that you can follow, engaging your entire body.
These routines help with flexibility and to improve your overall core strength.
---
3
The Yoga for over 50 DVDs has versatile routines for stretching, flexibility, strength, seated poses, and meditation.
The Instructor of these DVD's for Yoga is extremely insightful and enjoyable to watch.
The routines are easy to follow, and there are customized routines with 8 levels that you can choose from.
Each routine ranges between 20 and 60 minutes.
The routines will heal your build strength, become more flexible, Relax, and be more comfortable. There are also seated routines that you can follow.
This DVD follows workouts that are ideal for persons with Arthritis and Osteoarthritis.
---
4
The Gentle Chair Yoga DVD is ideal for seniors who struggle with mobility to enjoy easy Yoga routines in the comfort of their favorite seat.
I have included this easy seated Yoga DVD for unbalanced feet on their feet or cannot stand.
The DVD features beautiful sunflower backdrops and relaxing sunsets to calm and relax you.
The routines are easy yet very effective and can all be done from a seated position,
The Yoga routines will improve your core strength, help with balance, and make you much more Flexible.
---
5
Jane Fonda brings you a versatile and easy steps Yoga DVD for morning and evening training with seat, strength, and flexibility routines that you can easily follow.
JaneFondaa is a much-loved celebrity that is so much fun and enjoyable to watch.
Her Yoga routines for beginners give you a workout for mornings and evenings.
You have a morning routine for strength and mobility ad an evening routine specifically for calmness and relaxation.
The routines are easy to follow and us and help reduce stress and tension in senior individuals.
---
Index Table: Top Rated Yoga DVDs for Seniors
---
---