If you need to care for an elderly person in a wheelchair or no longer mobile and needs to stay in bed, simple tasks such as moving or turning them over may become very difficult.
We can use devices to take care of an elderly loved one to make the task easier on you and more comfortable for them.
The turnover pillow for the elderly is one of those devices that can help you turn an elderly person over on their side or move them into a wheelchair or seated position.

---
---
Choosing a Turn Over Pillow for and Elderly Individual
As you will see, the turnover pillow is a small pillow with two open gaps in which you place the legs with a centerpiece that goes in between their legs. Then you can pull the pillow forward while supporting their back to turn them over.
There are some criteria for choosing a good Turn-Over Pillow;
Ergonomic – The Turn Over pillow needs an ergonomic U-Shaped curve with a snug but comfortable curves for the legs to fit in and a comfortable ergonomic grip or handles for you, a caretaker, or a family member.
Easy To Use – The design of the turn-over pillow needs to be simple and easy to use by a caretaker or a family member.
Uses – Turn Over Pillows are not just used to turn over a patient or person; they can also be used as comfortable leg support to relieve swelling and pressure in the knees, hips, and lower back.
High-Density Foam – The turnover pillow must have firm, supportive high-density foam as a fill for strength and proper support.
---
Benefits of a Turn Over Pillow for Seniors
The Turn over pillow has many benefits for elderly persons as well as patients that are immobile or disabled;
The pillow can help an elderly person easily and safely turn over when lying in bed or changing positions.
Turn-over pillows have multiple uses besides just turning a person over. They can move a senior or patient from a bed to a chair, wheelchair, or car.
It is an excellent accessory for a loved one or caretaker that needs to care for an elderly individual.
The high-leg wedge turn-over pillow can relieve pressure in your knees, hips, and lower back in seated or lying positions.
---
Features of a Good Turnover Pillow for the Elderly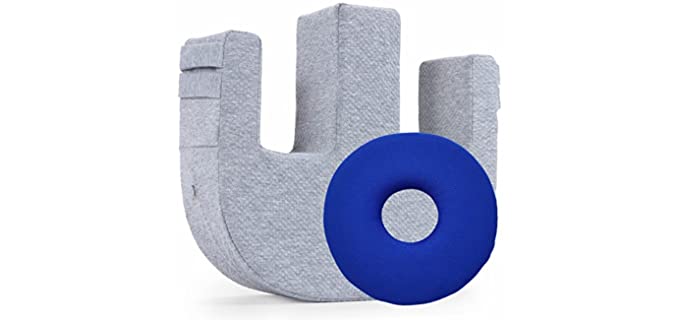 Cover – The Cover should be a high-quality waterproof material such as Pu leather that is easy to clean and maintain, with zip closure. A removable cover is ideal.
Fill – You need a high-density durable foam with firm support for the fill.
Texture – The Leg wedges need to be a non-slip texture and offer a secure fit.
Design – The wedges and U-Shaped design can be higher or lower depending on the specific uses and construction of the turnover of the pillow.
---
Reviews: The Best Turnover Pillows for the Elderly
In our list, you will find some of the best available turns over pillows that are ideal for elderly patients and individuals;
---
1
---
2
Here we have the perfect turnover pillow for seniors that have mobility issues, are disabled,d or are paralyzed.
The turnover pillow can help you gently turn an elderly person sideways, change their position, and reduce bedsores.
It has a high-quality design with a firm foam fill.
The turnover pillow is dirt-repellent and breathable, with a washable and removable Pu leather cover that is hygenic.
The Cover is moisture resistant and will help to keep your turnover pillow fill dry and clean.
---
3
The YHK turnover pillow for the elderly is an anti-decubitus design for patients with paralysis and other conditions.
The run-over pillow has an ergonomic design with a U-Shape that easily fits the legs.
The design is very easy and comfortable to use by a caretaker or loved one, and only two hands are required to turn a patient.
The turnover pillow has a comfortable soft PU leather cover that is washable and moisture-resistant,
It can be used at home or in the hospital as a turnover device or transitioning device for an elderly person.
---
4
From the NUFR store, we also have an ideal waterproof turnover pillow for seniors.
The turnover pillow is a roll-over design to change an individual's position or transition into a chair or wheelchair.
It is a comfortable and ergonomic design, easy to use by a caretaker or family member.
The turnover pillow has a firm foam fill and a durable, waterproof leather cover that you can easily clean.
The turn very pillows us the ideal solution for bedridden elderly persons who need daily care.
---
5
The BelfCare Patient Turning device is the perfect elderly assistance product for multiple uses.
It makes for an ideal turnover of the pillow to change a person's position to prevent bedsores or for cleaning.
The turnover pillow can also be used as a transitioning tool to get an elderly person seated on a chair, in a car, or in a wheelchair.
The device offers excellent support with comfortable foam cushioning.
It has an easy-to-clean PU leather cover and is waterproof.
---
6
The BBTO turnover pillow for seniors has a multifunctional and quality design.
The turnover pillows are ideal with a specialized U-Shaped arc design that will fit a person's legs much better without any discomfort.
It is a proper size to fit almost any leg shape and size, and it is quite lightweight, so easy to handle a caretaker.
The turnover pillow has comfortable handles making it easy to use by a caretaker or a family member.
It is an ideal multifunctional turnover device for home and hospital use.
---
7
The Voonke turn-over pillow is ideal for bedridden elderly individuals to help prevent bedsores.
The Turn Over pillow has a comfortable and ergonomic U-Shape with an arc design that is more suitable for all leg shapes and sizes.
It is very easy to use by a loved one or caretaker with a comfortable and lightweight design.
The turnover pillow for the elderly has high-quality materials with firm foam fill.
The PU leather cover is waterproof and easy to clean, with a hygenic design.
---
8
The AKSOVA Patient Turning Device, or turn-over pillow, is the ideal bed rest pillow for elderly and paralyzed patients who cannot turn by themselves.
It is an Anti-decubitus turn-over pillow.
The Turn Over Pillow has a Curved surface and a U-Shape for comfort.
There are side handles to make running a patient or loved one easier.
The Cover is a soft flannel that is removable and machine washable.
The fill is a firm and comfortable foam.
It also comes with an included donut pressure relief cushion.
---
Index Table: Top Rated Turnover Pillows for the Elderly
---
---