Exfoliation is just as important for elderly skin as it is for younger skin, if not more so.
Our cell turnover slows down when we get older, and dead skin cells build up, leading to dry, dull, and flaky skin.
Exfoliation helps speed up skin cell renewal and removes the dullness and dryness of your skin, revealing more radiant-looking skin.
There are different methods of exfoliating your skin which we will discuss further as we get to the best exfoliators for elderly skin.

---
Exfoliating Elderly Skin
When you were younger, you may have used more harsh exfoliating scrubs, gloves, or methods, which may damage your skin as you age. Thus, there are more sophisticated and safe exfoliating products out there that are more suitable for aging skin.
Having a good exfoliator in your skincare routine for your face and body as you get older may be essential. However, today, we will concentrate more on body exfoliators for your skin rather than the face.
Exfoliating speeds up skin cell turnover, which protects your skin from losing collagen and elasticity. It will help to strengthen your skin's barrier and reduce the appearance of fine lines and pigmentation. Exfoliation will also reduce dullness and flakiness of the skin and help your skin moisturizers and products to absorb better.
You will need to cleanse your face and body before using your exfoliator. Then, you can move on to serums and moisturizers for your skin; however, try to avoid Vit A or Retinols and Vitamin C after using an acid exfoliator.
---
Types of Exfoliators for the Face and the Body
Exfoliating your face and your body are two very different routines. Body exfoliation is just as much needed as facial exfoliation.
However, for your face, you need very gentle and specific exfoliants. Exfoliating acids such as Alpha Hydroxy Acids and a gentler form are more suitable for your face than granular and mechanical exfoliators.
For your body, you need something a bit more aggressive yet still gentle on elderly skin.
Here are a few different types of exfoliation products that you can use on elderly skin.
Scrubs – Body scrubs are ideal for more extensive exfoliation, and you do get different types, such as salt and sugar scrubs or scrubs with apricot or wax granules. You also get gentle facial scrubs that you can use to exfoliate your face.
Soaps – You get granules, soap bars, and liquids soaps containing small granules that are ideal for manually exfoliating your body. Certain face washes likewise contain small beads and granules that you can use to exfoliate your face.
Chemical Exfoliation – Chemical exfoliators are mostly used for your face, but there are likewise body products that contain Chemical exfoliants. Alpha Hydroxy acids, such as Lactic Acid, Glycolic Acid, and Malic acids, can be used, or Beta Hydroxy acids, such as Salicylic acid, are ideally more suitable for oily skins. Believe it or not, chemical exfoliants are the least harsh on your skin.
Dry Brush – Dry bushing is perfect for body exfoliation to remove dead skin cells and helps with cellulite and circulation. You do likewise get smaller brushes that are gentler for your face. Dry Brushing may be slightly harsh on very dry and sensitive skin.
Loofah – The Loofah is an excellent option for exfoliating your body. You get so many loofah designs, from natural materials to plastic, and silicone, all of which offer excellent cleaning and exfoliating capabilities.
Washcloths – Most washcloths make good exfoliating devices for sensitive and elderly skin. Microfiber and bamboo washcloths are excellent gentle exfoliating devices that you can use on your face and body.
---
Features of a Good Exfoliator for Older Skin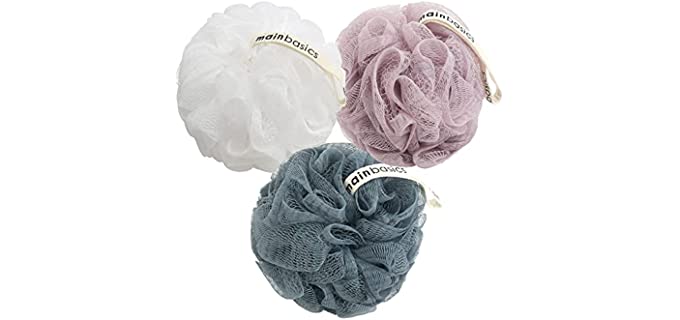 Type Of Exfoliator – You will need to consider whether you want a Chemical, granular, or mechanical exfoliator such as scrub gloves, a loofah, or a washcloth.
Face or Body – Exfoliators for your face and body are much different; you will need a specialized facial exfoliator that is less harsh than what you will be using on your body.
Ingredients – Chemical Exfoliators will contain Alpha Hydroxy acids such as lactic acid, glycolic acid, malic acid, and other acids, or beta Hydroxy acids, mainly salicylic acid. Scrubs may contain granules such as sugar, salt, apricot kernels, or wax beads, and most soap bars or liquids soaps will also contain beads or granules. Loofahs, scrub brushes, and gloves have a more textured design to provide exfoliation.
---
Reviews: The Best Exfoliator for Older Skin
In our review section, we have featured a variety of the best available Exfoliators for your skin and body, as and elderly individuals;
---
1
The Bare Botanics body scrub is the perfect exfoliator for your body.
The Scrub is packed in a lovely jam jar and comes with a spoon to use the Scrub.
The body scrub contains clean ingredients, no harsh chemicals, natural fragrances, and good oils for your skin.
It has a lovely coconut scent.
---
2
From Main Basics, I have chosen their loofah, which also makes for an excellent gentle daily exfoliator for elderly skin.
You get a set of three loofahs and a few color options from which you can choose.
The loofah can be used daily for gentle skin exfoliation on your body.
It has a hanging loop that you can hang in the shower or bathtub area.
---
3
The Dry body brush offers good exfoliation when you have very dry and dull skin that needs something more heavy-duty.
The dry brush is an excellent method to improve blood circulation and reduce cellulite.
It should, however, only be used on the body daily, weekly, or when needed.
You get a small body brush and a larger brush with a handle to reach your back.
---
4
The Deep Sea cosmetics is a relaxing body scrub and bath salt that is soothing and aromatic.
It contains Dead Sea salts and minerals that are good for your skin.
The exfoliant helps to remove dead skin cells and also improves circulation.
It is a more vigorous body scrub that stimulates and cleans the skin.
---
5
For your face, I have chosen Aveeno Positively Radiant Exfoliating Daily Scrub.
It is a gentle facial scrub that is moisture-rich and soap free.
The Scrub will help to improve your skin tone and texture.
It is suitable for sensitive skin.
---
6
If you prefer a chemical exfoliator for your face rather than a manual, the Wishtrend mandelic acid is a very gentle exfoliator.
It is an Alpha Hydroxy Acid that is gentle and effective for exfoliating your face.
The Serum contains Panthenol and Centella Asiatica Extract with a Beta-Glucan that moisturizes your skin after exfoliation.
It is a much gentler form of chemical exfoliation for your face.
---
Index Table: Top Rated Exfoliator for Older Skin
---
---