One of the hardest things to deal with is waning mobility as we age. Whether it is because of muscle weakness, hip pain, arthritis, joint pain, or any other reason, our abilities to get by may be affected as we get older.
One of these abilities is climbing stairs, even getting up and down from a single stair.
On the other hand, you may be in a wheelchair, which can be impossible to get up and downstairs.
So, here is where I want to introduce you to the Stair Lift for seniors, which can help you easily get up and down stairs, with no effort.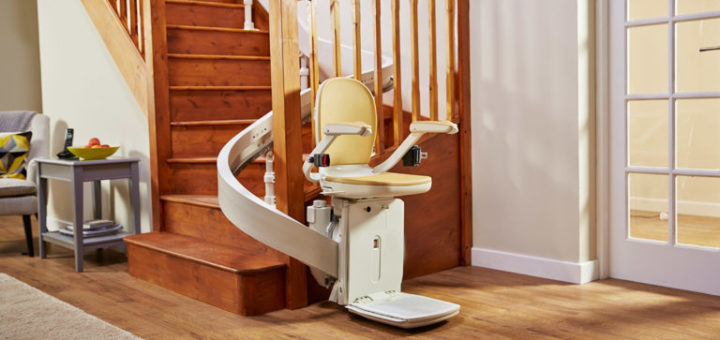 ---
Do You Actually Need a Stair Lift
Is a stair lift the right choice for you?
When looking at your odds, you need to consider what lies ahead in terms of your mobility needs, and not just for now; you may still be quite mobile and able to get up and down the stair with difficulty, but the day may also come when this will no longer be a choice.
Getting a stairlift may be a very good choice if you remain in your home with stairs. It would help if you also thought about slips and falls on the stairs, whereas a chair lift may prevent this.
Sometimes we may have an injury or debilitating illness that can take quite some time to heal, where we cannot use the stairs. If this is true, then a stairlift will likewise come in handy.
If you are in a wheelchair or suffer from a condition where that may result, a stairlift will be an absolute must in your home.
On the other hand, before getting a stairlift, you also need to consider the design of your stairs, and shape of your home, and whether a stairlift will fit.
---
Types of Stair Lifts
A stair lift is a chair on a rail that you sit on while it runs up and down the stairs in your home. This allows an elderly adult or physically disabled person to travel between floors in their homes easily.
There are several different types of stairlifts. However, the premise remains the same;
Straight Rail Stair Lift – The Straight Rail stairlift is the most common and easily accessible type. It is used on most straight-design stairs and does not rely on wall installation.
Curved Rail Stair Lifts – The Curved rail Stair Lift is mapped according to a certain straight case's unique curvatures and is more expensive. It needs to be customized to fit a specific r curved design staircase.
Wheelchair and Platform Stair Lifts – These are not very common in residential homes but in medical centers and hospitals. The Wheelchair platform stairlift is a standard seat-style chair lift with enough room for a wheelchair to carry up and down the stairs. These stairlifts need more power than regular stairlifts and are more common in commercial than residential buildings.
Outdoor Stair Lifts – The outdoor stairlift can be a straight or curved stairlift installed on any staircase. The only difference is this stairlift type is weatherproof for outdoor use.
---
Features of a Good Stair Lift for Seniors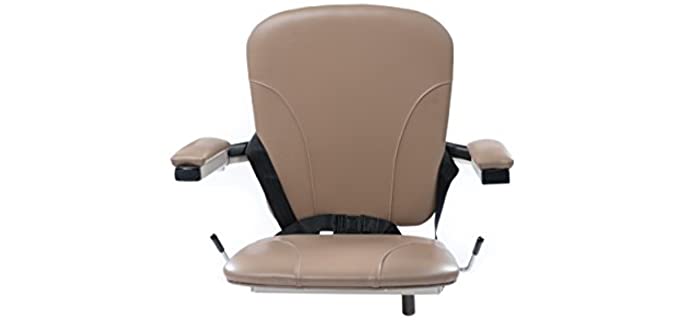 Type of Stair Lift – In this article, I have mostly included the straight and curved electrical stairlifts that fit basic design stairs. There are also two manual stair lifts more suited to individuals that need to be carried up and down the stair or lifted into a vehicle or over a single stair.
Assessment – Sometimes, it is good to have a professional assess your home and staircase to understand better what type of stairlift you should get and if you may need a custom-made stairlift.
Design – The stairlift will need to be designed to fit your staircase and available space. Not all stairs are the same, so you must consider this before choosing a design.
Installation – You may need to choose a professional to install the stairlift unless you can perform it yourself. There will usually be clear instructions. The stairlift will come with a power supply or rechargeable batteries. You may be able to select from different seat types available to install. Some have retractable seats and designs that can be folded away after use. Some also have obstacle sensors built in that will need to be activated.
---
Reviews: The Best Stair Lifts for Seniors
These are some of the best available stair Lifts for seniors;
We hope you love the products we recommend!
So that you know, We may collect a share of sales or other compensation from the links on this page.
---
1
The Medallion Stairlift is perfect for seniors.
It is a straight staircase-only stairlift that does require grease to operate.
Much less messy and moves smoothly up and down the stair.
This is the perfect stair aid for seniors.
---
2
This is the Harmar Stairlift for seniors.
It has a flip-up arm design for comfort and easy access.
The stairlift has rocker controls with constant-pressure functionality to stop the lift as soon as you let go f the controls.
It operates on a standard 115 Vac household current and has an aluminum track.
---
3
Here we have the Outdoor stairlift model from Hamar.
It has a header cover, an internal chassis, and a large weatherproof cover.
It easily mounts to the stairs and operates on a 115 Vac household current.
The upholstery covers are neutral and easy to clean.
---
4
The Universal Stair Lift is a unique design for seniors.
It folds flat to a wall and can be installed on either side of the stairs.
The stairlift has 15 feet of track and a power cord for any outlet.
There is also an internal rechargeable battery system.
---
5
The Neppt Patient Lift device is a slide board and carries a device for carrying disabled persons up and down the stairs.
I added this as a more affordable and easy option for transferring a patient or elderly individual.
The device is easy to use and very sturdy.
It has four handles and a comfortable padded seat.
---
6
The Vive is a Lifting Device that allows people to easily transport up and down stairs.
Mostly ideal for individuals in wheelchairs or who are immobile.
It is equipped with four handles for easy use.
It also folds quite compactly for easy storage.
---
Index Table: Top Rated Stair Lifts for Seniors
---
---